The Open Media Streaming Project has added CC metadata support to their streaming audio server and player.


OMSP's NeMeSi player displaying license info for a stream.
They say:
Please note that the CC stuff in the source code is in very alpha stage: no more than IETF's-style "running code" to test a soon-to-be-released specification proposal for streaming Creative Commons licensing meta-data over RTSP/RTP protocols.
Comments Off

on Open Media Streaming With CC Metadata
Check out mobloguk, a great moblogging application that supports Creative Commons licenses. The system is very easy to use — you simply email images, audio, or text from your cell phone, or other device, to your own mobloguk email address, and it automatically gets posted on the site. You can even restrict your searches to Creative Commons licensed content. The source code is also under Creative Commons.
Comments Off

on mobloguk
Wikipedia now publishes license metadata, using the Creative Commons license metadata vocabulary to describe the GNU FDL license.



Browsing Wikipedia with mozCC installed.
MediaWiki, the software that runs Wikipedia, now has support for CC metadata built in. WikiTravel, a CC-licensed world travel guide also already uses this capability.
Many thanks to Brion Vibber and
Evan Prodromou for adding CC metadata support to this important software.
Comments Off

on Wikipedia Publishing CC Metadata
A major upgrade to mozCC, the Creative Commons metadata companion for Mozilla-based browers, is now available. This version looks better, fixes a performance problem with some pages, and sets the stage for version 1.0. See Nathan Yergler's blog post for details.



Mozilla status bar: browsing a CC-licensed page.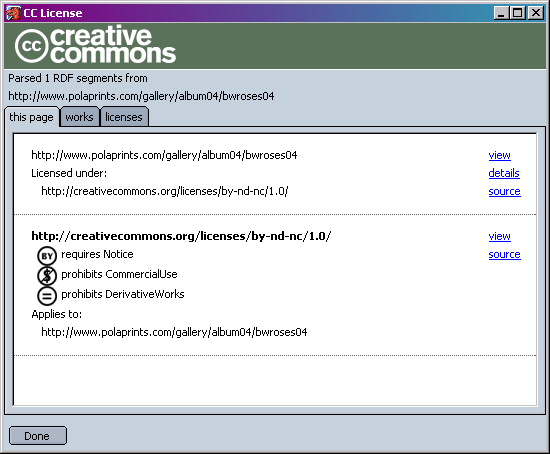 Click on status bar icons, see metadata details.
Also see additional CC browser accessories.
Comments Off

on mozCC 0.8.0: Faster & More Fetching
Over at the new Flickr blog, they've announced support for Creative Commons in Flickr. Flickr's a site to share photos like no other: it's a social software application that lets you define friends and family, you can annotate photos, share photos in a live chat using an innovative interface, form groups around topics, and now you can license your photos.
If you've got a digital camera or camera phone, and don't have any place to post your photos, consider signing up for Flickr and applying a CC license to all your shots.
Comments Off

on Flickr adds Creative Commons support
I'll be at the California state capitol tomorrow morning to talk to the state senate's education committee about the public domain and Creative Commons. I'll be there in a purely informational capacity to provide some context for a broader discussion about community colleges, higher ed, and royalty-free educational materials. More soon.
Comments Off

on In Sacramento tomorrow
We are happy to hear that current and upcoming operating systems will have built-in support for application-level metadata. Gnome (Linux), Longhorn (next version of Windows) , and Tiger (next release of OS X) all will be offering some way to store and search metadata for files and applications. Google is also expected to get into search applications on the desktop.
How can Creative Commons take advantage of these technologies to enable CC-aware search and applications on the next generation desktop? Challenge: write a research brief on how to expose CC license info for objects in each major OS or framework.
Comments Off

on Gnome, Longhorn, Tiger, …, and CC metadata
A-list blogger and CC board member Joi Ito has posted a thoughtful mini essay on why he uses a license that allows commercial use for his blog. He also writes about the decision of whether or not to use a license with the ShareAlike provision.
Of course you can always make your own choice via the Creative Commons website.
Comments Off

on Why free for commercial use?
Cricket fans, take note: CaribbeanCricket.com's photo journals feature user-submitted pics of cricket matches from the West Indies, all licensed under a Creative Commons license. Here's a nice mid-bowl action shot.
Comments Off

on Wicket Cool
next page