Making music mash-ups (combining two songs, layered one over the other) is relatively easy for those in the know when compared with recording your own tracks, but it's not always easy to pick up an audio application and understand the ins and outs of it. While some have called for tutorials to help music fans get up to speed, one person has answered the call, publishing this detailed step-by-step mash-up tutorial for using the software package Tracktion. The article is fairly specialized, tailored to Tracktion, but there are basics that could be applied to other audio applications as well.
3 Comments »

The FreeCulture.org undead art contest is over and winners have been announced.
Taking first prize is the very well done bit of droll humor How to Survive a Zombie Epidemic.
All of the entries and source material are in the public domain or CC-licensed, so you're free to reuse in your own horror spoof, music video, or any other project requiring zombie footage.
Comments Off

on Undead Art
The NY Times and WIRED News both have stories today on a recent survey by the Pew Internet and American Life Project about music and the Internet — specifically, musicians' attitudes about the Internet and its effects on the business. Says the study's author, Mary Madden:
The first large-scale surveys of the internet's impact on artists and musicians reveal that they are embracing the Web as a tool to improve how they make, market, and sell their creative works. They eagerly welcome new opportunities that are provided by digital technology and the internet.

At the same time, they believe that unauthorized online file sharing is wrong and that current copyright laws are appropriate, though there are some major divisions among them about what constitutes appropriate copying and sharing of digital files. Their overall judgment is that unauthorized online file-sharing does not pose a major threat to creative industries: Two-thirds of artists say peer-to-peer file sharing poses a minor threat or no threat at all to them.
Hmm: (1) Technology can be used for good and bad. (2) Not all musicians think the exact same way about how copyright should be enforced. In other words, there's a big, unmet demand for a "some rights reserved" option.
Our board of directors had a hunch about this three years ago . . .
(Read the Future of Music Coalition's (FMC) press release on the survey. FMC helped Pew bring together a broad coalition of musician's groups, who encouraged their members to volunteer for the survey.)
Comments Off

on Pew Internet Music Survey
NGO Photos is a great new resource site (in Finnish) acting as a large free photograph repository for NGOs. Ramin Miraftabi, the person behind NGO Photos, explains the site here (in English) and why he set it up.
Comments Off

on NGO photos
I just stumbled upon a great little site for electronic musician 31d1. There are beat loops, mixes, and even great little videos, all under a Creative Commons license. The video "gloucester" was my favorite, with public-domain looking video of a fly doing its thing.
Comments Off

on 31d1
Over the weekend we release yet another update to ccPublisher. ccPublisher is a tool which allows you to upload Creative Commons-licensed audio and video works to the Internet Archive for free hosting.
We're on the road to 1.0, and part of that process is fixing bugs. Thanks to Harold and Dave, we have two more bugs fixed which should make life better for everyone. Version 0.9.11 (Windows, Mac OS X) contains those fixes, along with a tool that will let you help us improve ccPublisher.
Starting with 0.9.11, ccPublisher has some extra error handling code turned on. If the program crashes, or the upload goes sour, you'll have the opportunity to send us an error report. This error report doesn't contain any personal information, just the current "state of play" in the program. It also contains a traceback, which lets us isolate the code responsible for the problem. Please, if you encounter a problem, send us the traceback. You'll be helping us help you.
As always, you can contact me directly if you have problems, comments, or just suggestions about ccPublisher. I want to hear from you, because we want to make ccPublisher an even better tool.
Comments Off

on ccPublisher: It Keeps Getting Better
Last month the Center for Social Media released Untold Stories: Creative Consequences of the Rights Clearance Culture for Documentary Filmmakers. Many of the stories are unfortunately of a familiar type: contemporary documentarians must go through incredible lengths to gain clearance for "culture" in essentially every second of their films. Often clearance means removal when the price is too high, ironically removing mass culture from films meant to document it.
Untold Stories also tells of the disappearance of existing documentaries due to clearance issues, for example the famous 1992 civil rights documentary Eyes on the Prize:
Jon Else, series producer and cinematographer for Henry Hampton's Eyes on the Prize, noted, "Eyes on the Prize is no longer available for purchase. It is virtually the only audio-visual purveyor of the history of the civil rights movement in America. What happened was the series was done cheaply and had a terrible fundraising problem. There was barely enough to purchase a minimum five year rights on the archive heavy footage. Each episode in the series is 50% archival. And most of the archive shots are derived from commercial sources. The five year licenses expired and the company that made the film also expired. And now we have a situation where we have this series for which there are no rights licenses. Eyes on the Prize cannot be broadcast on any TV venue anywhere, nor can it be sold. Whatever threadbare copies are available in universities around the country are the only ones that will ever exist. It will cost $500,000 to re-up all the rights for this film. This is a piece of landmark TV history that has vanished."
Indeed, PBS does not sell copies, and those available used on Amazon are extremely expensive — $600 and up for a VHS box set as of this writing.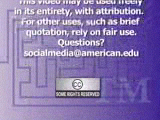 A short video introduces the issues explored by Untold Stories. It's always a hoot to see a Creative Commons notice in film credits, so I've included a screenshot in this post, but go watch and read for yourself.
Comments Off

on Untold Stories
previous page