One of the many cool aspects of the November issue of WIRED are the blurbs about each artist who contributed to the CD. In the print mag, they dot the many-page Creative Commons spread like Easter eggs. Example:
Track 7: Dan the Automator/Relaxation Spa Treatment

The busy brain behind groups like Deltron 3030, Dr. Octagon, and
Lovage, Dan Nakamura has made a career out of mashing the styles and
sounds of an eclectic array of partners. "The music is always greater
than just the sum of the contributors' parts," he says. Thus a concept
album featuring Brit-pop icon Damon Albarn, underground rapper Del the
Funkee Homosapien, and experimental turntablist Kid Koala could have
easily been a schizophrenic mess, but as produced by Nakamura, the
Gorillaz was a slick and smart style hybrid that became an
international smash. "I make collages," he says. "I'm not the kind of
guy who samples big, obvious loops from hit songs. I'm more interested
in finding lots of random little tones from all over and then creating
a totally new track out of the pieces."

Comments Off

on The WIRED CD: What the Artists Think
Another goodie from the elves in the CC Geek Workshop, this time for our friends using Linux; in particular, Gnome users.
The new tool, as of yet unnamed (suggestions?) adds a Creative Commons tab to the file properties of any MP3 file. For example, a track from Copy Me/Remix Me :
As
you can see, the property page displays the license claim, and then
verifies it against the web page. If the verification page didn't
exist, or didn't match properly, you'd see an error message instead.
The full release announcement, along with installation instructions, is available on my blog. Enjoy!
Comments Off

on Common Gnomes
Neal Conan, of NPR's Talk of the Nation, is interviewing WIRED
editor-in-chief Chris Anderson and Le Tigre's Kathleen Hanna at this
very moment. Tune in to NPR to catch it (88.5 in the Bay Area); you can
even call into the show and sound off.
One caller just now, from Waco, Texas: "I have remixed the Beastie
Boys before, but never exactly legally. . . . To me this is very
exciting, and I want to let them know that it's a great first step."
UPDATE: Show's over. But knowing NPR's programming habits, it'll come back on again today. It also looks like the show will be online sometime soon.
Comments Off

on The WIRED CD: On the Air Right Now
So to speak. Tune in to NPR today for a special program about the WIRED CD. Out here in the Pacific US time zone, it's slated for 12:30pm, but you may want to check the Talk of the Nation site for airtime in your area.
Comments Off

on The WIRED CD: The Talk of the Nation
Just in time for Halloween, Free Culture.org is having a zombie flicks remix contest.
All the newly remixed content will be licensed under a Creative Commons
BY-NC-SA license. So get your resuscitators out and start chopping and
remixing.
Comments Off

on Free Culture.org brings Undead Art back to life
In case you hadn't heard, knitting's all the rage and has been for crafty hipsters for years (last xmas I got my first knitted scarf as a gift). One of the best sources for information and patterns is Knitty. For the past two years, they have put out quarterly issues that feature about a dozen project how-tos, stories, and articles about knitting.
For Breast Cancer Awareness Month, they put out a special print (PDF) issue that featured projects specifically tailored to those living with cancer and a story from a survivor. For this special benefit issue, the folks at Knitty wanted to send it far and wide. To help them let readers know they are free to share this issue on their own site, they've added a Creative Commons license. [via BoingBoing]
Comments Off

on Knitty releases Creative Commons licensed issue
iCommons has published a short academic article – in German – on open access policy and scientific research. Our contribution can be read online (login required).
Comments Off

on Zeitschrift fuer Rechtspolitik (ZRP)
If you missed the Creative Remix radio show this Sunday in San Francisco, you can still catch it online.
Wow your friends with insight gleaned from Ben Walker's look at the
artistic remix through the ages — from ancient Greek poetry to modern
historial fiction to aesthetic Nintendo hacks.
Such insight might come in particularly handy these days, when
sampling and creative recombination are hot topics, thanks to the
release of a certain CD this week by a certain familiar mag. In fact, consider this a homework assignment: in order to best enjoy the WIRED CD, you should listen to this show first.
Here's a review of the show by a listener on Public Radio Exchange:
This is one of those perfect public radio programs
that succeeds on different levels. First, of course, is the important
concept of keeping creativity and art out of the hands of the lawyers.
But while listening, I also started thinking about how the idea of the
"remix" could be applied to just about anything, including one of my
favorite topics (cooking) and one of my least favorite (politics). To
me, this is one of the hallmarks of a great "concept" show – you can
envision it extended it beyond the boundries it's placed on itself (58
minutes). –John Dankosky
Watch this space for further appearances of the Creative Remix and other Commons-related radio shows by Benjamen Walker.
Comments Off

on To Do Before Listening to WIRED CD: The Creative Remix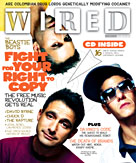 You can now get your copy of the WIRED CD, free with the November issue of WIRED, at your newstand. Get yourself two copies: one for you and your friends, and one to save, in plastic, for your grandchildren.
See the full track list.
Comments Off

on The WIRED CD: Yes, We Have Arrived
At 2pm this Sunday on the Bay Area's KALW (91.7), Benjamen Walker's "The Creative Remix" will debut on the airwaves. The main point of the show: "If remixing is an art form why are the lawyers running the conversation?" Follow Ben, whose insight and sense of humor have drawn him a cult radio following, as he speaks with artists about traditional kinds of collage — like DJ Dangermouse's Grey Album — but also art you might not have considered "remixing" — historical fiction, for example, or an ancient poetic form called the Cento. Read more about the show. And Bay Area people, mark your calendar: 2pm, this Sunday, KALW (91.7).
Comments Off

on Remix Radio Show This Sunday in San Francisco!
previous page
—
next page