There's a great (long) interview with sci-fi novelist Neal Stephenson on Slashdot today, and the last question asks directly about the use of Creative Commons Licenses by novelists:
12) Do new publishing models make sense? – by Infonaut

Have you contemplated using any sort of alternative to traditional copyright for your works of fiction, such as a flavor of Creative Commons [creativecommons.org] license? Do you feel that making money as a writer and more open copyright are compatible in the long term, or do you think that writers like Lessig who distribute electronically via CC are merely indulging in a short-lived fad?

Neal:

Publishing is a very ancient and crafty industry that existed and flourished before the idea of copyright even existed. When copyright came into existence, the publishing industry dealt with it and moved on. My suspicion is that everything that's been going on lately will amount to a sort of fire drill that will force publishing to scurry around and make some new arrangements so that they can get back to making money for themselves and for authors.

You can use the brick-and-mortar bookstore as a way to think about this. There was a time maybe five years ago when many people were questioning whether brick-and-mortar bookstores were going to survive the onslaught of online retailers. Now, if you take the narrow view that a bookstore is nothing more than a machine that swaps money for books, then it follows that there's no need for a physical store. But here we are five years later. Some bookstores have gone out of business, it's true. But there are big, beautiful bookstores all over the place, with sofas and coffee bars and author appearances and so on. Why? Because it turns out that a bookstore is a lot more than a machine that swaps money for books.

Likewise, if you think of a publisher as a machine that makes copies of bits and sells them, then you're going to predict the elimination of publishers. But that's only the smallest part of what publishers actually do. This is not to say that electronic distribution via CC is just a fad, any more than online bookstores are a fad. They will keep on going in parallel, and all of this will get sorted out in time.
Sounds like he's not quite ready to give Creative Commons a try yet, but it's good to hear a popular, successful author's thoughts on the idea of our licenses.
Comments Off
Signal vs. Noise is a blog run by the design gurus at 37 Signals, who strive for attractiveness and simplicity in all their designs. They have a regular feature where they ask their audience of designers to come up with ways to describe difficult concepts in 10 words or less. Today they decided to take a crack at helping come up with a simple, concise way to describe the Creative Commons.
So far, they've already come up with a few good slogans, but if you can think of a way to describe Creative Commons to folks that have never heard of it, in just a few words, be sure and post your ideas on the thread.
Comments Off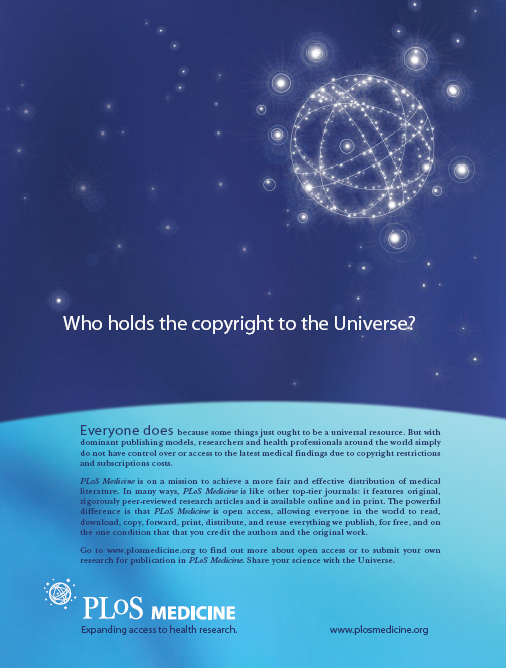 Back cover of the inaugural issue of PLoS Medicine.
Yesterday the Public Library of Science released the first issue of their second journal, PLoS Medicine. All articles are available under the Creative Commons Attribution License.
Open Access News covers reactions to the new journal with several posts over the last few days. Also see our feature interview with PLoS from last year.
Comments Off
I forgot to blog this last week when a friend pointed me to it: online music mag Earplug's current issue blurbs the forthcoming WIRED CD and November issue. A taste of the punchy and deliciously accurate write-up:
The Creative Commons license is not a free-for-all: some of the artists permit only non-commercial sampling and sharing while others are open to all potential uses (with the exception of advertising placement). But the point Creative Commons makes is that there's a difference between "all rights reserved" and "some rights reserved" — especially in the digital age — and artists should be free to make these decisions about their work for themselves.
Comments Off
We're happy to have launched our completely revamped and retooled website, at creativecommons.org. It's a new direction towards simplicity and promoting the millions of license works found online today. We worked with Adaptive Path on tailoring the site along two major themes: Find to help you find works to listen to, look at, remix, and redistribute, and Publish to help publishing your photos, movies, and music with a license. We also introduced a bunch of pages around each type of major category, each with a customized search engine, links to archives and featured works, interviews, and help on publishing just that kind of content online. We're launching with five of these areas, but more to come.
I'll make a more in-depth post later this week explaining our results from user testing, how the new site is organized and why, and all the great people that helped out on it. For now, I'm happy to see the new site up after months of hard work by the entire team. The site has been up for just a few minutes and we're still squashing bugs galore, so if you find any errors, or have any comments, feel free to comment here.
Comments Off
Two more countries join the International Commons discussion and drafting process today: South Africa and Belgium. Check out the drafts, subscribe to the lists, and congratulate your local Project Lead on making it all possible.
Comments Off
A new site called P2P Politics is now live. The site enables anyone to select from a menu of video clips the ones that best express their view of the U.S. presidential elections, and then email links to those clips, along with a personalized message, to friends, family, and colleagues. It is like a cross between an online greeting-card service and a gallery of campaign advertisements, and all content is Creative Commons licensed and hosted at the Internet Archive. Learn more. (Like Creative Commons, the site is nonpartisan and seeking content from across the ideological spectrum; it looks as though their seed content is heavy on the incumbent, but they seem to be actively pursuing other viewpoints right off the bat.)
Comments Off
We have a long-standing specification for embedding licenses in MP3 audio files which requires two pieces of information: a license claim embeddded in the audio file, and verification metadata hosted on a web page. While command-line tools for looking up the verification metadata have been available for a while, we have lacked an easy, drag and drop solution for examining an embedded claim and whether or not it verifies. No more.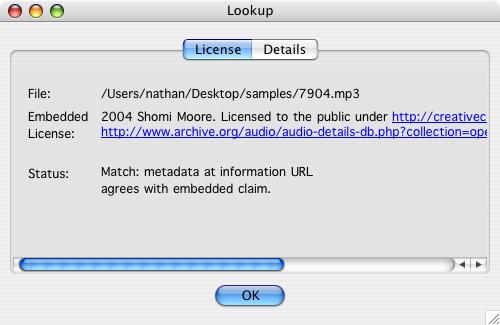 ccLookup is tool available for Mac OS X and Windows which allows you to drop an MP3 file onto the program icon or running window in order to verify the embedded claim, if any. Downloads are available here.
While ccLookup is a step in the right direction, there's still work to be done. Ogg support would be nice, and I'm sure there are features I haven't thought of. Have a comment, suggestion or idea? Email me at nathan@creativecommons.org and let me know.
Comments Off
MTV News blurbed the The WIRED CD today in anticipation of its release later this month.
Comments Off