So it's taken me, oh, about three months longer than I'd hoped to finish the process of saying thanks to everyone on CCStaff I got to work with during my time there. It can be tough sometimes to find the right words to describe the people you've worked the closest with. Which, along with plain-old procrastination, is why I've only now gotten to saying a word or two about Francesca Rodriquez, Laura Lynch, and Neeru Paharia.
First, Francesca. Francesca started at Creative Commons last summer, just when we were moving from Stanford to San Francisco and as the preparations for the WIRED benefit concert and CD were in full gear — probably the craziest period in CC's life. I don't think Francesca and I have ever talked about it specifically, but it must have been an awfully weird introduction to the job. (Would Creative Commons be a constant exercise in triage? Was it normal for people to sleep overnight in the office under their desks? All this for copyright licenses?) Yet Francesca stepped right in, learned the lingo, and equaled everyone else's passion for the project from her first week on. It wasn't until after the Wired concert that I realized just how seamlessly Francesca had become part of the team over a short and hectic time.
One of my favorite memories of working with Francesca was going to see Barbara Kruger speak in San Francisco. The lecture hall was overbooked, and the admission line snaked out the door and around the corner, but the ever-resourceful Francesca found an open side entrance, and we took a couple of seats near the back. After the lecture, armed with a Creative Commons t-shirt, Francesca approached Kruger with all the confidence and smoothness of the art conoisseur and charmer that she is and introduced the artist to CC with one of the most concise and comprehensible explanations I've ever heard. Kruger understood immediately. Trying to woo artists over to CC is something I did regularly for three years, but never with the fearlessness and natural grace Francesca did in that one moment. It stands out as an emblematic Francescan moment for me. Ain't much holding her back, so look out.
Francesca, by the way, is the person to thank for countless details that have made CC a better nonprofit, including the increasingly hip Creative Commons store and membership site and a growing number of t-shirt designs and cool CC schwag (including the cleverest of them all: the CC temporary tattoo). She has also been a behind-the-scenes force at every phase of nearly every Creative Commons event, whether the New York benefit, our South by Southwest trip, or (one I personally appreciate a lot) my going-away party . . . And now, in a newly created Project Manager role, Francesca will apply her good taste and solid judgment and workaholism to a whole new range of CC projects that I, as an outsider now, can only imagine.
I already miss working with Francesca and, more important, shooting the bull with her around the office. It's a good thing she lets me come by to visit the office now and then.
Comments Off

on Francesca Rodriquez
I've been meaning to blog this for a while but if you haven't already seen this brilliant Creative Commons animation, you must. The project was sponsored by Creative Commons Australia. I LOVE the female character's voice.
Comments Off

on Best Creative Commons Animation Ever
Today Apple released a new version of iTunes that includes Podcasting capabilities. I was happy to see while browsing the audio blogs category that there was a "CCMixter for podcasters" (iTunes link) channel with a few tracks off our CCMixter site.
If you're new to podcasting, wikipedia has a good summary, and if you want to try your hand at podcasting and worry about music licensing, using Creative Commons licensed audio is a great way to find music you can freely use.
Comments Off

on Mixter, podcasting and iTunes
This past weekend was the first, of what will hopefully be an annual event: the iCommons Summit. Gathering Creative Commons project leads from around the world (around eighty in all) at Harvard Law School, the conference had several objectives including reporting and sharing ideas on past successes and challenges in the license porting process, developing strategies for furthing the Creative Commons mission around the world, and building consensus on what a truly international and distributed Creative Commons would look like. I also can't forget to mention a few GREAT parties (thank you Professor Nesson for hosting), one in which our Chairman and CEO was unfortunately (or fortunately) thrown into the swimming pool (it's never a great party until someone goes in). See pictures from the whole event here.
Collecting a large group of people who have been working together, virtually, towards the same goal over the past two years, is truly something to see. The energy of the conference was amazing. Great ideas were produced and shared throughout the meeting, and it is hoped that together we can build an organization that meets the diverse needs of a highly committed volunteer base, while furthering the mission of a "some rights reserved" approach to copyright.
Big thanks are in order for Christiane Asschenfeldt, iCommons Executive Director, who in large part, made all of this happen. Also, a great thanks to Elaine Adolfo, Tessi Rieber, Francesca Rodriquez, Diane Cabell, and Wendy Koslow who made the conference go off without a hitch. An extra special thanks to the Berkman Center, who were generous enough to host us, and Professors Jonathan Zittrain, William Fisher, and Charlie Nesson, who lent their thoughtful perspectives in leading our dialogues. Finally, a big thanks to the incredible group of participants who make this movement as groundbreaking as it is.
Comments Off

on iCommons Summit Rocked!
As many may already know, our resident project guru, Neeru Paharia will be leaving us in the fall to pursue her PhD at Harvard University. While we all will miss Neeru and the vision she brought to Creative Commons, we are happy to see her continue her goals in the world of academia. Good luck Neeru! Neeru's departure creates a vacancy at Executive Director for which we will begin a candidate search immediately. Job qualifications and a description can be found in our opportunites page.
Comments Off

on Creative Commons begins search for Executive Director
Microsoft today announced the release of its Simple List Extensions specification to RSS under a Creative Commons Attribution-ShareAlike license. The extensions will enable content providers to deliver ordered lists – wish-lists, top-ten lists, playlists, etc. – using RSS, keeping the list constantly up-to-date and allowing users to filter, sort, or pivot the list in any way they like. Microsoft will implement these extensions in Longhorn but today Microsoft is making these extensions freely available to the community under a Creative Commons license. The Simple List Extensions specification is very explicit about what these extensions are and how they behave, so developers on any platform or device – Windows, Linux, Mac, Phone, Set-top-box, etc. – are able to most effectively implement list extensions into their RSS-enabled products.
As for what motivated the release, Microsoft has indicated that because the original spec for RSS 2.0 was/is released under a Creative Commons license, it made sense to similarly release this extension under a Creative Commons license so that there is no doubt about their intentions. Microsoft wants to allow anyone to use or build on the extension & Creative Commons is, of course, a natural fit for such desires. List away!!
Comments Off

on Microsoft Releases RSS extension under CC-BY-SA license
Not two weeks ago Comixpedia published a roundtable on Creative Commons and Webcomics, but perhaps two weeks too soon. Role playing game company Skotos was readying the release under a CC license of a professionally drawn companion comic book to its Castle Marrach online game: Castle Marrach: Awakenings. Now released, obviously.
Skotos Director of Operations Shannon Appelcline penned an informative column describing how and why they're using Creative Commons for the companion comic book series. An excerpt:
We've got some of our own methods to protect joint creativity at Skotos. In our Terms of Service we define what we call "Participatory Content" and "Public Content". If
Creative Commons had been around when we launched in 2000, I think we
might have incorporated their licenses instead, to protect the joint
work that people do at Skotos.

With Castle Marrach: Awakenings,
however, we're doing something new, and thus we finally have the
opportunity to offer a Creative Commons release without having to try
and transition from an older license. Creative Commons very clearly
matches our ideals here at Skotos–our belief that people can come
together on the Internet and jointly create whole works that will be
bigger than their parts. And, it helps us to do a little bit to fill
the hole left behind by the destruction of the public domain, which I
wrote about when I was discussing mythology (and its absence in the modern world).
Possibly not what they had in mind, but here's a derivative work: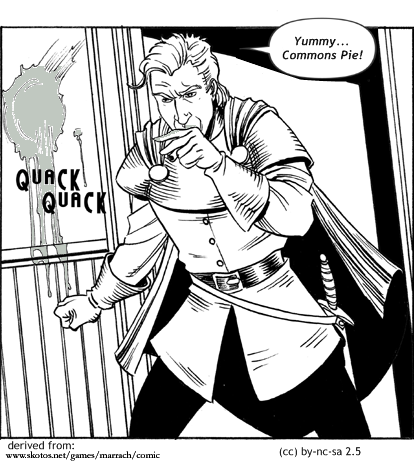 3 Comments »
ccMixter-meister Victor Stone points to the definitive list for the moment of podcasting safe music resources at Dave's Imaginary Sound Space. Many CC-licensed music sites are listed, including many I hadn't seen before.
Dave's list is a great place to start if you're looking for CC-licensed music for your podcast or otherwise. We have an audio page too.
Victor has another valuable recent post on What Licenses Make Sense (To Me). You have to make your own choice when licensing content, but it's always interesting to see inside someone else's thought process on the matter, particularly someone with the perspective of Victor.
Comments Off

on Podsafe Music Making Sense
Ryan Junell, who animated our Get Creative and Reticulum Rex videos is now spearheading a Slow Motion Video contest. You too can create "a video experience that isn't afraid to put a 78 record on at 33 1/3rd and kick back in a beanbag to ponder the mysteries of space and time." Here's how.
All submissions must be licensed under the Creative Commons Attribution License. Given this liberal license choice I expect this project to produce a treasure trove of material ripe for video remix.
Check out recent submissions. Get started on yours today.
Comments Off

on Slomo Video
next page