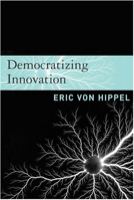 Eric von Hippel has released a PDF version of his book Democratizing Innovation under a Creative Commons license. Hippel explores the growing importance of innovation by users, and sharing of innovations by users.
The book is dedicated to "all who are building the information commons." Let's hope that's you!
1 Comment »
In the spirit of fuller liner notes and proper attribution, I'd like to take a few minutes to point out a few things I am particularly grateful for — specific accomplishments of specific Creative Commoners that may not have yet been attributed fully enough to them.
(I tried to start doing this a few months ago, but work pulled me back into the vortex.)
Matt Haughey has been at Creative Commons since April 2002; we've worked together since the very beginning. Anyone who knows Matt's presence and prominence online knows that Creative Commons' early growth — among bloggers, in particular — would not have been the same without him. He's been the ideal liaison to social software developers and companies (like Flickr), and less visibly and glamorously, the backbone to CC's own internal communications tech. He's also, on top of the regular and heavy stream of UI and information design work, done hundreds if not thousands of tight-deadlined designs, at all possible hours of the day, for things as different as CD covers (e.g.) and Featured Commoner spreads (e.g.).
Matt has also, with DeMaggio-like consistency, pointed blog readers to some of the coolest Creative Commons content with his Featured Content of the Week posts (e.g.: 1, 2, 3, 4, 5.)
Matt took our website from looking like this, to this, to this, to this, to the site's stunning design today.
This speaks for itself.
And in case it doesn't, and in case I haven't said it expressly enough (which I probably haven't), thanks to Matt for all of this and more.
Comments Off

on Matt Haughey
One bit of joy amidst the sadness of leaving Creative Commons is the opportunity to introduce you to Mia Garlick, our new General Counsel. Mia is an IP expert who just recently came to CC from the Silicon Valley branch of the top-notch law firm Simpson Thatcher and Barlett, which she joined after getting her LLM from Stanford (specializing in Law, Science, and Technology). Before coming to the States, Mia had a far-ranging and powerful IP and media law practice in Australia, her home. I've gotten to work with Mia over the last two weeks and am wildly excited both for the staff and for her, as the great CC experiment continues to expand. Mia's strengths in media, international law, and science fit the organization's future needs to a T, and her quick wit and energy will make her a blast to work with, inside CC and out. Congrats and best wishes to you, Mia!
Comments Off

on Meet Mia
I tried limiting this list to ten, but I couldn't do it. There's no way I could really limit it to twenty, even, but I'll go with the first score that come to mind, in no particular order.
(1) Meeting the World's Coolest Man.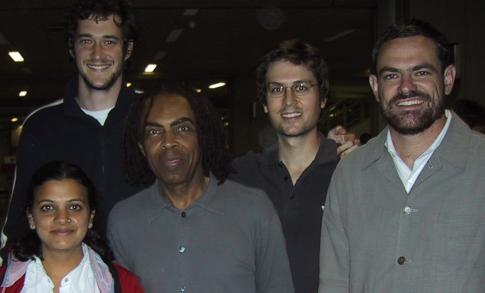 (2) Singing karaoke in Seoul with the lawyers of KAFIL, CC's affiliate institution for the newly launched Creative Commons Korea.
(3) Getting a phone call in January 2002 from my former professor and long-time hero Lawrence Lessig — who, I couldn't be sure, really remembered me — inviting me to join Creative Commons.
(4) Seeing Gilberto Gil and David Byrne perform Cole Porter's "Don't Fence Me In" at the WIRED Creative Commons benefit concert.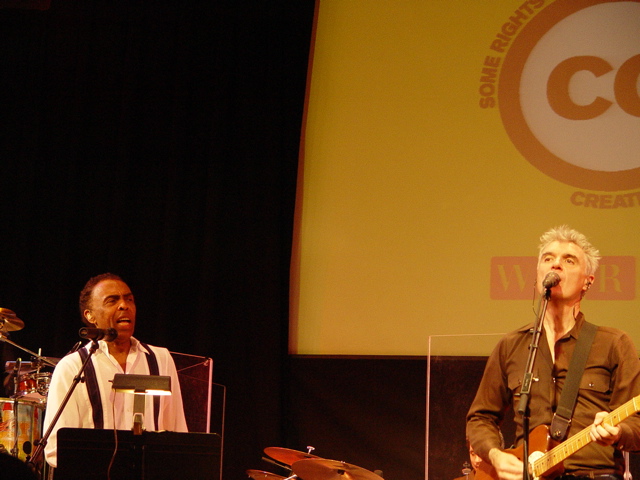 (5) Brainstorming on and making "Get Creative" and "Reticulum Rex" with Neeru Paharia, Ryan Junell, Benjamen Walker, and Christopher Lydon.
(6) Seeing the Brazilian Portuguese translation of both movies at the launch of CC Brazil.
(7) First trying out the phrase "Some Rights Reserved" at a meeting with the great folks — and later, friends — of Rice Connexions.
(8) Talking about rock-and-roll, over beers, with Jamie Boyle, Mike Carroll, and Eric Saltzman after my first CC board meeting in Cambrige, MA.
(9) Sharing countless lunches (and jokes) with CC staff at the Treehouse, on Stanford's campus.
(10) Receiving the amazing going-away gifts of an iPod Shuffle full of CC music and a beautiful CC Taiwan poster from Lessig and the CC team on my last day.
(11) Seeing Grandmaster Flash perform, in a very weird context, at SXSW.
(12) Watching Justin Cone's "Building on the Past" for the first time.
(13) Seeing Christiane's daughter Lara playing with Willem at Larry and Bettina's house.
(14) At Duke's FRAMED! conference, seeing Negativland's Mark Hosler meet, confront, and then make friends with the lawyer who set the U2 brouhaha in motion.
(15) The CC Europe Summit.
(16) Awaking from a nap under my desk to hear everyone from CC and Stanford CIS singing Happy Birthday on my 30th.
(17) Hearing a crazed David Byrne fan tell my mother, age 73 — at her first rock show ever — that the song "Psycho Killer" reminded him of her.
(18) Eating at Carl's Jr. at 3am with two members of the Polyphonic Spree.
(19) Experiencing the mayhem before, and the joy during, every Creative Commons party.
(20) Doing an interview, with Lessig and Neeru, with the cartoon blogger Machina in Tokyo.

And there are so many more.
What kills me about putting this list together is to think of all the great things that I will miss out on from today forward.
Comments Off

on Top twenty memories at CC
This news hasn't exactly been a secret up until now, but it hasn't been official either. Starting tomorrow, I'll be hanging up the Creative Commons jersey to start work full-time at Google, as a product advisor and eventually product counsel. Before I go, I have plenty to say about, and many people to thank for, the amazing experience Creative Commons has been.
Just over three years ago, I started work at Creative Commons with little idea of what I was getting into. It involved copyright, I knew, and it involved Lawrence Lessig, and that alone was enough to ditch my plans to practice law in New York. (Ok, practicing law wasn't too tough to pass up, but New York was.) It became clear shortly into the job that the decision was even better than I'd ever imagined. It was as if everything I'd done, in school, at work, and through my hobbies, had culminated in this position working for an embryonic nonprofit called Creative Commons.
Here are three little anecdotes that give a glimpse into how winding up at Creative Commons was, for me, like making a brand-new friend whom I felt I'd known forever.
In college, I played in a band. We weren't particularly good, but we had a great time, and over two years I learned the single most important lesson about creativity that I've learned to date: Next to romance (with which creativity shares a few features), making something with friends, with everyone contributing different but equal parts, has got to be the most fun thing in the world. It's also, I realized, the only way things really get made. I don't care if you're Bob Dylan — nothing comes out of your own head and into life without the influence of others, whether living or dead. (Every time you pick up a guitar, you're collaborating with the dead.) I started looking more closely at CD liner notes, at writers' biographies, at the acknowledgements sections of books, looking for clues into the real story behind the creation of anything credited to only one person. I didn't find much, and I didn't understand why.
In law school, I wrote an article about the musical Rent — not my favorite piece of art, by a long shot, but one with a great joint-authorship dispute at its center. The playwright worked closely with a dramaturge to get the show into Broadway shape, and pretty much everyone agreed that without the dramaturge's contributions, the final show would never have existed. Problem was, they had no contract, and no other paperwork demonstrating an intent to share authorship credit. So, a federal court gave the full copyright to the playwright. In the article I argued that it was nonsense to expect artists to begin a jam session by filling out paperwork. (If you've seen "Get Creative," our first flash movie, the line "we interrupt this brainstorm to call the lawyers" comes straight from that experience.) But, as sure I was that the rules were wrong, I had no idea what to recommend in their place.
By the time I finished school, and thanks to a lot of people at the Berkman Center, I was fully infected with the IP bug. I was genuinely obsessed with the riddle that we're all still trying to figure out: How will all this stuff work in the future? How can we keep up this technological progress without giving artists the shaft? I still didn't have an answer. I remember very well doing my first stab at public speaking on a panel at a conference in New York. Siva Vaidhyanathan also spoke, as did the Dead Kennedy's Jello Biafra. Biafra was railing against the music industry and professing his love for Napster (which was then at its peak), but also explaining how he didn't want his songs winding up in Coca-Cola commercials. I remember saying something like, "Hey, Jello, you can't have it both ways."
That statement ranks right up there with the time in 1995, when I told a scholarship interview committee that the Internet "was overrated," as the dumbest thing I've ever said.
It wasn't until I finally wrapped my brain around the idea behind Creative Commons, cooked up collaboratively by our board of directors, that I felt someone had begun to crack the riddle. That epiphany was the first of many in my three years here; over and over again I found myself the lucky steward of other people's amazing ideas. From our logo (thank you, Ryan Junell) to our icons (thanks, Molly) to the vision of iCommons (Lessig, Christiane, Roland) to the Tech Challenges page (Hal Abelson) to the sampling licenses (Negativland!) to the WIRED CD (Conde Nast and the whole editorial staff) to CC Mixter (Neeru) to CC Publisher (Nathan Yergler) to CC Search (Mike, Nutch, Yahoo!) to our site re-design (Matt, Adaptive Path) — the list could go on and on — I've had the chance to stand at the hub of a giant collaborative creation without really doing much of the creating. It's been a bit like being in a band, but I feel more like the guy behind the soundboard than one of the musicians. And I feel awfully fortunate to have been there to witness it all.
I'm sure that, in some form or other, I'll carry on with the CC effort. But in any case, I like to think that like Menudo or Spinal Tap, we're the kind of band that stays together regardless of the particular line-up at a given time.
(This is the first of a few posts I'd like to write before offically signing off. I'm a lame-duck with a few hours of bully-pulpit left, so bear with me.)
Comments Off

on Dream job
The folks at Billboard have put up a video stream of Professor Lessig's keynote address given last week at M3.
Comments Off

on Watch Lessig at M3 without Powerpoint
I recently had a chance to catch up with longtime supporter of Creative Commons, Neil Leyton from Fading Ways Music. Fading Ways has been a true leader adopting Creative Commons in the commercial music space, and has even taken to educating others — Neil is organizing this upcoming music symposium in the UK.
Check out the Featured Commoner interview with Neil, as I'm confident you'll find him to be very insightful.
Comments Off

on Featured Commoner: Fading Ways Music
A week ago, I blogged about the 5 cent download. Soon after, I heard from Tryad, a virtual band that spans the ocean from Japan to Ohio. They decided to open their own 5 cent download store, and also offer the service to other artists for free (as long as the bandwidth costs remain manageable).
So, if you want to sell you Creative Commons licensed music, drop them a line. If you want to support artists who go CC, go buy some music. Let's build some good content, and hopefully, a good market.
Thanks Tryad for taking this idea and running with it.
Comments Off

on 5 cent download store comes to life!
So in my haste to get ccPublisher 1.1 out on Monday, I neglected to include some of the supporting files in the distribution. This didn't cause immediate problems on Windows, but did prevent the application from launching on Mac OS X. So without further delay, ccPublisher 1.1.1. Windows and Mac OS X download available.
Comments Off

on Well That's Embarassing
I'm a week behind on extracurricular reading, so forgive the delay in drawing attention to this often-hilarious essay on ghostwriting by Joe Queenan in last week's NYTimes book review.
The whole thing is worth reading, but here are a couple of nuggets for the IP-minded:
[I]n recent times a cloud has begun to hang over the deliciously vaporous world of ghostwriting. This is because greater transparency about the collaborative process has inadvertently led to greater confusion. Things started to take a bad turn when the basketball legend Charles Barkley complained that he had been misquoted in his own autobiography. This gave rise to a niggling suspicion in some quarters that ghostwriters were churning out books with only minimal input from their nominal authors. Shocking! . . .
And on Newt Gingrich's shameless (and stylistically criminal) ghostwriting:
I do not think I am being overcritical by saying that such prose lacks the epic grandeur of a Tolstoy or a Norman Mailer. But what is particularly irksome for the reviewer is that he has no way of knowing who is to blame for these hideous passages. Newt Gingrich is still a powerful voice in the American political community and still young enough to run again for high public office. If William R. Forstchen is the one responsible for the lunkheaded plot and comic-book dialogue of this infantile novel or the more recent "Gettysburg" ("He thought of Elizabeth, sweet Elizabeth, wondering what she would say of him if he ever confessed his terror"), that is one thing. But if Gingrich himself is the one firing off these fusillades of malarkey, it could be a portent of some very unnerving stump speeches in years to come.

Comments Off

on Ghostwriting: Attribution and Accountability
previous page
—
next page