Wikitravel and World66, two user generated content travel sites each using the same Creative Commons license (Attribution-ShareAlike 1.0) have been acquired by Internet Brands, the operator of carsdirect.com and many other .com properties.
It's great to see Internet Brands' confidence in a business built on CC-licensed content, particularly under a BY-SA license, which permits forking, even for commercial purposes.
Congratulations to World66, Wikitravel, and especially to Wikitravel cofounder Evan Prodromou, who has been an active supporter and constructive critic of Creative Commons from the beginning.
2 Comments »
Elizabeth Stark of Harvard Free Culture reports that Sharing Is Daring — a terrific art show featuring works offered under Creative Commons licenses — is ready to rock with an opening reception on April 27.
Harvard Free Culture presents Sharing is Daring, a showcase of new & derivative artworks released under flexible licenses that allow for sharing & remixing. The exhibition will feature a range of graphic, photography, video, and multimedia works by:

~ Abram Stern ~ Matt Vance ~ Elton Lovelace ~ Brian Zbriger ~ Suburban Kids with Biblical Names ~ Shanying Cui ~ Ben Sisto ~ Tim Jacques ~ Rebecca Rojer ~ Greg Perkins ~ Ryan Sciaino ~ David Meme ~ Matt Boch & Claire Chanel ~ selections from the 100 Second Film Festival ~

Please join us for our opening event on Thurs., Apr. 27, 2006 at 8pm at the Adams ArtSpace, Harvard University, Plympton at Bow St., in Cambridge, MA. Food and drink will be served.

For more information, visit sharingisdaring.com.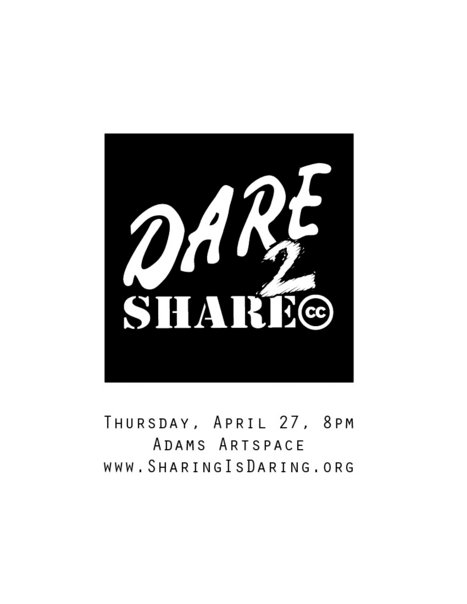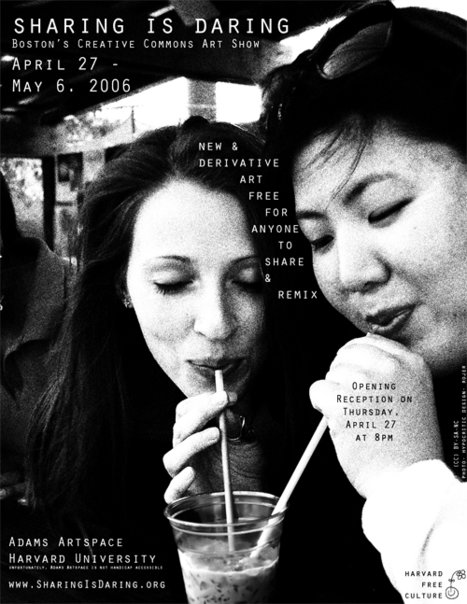 Comments Off

on Sharing Is Daring: CC art show in Boston opens on April 27
It's been awhile since the last time we posted estimates of the number of web pages under a Creative Commons license or a breakdown of how those licenses are distributed. The last aggregate estimate (45 million) was posted to our support the commons page in December, which has since changed (thanks yet again for your support!). The estimate appears in at least two interviews of our chair published on the web December and January at Technology Review and The Guardian.
We frequently get asked about license adoption, so I've created a page on license statistics that you can always visit for current and links to historical estimates and other statistics. Expect an updatedaggregate estimate every six months — next in June.
In addition to coarse estimates based on search engine queries we also have some promising growth numbers from individual CC-enabled content communities and curators. As of early this month Flickr hosted 10.8 million CC-licensed images and Soundclick hosted 219,000 CC-licensed songs, up from 4.1 million and 159,000 in August. Revver hosts 20,000 CC-licensed videos and did not launch until November. These are only a few of many CC-enabled hosts.
There have been some small changes in the types of licenses being used since last February. A current chart is reproduced below, see the previous link for a year-ago chart.
The small change appears to be in the direction of using more liberal licenses. Attribution, Attribution-NonCommercial and Attribution-ShareAlike all gained bigger slices of a (much larger) pie while Attribution-NonCommercial-NoDerivs, Attribution-NonCommercial-ShareAlike and Attribution-NoDerivs have smaller shares relative to a year ago.
The proportionate use of the NonCommercial, NoDerivs, and ShareAlike properties have all declined slightly due to the increased use of more liberal licenses (with fewer prohibitions and requirements).
| License Property | February 2005 | April 2006 |
| --- | --- | --- |
| NonCommercial | 74% | 71% |
| NoDerivs | 33% | 28% |
| ShareAlike | 49% | 48% |
Comments Off

on License adoption estimates
Creative Commons is participating in Google's 2006 Summer of Code as a mentoring organization. If you're a student please read the Summer of Code Student FAQ, check out CC's Tech Challenges and start thinking about your application. Student proposals will be accepted May 1 through May 8.
We'll have a page dedicated to SoC 2006 fleshed out over the next week. You could build infrastructure for the commons and earn $4500. :) Thanks to Google for making this possible!
Comments Off

on Summer of Code and Commons
Wednesday night's CC Salon San Francisco concerned the future of music.
James Polanco spoke about Fake Science's CC licensed podcasts and emphasized that Fake Science is not a record label, but a digital distributor with a far lower cost structure — and lower costs for both artists and patrons. Fake Science has a great slogan: Be a Patron of the Arts, Not a Consumer.
However, business is tangential to the future of music: how it is made and what it sounds like.
Bob Ostertag and Lucas Gonze each gave deep, highly compressed thoughts on the future of music that I will not attempt to summarize here. Watch for future articles and blog posts from them. One point they seemed to agree on is that though the constraints have changed (e.g., decline in mechanical reproduction, album-length works and album-length attention spans), new constraints are just as interesting. Gonze suggested that a new generation of "blog musicians" will slowly build up a body of small, inexpensive works.

Bob Ostertag speaks.

Minus Kelvin giving a shout out to Victor Stone and ccMixter.
Photos by Ryan Junell licensed under CC BY 2.0.
The next CC Salon San Francisco is May 10, featuring Chris DiBona, Open Source Programs Manager at Google, Ken Goldberg of UC Berkeley, Tiffany Schlain of the Webby Awards, and Abram Stern and Michael Dale of Metavid. Be there then or be cube.
Comments Off on Futures of Music
Yochai Benkler has published his new book, The Wealth of Networks: How Social Production Transforms Markets and Freedom under a Creative Commons Attribution-NonCommercial-ShareAlike 2.5 license. A brief excerpt (page 482):
[W]e are seeing an ever-more
self-conscious adoption of commons-based practices as a modality of infor-
mation production and exchange. Free software, Creative Commons, the
Public Library of Science, the new guidelines of the National Institutes of
Health (NIH) on free publication of papers, new open archiving practices,
librarian movements, and many other communities of practice are devel-
oping what was a contingent fact into a self-conscious social movement. As
the domain of existing information and culture comes to be occupied by
information and knowledge produced within these free sharing movements
and licensed on the model of open-licensing techniques, the problem of the
conflict with the proprietary domain will recede. Twentieth-century materials
will continue to be a point of friction, but a sufficient quotient of twenty-
first-century materials seem now to be increasingly available from sources
that are happy to share them with future users and creators. If this social-
cultural trend continues over time, access to content resources will present
an ever-lower barrier to nonmarket production.
There's a book release party this evening in New York City.
Comments Off

on Wealth of Networks
NewsForge has reviewed ccPublisher 2 beta 1 (beta 2 is now available):
Beta 1 offers a sparse, straightforward interface. Follow a few prompts to select applicable files for upload, enter metadata for the Internet Archive listings, and select a CC license and the files' formats. The program uploads all the information to the Internet Archive, where it appears within 24 hours.

The ccPublisher 2 team plan several useful features for the official release, including complete conversion to the more modular and extensible ccPublisher 2 architecture, support for extensions and plugins, and easy customization for third-party developers.

The ccPublisher 2 developers have already set their sights on version 1.1, which they say will embed CC metadata into numerous formats and offer full support for localization. They also hope to allow users to extract existing metadata from the media files themselves, making the process much faster, particularly when uploading a large number of files.

The current ccPublisher 2 beta release is a useful, yet somewhat limited, application for Internet Archive publishing. But if its development road map is an indicator, ccPublisher 2 is set to become an invaluable tool in the future.
Thanks Sean "Nz17" Robinson of NewsForge! Note that ccPublisher 2.1 is the version that will include full localization. It is due for release, appropriately enough, during the iCommons summit this summer.
Comments Off

on ccPublisher 2 beta reviewed
Audio fingerprinting (and more) company MusicIP has added the ability to attach a Creative Commons license to audio tracks registered via their ListenerLink service (press release; PDF).
Community music metadatabase MusicBrainz is working with MusicIP's fingerprinting technology and has also added the ability to track CC licenses, see details on the MusicBrainz blog.
This will be a good year for "open music infrastructure" and CC will be a big part of that…
Comments Off

on MusicIP and MusicBrainz track CC
We're pleased to announce a new Creative Commons remix contest in conjunction with Crammed Discs over at our community remix site, ccMixter. Crammed artists Cibelle, DJ Dolores, and Apollo Nove — some of Brazil's most innovative contemporary musicians — are offering new sounds online under a Creative Commons BY-NC license, so people throughout the world can legally use them in remixes, mash-ups, and new compositions. Nine winning remixes will appear on a Crammed/ccMixter EP project to be sold online through digital music stores.
Comments Off

on Crammed Discs Remix Contest at ccMixter!
previous page
—
next page