On Tuesday, 31st May at 6pm local time, Creative Commons Qatar will celebrate its official birth with a reception in a unique venue, the Museum of Islamic Art in Doha.
The CC Qatar launch will be a celebration of Qatari and Arab creativity. Qatar has a flourishing and rapidly expanding creative scene, which will be featured at the launch through the works of more than 20 local artists—including photographers, bloggers, fashion designers, web developers and writers—that are currently releasing their creations under CC licenses.
Al Jazeera, which in 2009 became the first broadcaster in the world to launch a CC-licensed broadcast-quality online footage repository (under CC BY), will present a video with the latest updates about their CC-released works and exciting projects.
ictQATAR, which in October 2010 successfully hosted the "Digitally Open" summit and the second CC Arab world regional meeting in Doha, will serve as the public lead for outreach in Qatar, with the help of a vibrant and very active community of Creative Commons advocates, artists and content creators, as well as institutions and organizations.
The launch party will be livestreamed at Livestream.com/ictQATAR from 6 pm to 8 pm local time (GMT + 3). The festivities will include a live remix by visual artists Naeema Zarif and Lina Merhej from the CC Lebanon community, and a live DJ/VJ set from Celine Seeman and Colin Brown from CC's Canadian community.
Following the launch, Creative Commons Qatar will host a series of workshops for content creators, as well as support and other community engagement activities. The first series of workshops will take place on June 1-2 at Virginia Commonwealth University, Doha Campus. It will be led by Naeema Zarif and focus on how visual artists can leverage Creative Commons licenses with their works.
For more information about Creative Commons Qatar activities, you can visit www.creativecommons.qa and follow their updates on Twitter @ccqatar.
Comments Off

on Creative Commons Qatar launches today!
Last month at the New and Emerging Legal Infrastructures Conference I had the pleasure of participating in a panel on Interface Design for Legal Systems. See my presentation on slideshare or as a pdf.
This led to some reflection upon and discussion of Creative Commons' "Legal User Interfaces" (LUIs). Each of the "layers" (the legalcode or license itself, the "human-readable deed" explanation of the license, and a "machine-readable" description of the license) of CC licenses serve both as user interfaces and opportunities to build upon to create further user interfaces, as are CC license buttons, the license chooser, and search. I focused on the deeds, which probably most transparently serve as LUIs, and as they are highly visual and subject to obvious critique, make for good presentation and discussion material.

BY-SA deed before and after treatment (full size). See my presentation for images of BY-SA deeds going back to 2003.After the conference, my colleagues Diane Peters, Alex Roberts, and Chris Webber made two (or three, depending on how one counts; see this bug for the action) improvements to the deeds based on feedback we've gotten or frequently give that are in hindsight pretty obvious:
Under the "You are free:" heading, "to make commercial use of the work" had been dropped in late 2006 from deeds for licenses without the NonCommercial (NC) condition in preparation for adding "share" and "remix" icons (a "commercial use" icon would have constituted icon overload and pushed important conditions further down the page). While the absence of NC on such licenses is telling, bringing a call-out of commercial use permission back to the deeds seems appropriate given occasional criticism that some associate CC only with NC use.
Speaking of icon overload, one thing I often notice when someone has an idea along the lines of "CC for X" (where X is most frequently related to privacy) is a tendency to invent a whole bunch of icons to represent a complex space. But lots of icons means most won't be widely recognized and many won't be intuitive. It's really hard to come up with an intuitive icon to represent often abstract concepts! This reflection made it easy to drop the "share" and "remix" icons (keeping the text) from CC deeds while adding commercial use text (see above). Now the only icons on CC deeds are for license conditions, which are reinforced by their presence on CC license buttons on millions of web pages and that the concepts they represent are reflected in CC license names.
Occasionally someone will complain about the mere existence of CC deeds, as it is the licenses that have legal force, or a softer version, that the deeds may provide a useful overview, but people should really read the licenses (example). Such criticism has always been swamped by appreciation of the value of the quick "human readable" explanation that the deeds provide. Still, we realized a very simple change would put the full licenses more front and center for anyone who wants to read them in full (please do; more CC expertise in the world is of great help) — move the notice "This is a human-readable summary of the Legal Code (the full license)." from the bottom to the top of CC deeds!
Initial reaction to these changes has been very positive, but we welcome criticism and suggestions for further improvement. One nice thing about these changes is that they did not require any new or changed text, thus creating no new work for translators. However, if you see anything that could be improved in your language, joining a CC translation team is a really valuable way to get involved.
Although we don't usually post about small tweaks to the various CC layers and tools (again, all of which serve as LUIs and building blocks for further interfaces), we're constantly on the lookout for improvements and have worked particularly on the With the understanding that: section of the deeds over the past year or so.
The ability to make such explanatory improvements as use cases, the law, and technology all change is indeed a benefit of having human readable deeds as an interface to our licenses (all of this also applies to CC0, our public domain dedication), which can only change when introducing a new version, which must be done very rarely. We're building up to public discussion of just that, version 4.0, so now is a great time to critique, give feedback and make suggestions with respect to all aspects of CC tools.
7 Comments »
On Tuesday, the Chronicle of Higher Education posted the article, "Publishers Criticize Federal Investment in Open Educational Resources."
We strongly support the U.S. Department of Labor including a CC BY requirement in their recent TAACCCT grant which makes available $2 billion to create open educational resources (OER) for career training programs in community colleges. As we announced earlier, Creative Commons will actively assist the winning grantees by providing expertise in open licensing, adoption and use, and more, to help ensure that the OER created with these federal funds are of the highest quality.
Having just joined Creative Commons this week as its new Director of Global Learning, I look forward to leading these efforts and also to help clarify Creative Commons' role in the education space. Below is my response, originally posted in the comments section of the Chronicle article:
(1) The US Federal Government has, for decades, provided grants to higher education to produce new research and educational content. To say it is "dangerous for [the Federal Government] to be in the product business" is irrelevant. The Department of Labor (DOL) is exercising rational, responsible public policy that more efficiently uses public tax dollars to improve education opportunities.

The DOL has put forth a simple, effective public policy: Taxpayer-funded educational resources should be open educational resources.

Open educational resources (OER) are teaching, learning, and research resources that reside in the public domain or have been released under an intellectual property license that permits their free use or repurposing by others.

Information that is designed, developed and distributed through the generosity of public tax dollars should be accessible to the public that paid for it — without undue restrictions or limits.

If you think about this open policy, it makes sense. We, the American taxpayers, should get what we paid for.

(2) Karen Cator is correct: the commercial publishers (textbook, journals, etc.) should be embracing and supporting this new public policy. When publicly funded digital content (courses, textbooks, data, research, etc.) is openly licensed with a CC BY license, everyone can use and modify the open content to meet their needs — including the commercial publishers.

Moreover, the CC BY license does not restrict commercialization of the open content. To be clear, the commercial publishers can take all $2B of content created in this DOL grant, change it, make it better, add value, and sell it. The consumer (states, colleges, students) will then have a choice: (a) use the free openly licensed version(s) or (b) purchase the commercial for-a-fee version. If the commercial content / services are worth paying for, people will pay. If not, they won't.

Next step? We should applaud the Departments of Labor and Education for their work and encourage all US Federal agencies to follow suit: require CC BY licenses on all content produced with federal funding.
4 Comments »
Faces of Libre Graphics Meeting 2011 by Tom Lechner /
CC BY-NC-SA
In 2007, Jon Phillips wrote this about Libre Graphics Meeting:
I wanted to underline how key it is for all those in Open ____ (Open Content, Open Source, Open etc) get together at some point to see each other physically, as often it's only virtually.
It's now 2011 and Jon Phillips is a CC alumnus but still active in Libre Graphics Meeting every year. This year Jon Phillips invited me to attend and speak as CC representative and community member about Blender and about free network services. I spoke three times:
At the Montreal Python usergroup giving a talk on Blender and Python very similar to the talk I gave at PyCon this year and similarly well received (slides here). I also gave a lightning talk on my new project, GNU MediaGoblin.
Another talk on Blender, this one focused more on artists and advocacy animations.
An autonomo.us panel on free network services. I strongly believe that licensing that permits copying and modification is essential to the success of free network services and we addressed this a bit but not as strongly as I'd hoped. Aside from this, the conversation was very good, especially in the second half of the talk which was mostly driven by audience participation. It seems clear to me that the Libre Graphics Meeting community understands why distributed free software network services matter, even to artists. GNU MediaGoblin was introduced formally to Libre Graphics Meeting during this talk also.
If I were to describe Libre Graphics Meeting 2011 in one phrase it might be "2011 is the year of the innovative libre graphics desktop." Of course, in saying this I am making a joke, but there is some truth to it. It's unfortunately true that libre graphics are unlikely to become the dominant software tools for graphics authoring in the near future, but even still, Libre Graphics Meeting demonstrates that people are clearly doing great and innovative things in the libre graphics world.
And just as Free Software Needs Free Tools, free culture also needs free tools. If culture is going to be reworked, remixed, and even simply survive the dangers of obsolescence, we need unencumbered formats and tools to empower current and future authors and artists. And so the libre graphics community plays a critical role here.
Free culture and free software don't mix often enough, but when they do the result is powerful. In few places does this mixing happen as clearly as it does in the libre graphics community, and so it's good that we have Libre Graphics Meeting as a gathering point for powerful intersections such as these.
1 Comment »

by Antje Taiga Jandrig / CC BY-NC-SA
When Vincent Moon and Efterklang completed "An Island" earlier this year, they launched public-private screenings of the film, encouraging the public to host free screenings under the CC BY-NC-SA license. Over the next two months, 1,200 screenings took place at various locations around the world; this Google map and Flickr stream demonstrate the reach and scope of the film.
To follow the success of their initial distribution, Vincent Moon and Efterklang have announced a limited edition DVD package of "An Island" and a digital download that follows the Pay What You Can model used successfully in the past by bands such as Radiohead. You can pay what you can for the documentary and download it under CC BY-NC-SA at the website, where you can also order one of the limited edition DVD packages with a run of 5,000.
1 Comment »
The U.S. Department of Labor continues to seek qualified peer reviewers to evaluate the first round applications for the agency's Trade Adjustment Assistance Community College and Career Training grant program.
The Department is seeking a pool of education and training professionals that includes individuals with experience in providing or administering fully online or technology-enabled programs, individuals who have knowledge of or experience with evidence-based learning, and individuals with reasonable knowledge in both areas to help evaluate these applications in mid to late summer, 2011.
Detailed information and instructions for consideration is contained in this information page (PDF). Interested volunteers should contact the Department by May 27, 2011.
Creative Commons will not participate in the review process. For more information about how CC is involved in supporting grant winners, see our TAACCCT page.
3 Comments »

KNUST OER production workshop team by bagaball / CC BY
The Kwame Nkrumah University of Science and Technology (KNUST) has adopted a university-wide open educational resources (OER) policy with CC Attribution as the default license for university material. KNUST's "Policy for Development and Use of Open Educational Resources (OER)" (pdf) outlines the purpose, role, and process of OER production at the university, and specifically states that,

"Materials produced which do not indicate any specific conditions for sharing will automatically be considered to have been shared under a Creative Commons Attribution license."
The policy is available at the KNUST website and, in line with their policy, is available for use under CC BY.
KNUST is a partner institution in the African Health OER Network and works closely with the University of Michigan Medical School and Dental School to develop and distribute health OER. KNUST OER is hosted at http://web.knust.edu.gh/oer but is also duplicated for use at the Open.Michigan and OER Africa sites.
You can help us improve the case study on KNUST here.
1 Comment »
Stay up to date with CC news by subscribing to our weblog and following us on Twitter.
Creative Commons Global Meeting 2011
Since the last global meeting of the Creative Commons community in Sapporo, we've seen the launch of CC0 and the Public Domain Mark, and a half-dozen more CC affiliate jurisdictions with many more in the works. To celebrate this and many other CC milestones, we are holding our next global meeting on the 16-18th of September this year in Warsaw, Poland. Co-hosted by our CC Poland team led by Alek Tarkowski, the event will bring together affiliates from more than 70 jurisdictions, CC staff, and a number of CC Board members. In addition to gathering requirements for version 4.0 of the CC license suite, the meeting will consist of workshops and forums on CC community building and adoption efforts in key sectors such as education, public sector information, and data. Learn more.
CC Attribution required in government policy
We are excited to announce that Creative Commons has been awarded a grant from The Bill & Melinda Gates Foundation to provide support to successful applicants of the U.S. government's Trade Adjustment Assistance Community College and Career Training (TAACCCT) grant program. All grantee outputs will be released under the CC Attribution (CC BY) license. To assist grantees, Creative Commons, along with several partnering organizations, will provide expertise in open licensing, adoption and use, and more. Our technical services will offer a competitive advantage for organizations seeking TAACCCT grant funds and ensure that the open educational resources created with these federal funds are of the highest quality. Learn more.
More exciting developments in government and foundation policy
In addition to requiring CC BY for TAACCCT grantee outputs, the U.S. Department of Labor has also required CC BY for outputs of the Career Pathways Innovation Fund. The fund makes available up to $122 million to "continue DOL's support for community colleges, with a particular focus on career pathway programs implemented by community colleges in partnership with other organizations in the community."
CC BY is also the chosen license for non-software outputs of the Next Generation Learning Challenges grantees, a multi-year program dedicated to improving college readiness and completion in the United States. You can see the full list of the Wave I winners here.
In other news:
Banner photo by x-oph – CC BY-NC-SA 2.0.
1 Comment »

Open Government Data Venn Diagram by justgrimes / CC BY-SA
You are invited to attend a workshop titled Open Government: Open Data, Open Source and Open Standards, organized jointly by Dr. Hanif Rahemtulla, Horizon Digital Economy Research and Puneet Kishor, Creative Commons. The workshop will be held in conjunction with the annual Open Source GIS (OSGIS) Conference on June 21, 2011 in Nottingham, United Kingdom, and will take place at the School of Geography/Centre for Geospatial Science at the University of Nottingham.
This workshop builds on the Law and the GeoWeb workshop held recently at Microsoft Research, Redmond, WA, and will bring together speakers from across industry, research and academia to contribute toward some of the fundamental theoretical and technical questions emerging in the Open Data space (i.e., how to mark up and release open data; licensing models for governments and how to interface them to other open source and commercial licensing regimes; conflicts between data protection and transparency and structuring access to data by different groups).
The following speakers and topics have been confirmed:
Dr. Peter Mooney, Geotechnologies Research Group, Department of Computer Science, NUI Maynooth (NUIM), Co. Kildare. Ireland. Producing and consuming open data
Professor David Martin, School of Geography, University of Southampton, Southampton. Mapping the UK population over time: a universe of new possibilities

Zach Beauvais, Talis. Linked data
Dr. Chris Parker (GeoVation and Community Propositions) and Ian Holt (Web Services), Ordnance Survey, Southampton. Tackling global challenges through open innovation and geographic information
Dr. Catherine Souch, Royal Geographical Society. The Open Data revolution and data literacy in higher education
Dr. Katleen Janssen, Interdisciplinary Centre for Law and ICT (ICRI), Katholieke Universiteit, Leuven, Belgium. Privacy and legal implications of open data
Professor Derek McAuley, Horizon Digital Economy Research Institute, University of Nottingham. Exercising our rights over information about us
Proceedings
Proceedings of the Redmond and Nottingham workshops along with selected longer papers will be published in a special issue of the open access International Journal of Spatial Data Infrastructure Research published by the Joint Research Centre of the European Commission.
Contact
Please register for the workshop at the main OSGIS web site.
For further information please contact either Dr. Hanif Rahemtulla or Puneet Kishor.
For more on Creative Commons and open data, see our wiki.
3 Comments »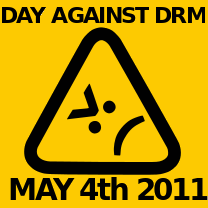 Today is a good day to learn about Digital Rights Management, or more accurately Digital Restrictions Management:
Although DRM seems to no longer be the red hot issue it was a decade ago, it is still very much present, causing problems regarding fair use, lack of competition, privacy and security breaches, forced obsolescence, and more. DRM is often now involved in distribution of movies and books, to the great consternation of some librarians. Not listening to librarians puts our freedom and safety at risk.
A few things about DRM specific to Creative Commons:
7 Comments »
next page