The Open Professionals Education Network (OPEN) – led by Creative Commons – is holding a conference tomorrow for grantees of the $500 million U.S. Department of Labor's Trade Adjustment Assistance Community College and Career Training Grant Program (TAACCCT) program. Grantees will learn how to openly license (under CC BY) all educational materials created under the program so that they may be freely accessed, shared and reused by anyone. CC BY is a requirement of the funding. Grantees will also be shown how to:
use tools and techniques for improving access to their materials and universal design;
maximise interoperability, and
conform to best practice e-learning open standards and specifications.
Grantees will meet other grantees with similar projects for potential collaboration. Collaborating may increase the quality and speed of course development, and free up more time to adapt courses to local needs (for example to major employer needs). Collaboration is also important given many new courses are in emerging industries – such as robotics, mechatronics, health information technology, green construction, green energy and geospatial technologies – where existing materials are not as prevalent and where many projects aim to use innovative teaching tools such as virtual labs.
The conference is fully booked, which indicates strong interest in learning the best ways to enable open education practices.
OPEN includes Creative Commons, Carnegie Mellon Open Learning Initiative, CAST, and the Washington State Board for Community and Technical Colleges. It has been funded by the The Bill & Melinda Gates Foundation to provide free support to grantees to help them meet grant requirements. For more information on OPEN see http://open4us.org.
The TAACCCT program supports President Obama's goal of having the highest proportion of college graduates in the world by 2020 by helping to increase the number of workers who attain degrees, certificates, and other industry-recognized credentials. Openly licensing the materials created under this program may create a multiplier benefit to course content and development nationwide. Benefits may include: accelerated course development and learning, improved pedagogies and retention, and broader access for citizens regardless of their location and wealth. Open licensing optimizes the impact of taxpayer funds spent on the TAACCCT grants.
Comments Off

on OPEN Kick-off Conference for U.S. Department of Labor Grantees
On Monday, the World Bank hosted an event called What the World Bank's Open Access Policy Means for Development (you can view the video recording of the event at the link or embedded below). Participants included Peter Suber from Harvard University, Michael Carroll from American University (Mike is on the Board of Directors at Creative Commons), and Cyril Muller and Adam Wagstaff from the World Bank. The discussion was timely given the Bank's recently-announced Open Access Policy and Open Knowledge Repository. We blogged about the Bank's announcement of these two great initiatives. The World Bank's Open Access Policy requires that all research outputs and knowledge products published by the Bank be licensed Creative Commons Attribution license (CC BY) as a default.
The conversation Monday revolved around the impact and potential for World Bank research — and open access in general — for development in countries around the world. For example, how will access and reuse of research under an open access policy create opportunities to solve large global challenges such as climate change and hunger?
The panelists jumped in, and stated that an immediate, baseline benefit of the open access policy is that now, World Bank research is aggregated in one place and made available for free to anyone with an internet connection. This is not the case with subscription journals, where readers have to pay to view the articles. Mike Carroll noted the importance of addressing copyright concerns in open policies. Even when research is made available for free online, if readers are unclear about the rights available to them, the articles and data will not be as valuable or impactful. This is especially important in developing nations, where republication and moving information from the Internet to an offline environment requires copyright permission. With open licenses such as CC BY chosen by the World Bank, permission to republish and translate articles into other languages is automatically granted. Carroll pointed to related success in the Open Education space. He said that many MIT Open CourseWare materials have been translated and put into use in other countries (such as Vietnam) specifically because the original resources were published under an open license that permitted translation and reuse.
Suber and Muller said that one benefit of an open access policy (especially when combined with open access to the underlying data) is that it can help validate research and work toward consensus on a particular issue, such as climate change. This in turn can help policymakers make better, research-driven decisions. Muller said that open access promotes collaboration between colleagues, even those with different skill sets and backgrounds. With this comes the increased possibility of solving complex research problems in novel ways. Muller and Wagstaff noted that the Open Access Policy would help increase the visibility, access, and reuse of World Bank documents and research. This information will help increase the audience for important Bank research and will promote cross-border transfer of information, especially in a south-south direction (as opposed to north-south).
To highlight the dire situation in pricing for traditional journals, the panelists discussed Harvard's recent announcement about the unsustainable cost of scholarly journal subscriptions. Suber noted that even with a journal budget of $9 million per year, the Harvard University Library realizes it cannot afford the ongoing agreements with commercial journal publishers. And clearly, if even Harvard can't afford the full range of research, every other university in the world is worse off. However, Suber said that seven of Harvard's nine colleges have adopted exemplary open access policies, thus retaining access to the research from Harvard faculty even if those faculty publish in traditional and expensive subscription journals.
Carroll pointed to a more fundamental problem with the current scholarly publishing ecosystem. Scholars have always written to maximize impact; the web helps makes it easy to publish to wide audience, at near zero cost. The logical conclusion to these two assumptions is that all scientific and scholarly research should be widely available for free online. However, this is not how things have shaken out. Instead, prices to access scholarly research has gone up dramatically, as half of science literature has been published by commercial houses. These commercial publishers have enjoyed up to 36% profit margins, even amid the worldwide financial crisis. This points to a larger problem, and hints that the current publishing system overall is broken. However, Suber said that there are currently some for-profit open access journals that are indeed profitable. However, he guessed that the profit margins at those companies was probably closer to 2-5%.
A related question from the audience asked why a scholar would want to publish research as open access if given the chance to publish her work in a "shiny" established journal. Panelists pointed out that the World Bank Open Access policy allows authors to do both. The policy requires that authors deposit a copy of their final paper in the Open Knowledge Repository, and doesn't preclude researchers from publishing in traditional journals. Of course, while this framework is a step in the right direction, it doesn't solve the underlying problem because big publishers continue to enjoy huge profit margins on their access-controlled subscription journals because university libraries continue to pay for the access that their faculty require.
Suber pointed out that there are other benefits to publishing work as open access. He said that publishing in open access journals allows authors to attach open licenses (such as CC BY) to their work. When they do so, they make the work more useful to readers and users. So, the smallest open access journal has a potentially larger audience than even the most popular paywalled journal because the work can reach anyone in the world with access to the Internet. When you couple this massive potential audience with the permission to republish and reuse via an open license, authors can maximize the impact of their work beyond the reach of any closed journal.
Mike Carroll also brought up the importance of new technologies and methods such as text mining as another tool to help solve complex problems. Challenges such as climate change are huge, and can't be tackled by researchers individually. At the same time, there is now a huge body of research articles on the subject, and scholars are facing an information overload problem. That's where text mining comes in, and allows researchers to conduct intensive computational analyses on huge sets of scientific texts in order to identify correlations, patterns, and unforeseen connections that would be impossible to understand by reading the articles by themselves. While the traditional publishing models typically block such text mining efforts, open access gives permission in advance, helping researchers solve problems faster and promote scientific innovation. Questions around the legal implications of text mining in relation to copyright are currently being discussed in the UK.
2 Comments »
Recently, Andrés Guadamuz from CC Costa Rica was in Geneva at the 9th session of the Committee on Development and Intellectual Property (CDIP) at WIPO. Andrés has represented Creative Commons over the past few years at WIPO. CDIP was established in 2008 and deals with intellectual property issues relevant to developing nations. CC gained permanent observer status at CDIP in 2011.
At the meeting, Creative Commons delivered an intervention (this means offered a formal spoken comment) on Agenda Item CDIP/9/INF/2: Scenarios and Possible Options Concerning Recommendations 1c, 1f and 2a of the Scoping Study on Copyright and Related Rights and the Public Domain (PDF). The original study by Professor Séverine Dussolier can be located here for reference. Here are the recommendations under discussion:
1(c) The voluntary relinquishment of copyright in works and dedication to the public domain should be recognised as a legitimate exercise of authorship and copyright exclusivity, to the extent permitted by national laws (possibly excluding any abandonment of moral rights) and upon the condition of a formally expressed, informed and free consent of the author. Further research could certainly be carried out on that point. […]

1(f) International endeavours should be devoted to developing technical or informational tools to identify the contents of the public domain, particularly as far as the duration of copyright is concerned. Such tools can be data collections on works, databases of public domain works, or public domain calculators. International cross-operation and cross-referencing of such tools is of particular importance. […]

2(a) The availability of the public domain should be enhanced, notably through cooperation with cultural heritage institutions and UNESCO (through its work on the preservation of intangible cultural heritage).
Creative Commons made a statement focusing primarily on Sections 1(c) and 1(f). CC communicated that in support of 1(c) it has developed the CC0 public domain waiver as a tool for those who wish to relinquish copyright, database, and related rights to the extent allowed by law. In support of 1(f), CC welcomed the mention of its tools as a mechanism that can help identify works already in the public domain (such as the Public Domain Mark) and communicate license metadata so that search engines can filter and display to users what content is available for reuse, and under which conditions.
Below is the text of the intervention (PDF) made by Andrés. This crux of this entry is cross-posted at TechnoLlama. The COMMUNIA association, of which Creative Commons is a founding member, also offered an intervention on this agenda item. You can find previous CC interventions and associated WIPO documents on the wiki.
Creative Commons statement to the CDIP on the Public Domain

Thank you Mr Chairman, we would like to congratulate you on your election to preside this Committee.

In his keynote presentation to the Global INET Conference here in Geneva just a couple of weeks ago, Dr Francis Gurry described intellectual property as a balancing mechanism for all of the often competing rights and equities that occur in and around the creation of innovation. Creative Commons strongly believes in this balance of rights, and strives to offer technical and legal tools to make that balance possible. We also believe that an integral part of that balance has to be the protection and promotion of the Public Domain. The public domain enriches the global cultural and intellectual environment; it allows the reproduction and reuse of countless classics that are often modernized and reintroduced to new audiences and new generations. One could almost say that they are remixed.

It is with that in mind that we welcome the Secretariat's inclusion on this session of the Scenarios and Possible Options Concerning Recommendations 1c, 1f and 2a of The Scoping Study on Copyright and Related Rights and The Public Domain, and commend the author of The Scoping Study, Prof. Severine Dusollier. We encourage the adoption of all three recommendations, but we would like to complement the information contained in the document with regards to recommendations 1c and 1f.

With regards to Recommendation 1c, and as the document CDIP/9/INF/2 accurately describes, Creative Commons offers CC0, a universal tool that allows users to voluntarily relinquish all copyright, database and related rights to the fullest extent allowed by law. CC0 is a tool that was conceived and created out of both necessity and demand. Dedicating works to the public domain is difficult if not impossible for those wanting to contribute, voluntarily and of their own free will, their works for public use before applicable copyright or database protection terms expire. Few if any jurisdictions have a process for doing so easily and reliably. Laws vary from jurisdiction to jurisdiction as to what rights are automatically granted and how and when they expire or may be voluntarily relinquished. We understand the inherent difficulties with dealing with this issue in a comprehensive manner given the different approaches to copyright seen from Common and Civil legal traditions. Moreover, our conversations with copyright holders over CC's 10 years in existence revealed that for some rights holders, there is a desire to signal clearly and unequivocally that their work may be used without reference to restrictions that the holder no longer wishes to retain for any number of reasons. This demand, coupled with the complex and lack of harmonized copyright frameworks, resulted in the creation of CC0. CC0 has been leveraged by numerous important rights holders, including the Dutch Government, the British Library, and the Personal Genome Project, and is part of the legal framework for important projects such as Europeana. For these reasons, we second the Secretariat's recommendation to conduct a study on copyright relinquishment, and we also encourage this Committee to continue this important avenue.

With regards to Recommendation 1f, we once again welcome the Secretariat's specific mention of the practices and tools available through Creative Commons. The possibility of marking copyright works with license metadata can tell search engines what is available for reuse, and under which conditions. We applaud all of the national and regional practices cited in the Secretariat's document, and agree that these efforts must continue. Specifically, we encourage member states and regional bodies to continue to attempt to make public registry data more widely available. We would like to see a more proactive role by WIPO in the international arena. Among other promising avenues, WIPO could host some tools to facilitate the sharing of public registry information on their website, such as an aggregated database of existing registries.

Concluding, Creative Commons thoroughly supports efforts that will enhance the ability of rightsholders to voluntarily relinquish copyright thereby enriching the public domain, and of the public to access and use the public domain as copyright law full intends.

Thank you.
1 Comment »
The following post is by Cathy Casserly (CEO) and Joi Ito (Board Chair).

Mike Linksvayer / Joi / CC BY
Many of you know Mike Linksvayer, the first CTO and then Vice President of Creative Commons. Mike started at Creative Commons back in 2003 (almost a decade ago!), and since then has shepherded CC through a period of great expansion, providing leadership and support for efforts across various initiatives and around the world. He has also been a great help to all of us this past year, during the transition from part-time to full-time CEO. We can not begin to name everything that Mike has done, not only for Creative Commons, but for free and open culture generally, so we'll just name a few, with the caveat that, if ever there was a jack of all trades, he is Mike Linksvayer.
Since 2003, Mike has helped to:
forward RDFa to a W3C Recommendation,
build scalable tools and processes to support translation and localization,
deploy constituent management tools to support fundraising and development,
provide a great place for technical interns to come and develop their skills,
improve scalability and responsiveness of the CC website,
build visionary legal tools that enhance access to and grow our valuable public domain
test, test and re-test new ideas and experimental projects,
support the continued development and well-being of staff,
develop our global network, providing guidance, support and encouragement for our affiliates worldwide,
bridge communities including F/LOSS and Wikimedia, and
implement compliant, employee-friendly operations and procedures to scale with staff size and program complexity, and
bring exaggerated skepticism, rigorous logic and thorough analysis to all of CC's program activities.
Finally, the board and staff would like to acknowledge that Mike has served as the primary voice of reason and forward thinking that has kept Creative Commons on a track that balances idealism with resource realism. We are grateful for Mike Linksvayer's exceptional role in building the Creative Commons organization.
His contributions to CC make it all the more difficult to announce Mike's transition from Vice President to Senior Fellow at Creative Commons. In his new role, he will continue to advise on CC-related research and tech projects, in addition to overarching strategy. We fully expect Mike will continue to bring passion and opinion and reason to all of our work in his new role.
Please join us in thanking Mike for all of his hard work! Mike, we wish you the very best in your future endeavors.
10 Comments »
This week, open access advocates in the United States and around the world are rallying around a petition that urges public access to publicly funded research. The petition is now live on Whitehouse.gov's We the People platform:
Require free access over the Internet to scientific journal articles arising from taxpayer-funded research.

We believe in the power of the Internet to foster innovation, research, and education. Requiring the published results of taxpayer-funded research to be posted on the Internet in human and machine readable form would provide access to patients and caregivers, students and their teachers, researchers, entrepreneurs, and other taxpayers who paid for the research. Expanding access would speed the research process and increase the return on our investment in scientific research.

The highly successful Public Access Policy of the National Institutes of Health proves that this can be done without disrupting the research process, and we urge President Obama to act now to implement open access policies for all federal agencies that fund scientific research.
The Obama Administration has been interested in exploring policy options for ensuring that the public has access to publicly funded research, and recently received nearly 500 comments on its request for information on these issues. Creative Commons recently wrote to the White House asking that taxpayer funded research be made available online to the public immediately, free-of-cost, and ideally under an open license that communicates broad downstream use rights, such as CC BY.
With grassroots petitions like this one, publisher boycotts, updates to funding policies (pdf), and investments in open access, it seems that the "academic spring" has arrived.
The petition can be supported by persons outside of the U.S. You can follow updates from the organizers — Access2Research — on their website, Twitter, and Facebook.
15 Comments »
This Saturday is Culture Freedom Day, a worldwide celebration of free and open culture through education efforts, on- and offline events, and promoting artists who work in free culture. Culture Freedom Day is organized by Digital Freedom International, a nonprofit that also promotes software freedom.
As stewards of the open licenses and tools that enable creators to contribute to a free and open culture, Creative Commons encourages you to celebrate this day by learning more about it and the open licenses that make up the infrastructure for free cultural works. You can also CC license one or more of your own works, remix or build upon an existing CC-licensed work, or help bring awareness to one of your favorite CC artists.
4 Comments »
From 2007 to 2011, COMMUNIA was a project funded by the European Commission to explore the role of the public domain in the digital age. Over four years, COMMUNIA, or The European Thematic Network on the Digital Public Domain, gathered over 50 members from academia and the CC community to research, promote, and preserve the digital public domain. In 2011, COMMUNIA's members decided to continue the network as an international nonprofit association.
We would like to highlight two recent publications by COMMUNIA that shed light on COMMUNIA's progress:
In April, COMMUNIA released, "The Digital Public Domain: Foundations for an Open Culture" under CC BY:
"This book brings together essays by academics, librarians, entrepreneurs, activists and policy makers, who were all part of the EU-funded Communia project [from 2007-2011]. Together the authors argue that the Public Domain — that is, the informational works owned by all of us, be that literature, music, the output of scientific research, educational material or public sector information — is fundamental to a healthy society."
More recently, COMMUNIA published its Final Report, also under CC BY:
"This Public Report is the outcome of the work of the COMMUNIA Network on the Digital Public Domain (hereinafter "COMMUNIA"). This Report was undertaken to (i) review the activities of COMMUNIA; (ii) investigate the state of the digital public domain in Europe; and (iii) recommend policy strategies for enhancing a healthy public domain and making digital content in Europe more accessible and usable. Each of the subjects indicated above will be further developed and detailed in Annex I, Annex II, and Annex III of this Report, respectively."
The Final Report, along with the collection of essays above, highlights much of the good work completed by COMMUNIA over the years, including The Public Domain Manifesto, of which many CC affiliates, staff, and community members were a part of drafting.
Comments Off

on COMMUNIA explores role of digital public domain in final report
The Saylor Foundation provides global grants of US $20,000 to college textbook authors seeking to openly license their educational textbooks for use in free Saylor college-level courses. Authors maintain their copyright and license textbooks to the world via Creative Commons Attribution (CC BY) to enable maximum reuse, remix, and redistribution. To learn more and apply, visit Saylor's Open Textbook Challenge page for more details.
In addition to providing grants for existing textbooks, the Saylor Foundation has announced a new option to award authors seeking to create open textbooks that will be CC BY licensed. Academics who are interested in creating a textbook can submit a brief statement about the proposed text and the relevant eligible Saylor course, and if successful they will receive a Request for Proposal from the Saylor Foundation (more details at the Open Textbook Development page). As a result of this new option and because preparing new texts is a lengthy process, the Saylor Foundation has decided to accept both textbook submissions and proposals for textbook development on an ongoing basis. The initiative has recently received funding from the William and Flora Hewlett Foundation and the Saylor Foundation expects to award millions of dollars for open textbooks under CC BY.

"CC BY" / opensourceway / CC BY-SA
The cost of education is spiraling, for example the average amount that a U.S. college student spends on textbooks is almost US $1,200 per year. Textbook costs may represent up to seventy-five percent of a Californian community college education, and education affordability is frequently cited as a reason for course dropouts (pdf). The Saylor Foundation tackles this issue by providing free, college-level curricula worldwide via Saylor.org. Their Open Textbook Challenge aims to alleviate cost pressures by encouraging textbook authors to openly license their textbooks with CC BY so that students may use them for free.
5 Comments »
Stay up to date with CC news by subscribing to our weblog and following us on Twitter.
Comments Off

on CC News: The Liberated Pixel Cup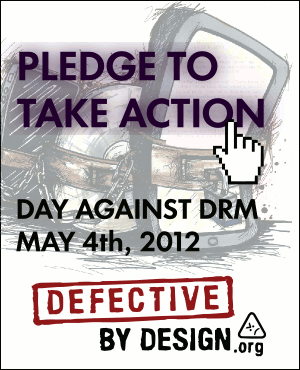 Today is Day Against DRM. If you don't already, you should know that DRM stands for Digital Rights Management (or probably more accurately, Digital Restrictions Management), and that we have blogged about this day before for good reasons, including,
DRM causes problems regarding fair use, lack of competition, privacy and security breaches, forced obsolescence, and more… (Read the Wikipedia article on DRM.)
CC provides tools to make it easier for creators and owners to say what rights they reserve and permissions they grant — maximizing sharing and collaboration. This is in stark contrast with DRM that uses technology to make it harder to share and collaborate.
CC licenses do not allow users of CC-licensed works to use DRM to prevent other users from taking advantage of the freedoms already granted by the license.
In addition, Defectivebydesign.org notes that,
While DRM has largely been defeated in downloaded music, it is a growing problem in the area of ebooks, where people have had their books restricted so they can't freely loan, re-sell or donate them, read them without being tracked, or move them to a new device without re-purchasing all of them. They've even had their ebooks deleted by companies without their permission.
See all blog posts on Day Against DRM here, where you can also access banners and pledge to take action.
3 Comments »
next page