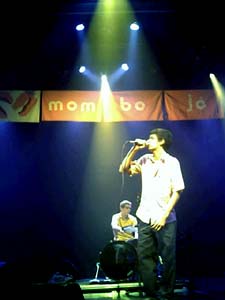 Ronaldo Lemos, project lead extraordinaire of Creative Commons Brazil, reports:
Mombojó is one of the most interesting new bands in Brazil. They mix traditional Brazilian music like samba and bossa nova with electronic beats and rock. Their album, "Nadadenovo" (meaning: "nothing new"), is available online at www.mombojo.com.br. Even if they say there is "nothing new" about their music, that is not true. They are responsible for indicating new bold directions to Brazilian music.
Mombojó is an enthusiast of the Creative Commons. They have just announced that one of their tracks, "Nem Parece," is now under the Recombo Plus license. They will be releasing three other tracks under the Recombo Plus, one each month. They have also licensed their first video, "Cabidela," under Recombo. And everything can be found online.
Last, but not least, Mombojó works closely with Re:Combo, the pioneer Brazilian collective that inspired Creative Commons to rename its "sampling" license "Recombo."
Radical. Now everyone get out there and do the Recombo.
Comments Off
Documentary filmmaker Michael Moore has recently gone on record stating that downloading and watching his films was fine as long as people didn't try to make money off them. In a way, it's a classic struggle between a filmmaker creating works he wants the world to see, while the studio that produced it would rather everyone pay to see it instead of downloading. Other directors have backed up his position and the current distributor is allowing the downloading to take place.
Here are Moore's full quotes on the subject of 9/11 downloads:
I don't agree with the copyright laws and I don't have a problem with people downloading the movie and sharing it with people as long as they're not trying to make a profit off my labour. I would oppose that. I do well enough already and I made this film because I want the world, to change. The more people who see it the better, so I'm happy this is happening. Is it wrong for someone who's bought a film on DVD to let a friend watch it for free? Of course it's not. It never has been and never will be. I think information, art and ideas should be shared.
Is this guy a movie director or one of our board members?
The increased exposure to his films, protection from commercial exploits, and general disagreement with current copyright sounds a lot like the reasons why Creative Commons was formed and why we have our licenses in the first place. Perhaps the next Moore film will be licensed, making the downloading legal from the start.
Comments Off
Q: How to plan a wiki?

A: Hash out ideas on a wiki.
So we set up a wiki and we're holding a barn raising there. You're invited.
Our objective is to plan a "Get Content" wiki, a scalable catalog of "some rights reserved" and "no rights reserved" works.
A truly international catalog of CC and PD works. A Wikipedia of Free Culture, democratically maintained and curated.
Can this work? We have a hunch that it can, but we've doubtless missed many solutions and innumerable problems.
What we have thought of is of course on the wiki, where you should go without further adieu and add your ideas.
Note for anyone excited about the idea: we're planning at this stage. The wiki we're using for the planning may not be the one we use to implement the "Get Content" wiki (do help us figure that one out) — so you may wish to curb your enthusiasm for raw cataloging just right now.
Now dive in!
Comments Off
DJ Spooky (aka Paul Miller), early supporter of Creative Commons, has recently released his new book, Rhythm Science. The subject matter is very Creative Commons in philosphy as he explores ways to think about rebuilding culture. Here's an excerpt from the site:
"Taking the Dj's mix as template, he describes how the artist, navigating the innumerable ways to arrange the mix of cultural ideas and objects that bombard us, uses technology and art to create something new and expressive and endlessly variable."
He's also in the process of releasing Rebirth of a Nation, a remix of D.W. Griffith's 1915 Birth of a Nation. Since the original film is from 1915, it is now in the public domain. More to come on this soon.
Comments Off
Early last October we launched a revamp of the Creative Commons website, including the addition of a new technology challenges section. A few days later someone called Nathan Yergler wrote with questions concerning two of the challenges. A week later Nathan announced that ccValidator was ready for testing.
Since then Nathan has been our most prolific volunteer, adding Python and JavaScript language APIs for CC metadata, mozCC, and ccSaver to his portfolio. None of these have been throwaway projects. Nathan keeps making them better.
The last couple months Nathan has been working on ccTag for Creative Commons. Now we're very pleased to announce that he has joined the Creative Commons staff as a software engineer. He'll continue to create more and better CC tools, as well as help us with internal and external web projects.
How can you welcome Nathan? Try mozCC. If you can find a bug, send him a report.
Comments Off
The Open Media Streaming Project has added CC metadata support to their streaming audio server and player.


OMSP's NeMeSi player displaying license info for a stream.
They say:
Please note that the CC stuff in the source code is in very alpha stage: no more than IETF's-style "running code" to test a soon-to-be-released specification proposal for streaming Creative Commons licensing meta-data over RTSP/RTP protocols.
Comments Off
Check out mobloguk, a great moblogging application that supports Creative Commons licenses. The system is very easy to use — you simply email images, audio, or text from your cell phone, or other device, to your own mobloguk email address, and it automatically gets posted on the site. You can even restrict your searches to Creative Commons licensed content. The source code is also under Creative Commons.
Comments Off
Wikipedia now publishes license metadata, using the Creative Commons license metadata vocabulary to describe the GNU FDL license.



Browsing Wikipedia with mozCC installed.
MediaWiki, the software that runs Wikipedia, now has support for CC metadata built in. WikiTravel, a CC-licensed world travel guide also already uses this capability.
Many thanks to Brion Vibber and
Evan Prodromou for adding CC metadata support to this important software.
Comments Off