Downhill Battle and p2pnet have announced a new video contest.
The goal is to encourage people to make short movies and animations about the music industry, filesharing, and the potential we have to change the system. The right video can be the best way to explain these issues and get someone involved, and as always we like to hit from every direction we can. Please tell all your video artist friends!
Unless otherwise specified all entries are to be licensed under the Creative Commons Attribution-ShareAlike license.
No submissions are currently up, so their gallery features Building on the Past by Justin Cone, winner of a recent Creative Commons moving images contest.
Comments Off

on Movies for Music Contest
Several months ago, Apple released the music software Garageband, allowing anyone with a mac to make some music. Soon after the release, community websites sprang up to allow Garageband users to share music with each other, and build songs together. This is a perfect use for Creative Commons licenses, and earlier we noted that the site Macband added our licenses to their site. We were delighted to hear that MacJams has also incorporated Creative Commons licenses into their song uploading process.
So if you're a Garageband user that needs some drum loops or other song parts to share, check out Macband and MacJams.
Comments Off

on MacJams adds Creative Commons
The writings of William S. Burroughs and Allen Ginsberg may be amongst the most important in the 20th Century but it's the sound of Burroughs' growl and the haunting lilt in Ginsberg's recitals that have compelled turntablists to use samples of their speaking voices. Sampling pioneers and Ninjatune entrepreneurs Jonathan More and Matt Black (a.k.a. Coldcut) have used Burroughs and Ginsberg for a while and continue to do so.
Thanks to the Jack Kerouac School of Disembodied Poetics from Naropa University, you can hear hundreds of hours of lectures and readings by Burroughs, Ginsberg, Anne Waldman, Amiri Baraka and others all of which have been posted to the Archive as part of the Naropa Collection. As of this writing there are 147 (!) uploads to the stunning collection.
Burroughs is of special interest due to his exploration of assembling fragments of writings and audio tape (what he called "cut-ups") in the 1960's and 70's that lead directly to follow-up projects by Brian Eno, David Bowie, Plunderphonics and hence the mainstreaming of tape sampling as a music genre. His 1976 lecture at the Kerouac School should be required listening as a background on cut-ups.
Of course the lectures are of invaluable literary value. Burroughs and others delve deep into their personal relationships with various works of literature ranging from Conrad to Fitzgerald, Wordsworth to Whitman.
And finally there is the sheer entertainment value of many of these uploads. For example, you don't want to miss Ginsberg reading the complete "Howl.".
The entire Naropa Collection is licensed under a Attribution-NonDerivs-NonCommerical license.
Comments Off

on Naropa Collection
Following many requests on cc-licenses for a list with a more general charter, we've created
cc-community. If you have a burning question or discussion point related to Creative Commons that doesn't seem to fit the specific description of any of our many discussion lists, hold back no longer.
Read the cc-community archives.
Note: cc-licenses is still the best for feedback and questions specific to one or more of our mainline licenses.
Comments Off

on cc-community
One of the kings of scientific publishing, the journal Nature, has recently launched a forum to bring together articles and information about open access publishing. They've even got an RSS feed for updates to the forum.
It's great to see a top journal open a dialogue about a somewhat controversial issue in the scientific publishing industry. In an age of ever increasing journal subscription costs and shrinking library budgets, many smaller journals have embraced the concept of open access publishing and a prominent journal started with the issue at heart, but many larger publishers have distanced themselves from the topic. [via furdlog]
Comments Off

on Nature on open access publishing
Cabinet minister by day, mover of souls by night. At total ease bouncing from baritone to falsetto and back again. As nimble on stage as those half his age. Master of a crowd and, in person, friendly as can be. Gold-selling and Creative Commons-adopting. Is Gilberto Gil the world's coolest man?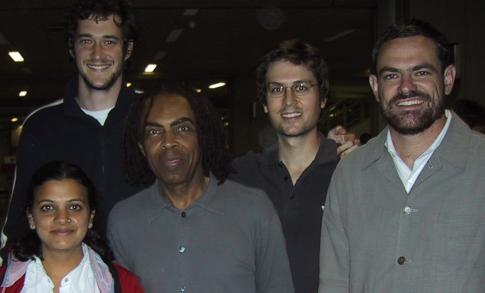 Minister Gil with assistant director Neeru Paharia, CC video director Danny Passman, cinematographer Andrew Sachs, and me.
Comments Off

on World's Coolest Man?