What I am thinking is that we need a tech social movement to fix web multimedia by insisting that web standards be followed. REST was such a movement in the protocol space. The Zeldman-inspired movement to use structural HTML and CSS only did the same thing with design. This would be a direct analog for multimedia. Use real URLs that are not hidden behind javascript. Use correct mime types — no making them up because you don't have time to look up the answer. Use standard data formats — no proprietary types. Use correctly formatted playlists — if you have a ram playlist, the extension must be .ram rather than .rm.
Well said. Creative Commons likes multimedia and believes in building on standards. The web will benefit from this movement. Those interested in building a commons will benefit in particular. Trivial example: It can be a big pain to share and reuse content mediated by a maze of javascript. If you want your content to be shared and built upon, do license it, then follow Gonze's advice. One way to do this is to take advantage of the Internet Archive's ability to host Creative Commons licensed audio and video content.
Comments Off

on Fix Web Multimedia
Wired has a bizarre story of music and sampling royalties involving found sound recordings by one person sold as CDs which the band Wilco sampled from. What is unusual about the case is the company claiming copyright on the sounds, Irdial Discs, didn't perform or write the shortwave broadcasts of what is reportedly hours of spy messages. Irdial simply recorded (and obtained recordings from others) four discs full of it and released it as a compilation. While they embrace free downloading and sharing of the tracks, they do prohibit commercial use, which Wilco looped on a successful 2002 album.
As the article states, many legal experts are unsure if Irdial had the rights to demand royalties and point out that future musicians may be wary of using found sounds such as these.
Comments Off

on Wilco pays for spycasts
Early this week, SpaceShipOne became the first manned private flight into space. The event was covered by industry news organizations as well as the general media, but personally, I find this first-person account and these sets of photos and movies of the launch more compelling than the general news coverage so far.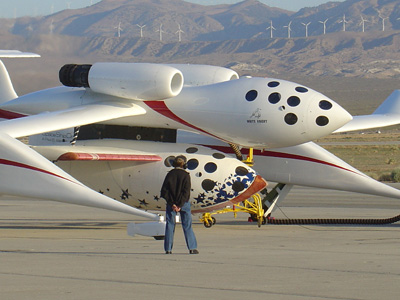 Photo of SpaceShipOne by Bruce Damer.
Comments Off

on SpaceShipOne event recollections
As mentioned earlier on the blog, Creative Commons took part in 5th Annual Software Livre Conference in Porto Alegre earlier this month. Here are some select photos from the event:
The IBM booth. The pillar says "the future is open" in Portuguese:

A conference sign:

The Minster of Culture's booth, displaying both of our stickers:

A view of the audience:

Professor Lessig, and Professor Fisher waiting for the panel to begin:

Minister Gil, next to Jon Maddog Hall, giving his address:

Comments Off

on A few select photos from Software Livre
The Center for Cooperative Research is building a database application which will allow the public to conduct grassroots investigations, and participate in the documentation of public historical records by contributing data to their history engine. All the entries will be under an Attribution-Noncommercial-ShareAlike license.
Comments Off

on Center for Cooperative Research
Our most prolific technical volunteer (soon to join the CC staff, more on that shortly) strikes again with a cute hack — ccSaver, a screensaver for Linux and Windows that displays random CC-licensed images from OpenPhoto.net at times when your display really ought to power down, but you want eye candy instead.
This development merits a new tech challenge — more "art" programs.
Comments Off

on ccSaver
We were honored to get this letter, and a check, from the recently married Joanna and Jaroslaw, of Warsaw, Poland:
We (Joanna and Jaroslaw) had decided, that during our wedding we want people to donate for charity instead of buying flowers, and as people somehow connected with copyleft/free_content movement we have chosen CC as a beneficiary. We hope, that this money may be spent on starting iCommons Poland.

Our professional-looking charity box was made from one plastic pot, parts of tea can and lots of duck-tape (see enclosed photos :-))). Response was pretty good, and we collected 552 polish zloty (pln) and 6 Euro (e). With 1e = 4,662pln that made 579,97pln. Bank and sending cost was 30,30pln, what made 549,67pln. With 1$=3.94pln we were able to send you 139,52$.

BTW our wedding took place on 24th April, but i took us some (too much) time to send a check. Finally we did it yesterday, on May 25th. Please let us now, when (and if) money will arrive. We don't want it to get lost somewhere over Atlantic :-)

Few words about us: Joanna Maksymiuk is a student of philosophy at Curie-Sklodowska University (Lublin, Poland). Jaroslaw Lipszyc is an editor of Warsaw daily Zycie Warszawy, but also a poet (all works avalaible under GNU GPL), part of the Copyleft Art project and one of translators of Lawrence Lessig book "Free Culture."

Thank you for all your efforts in making our world a better place. Supporting you is a pleasure.

Joanna and Jaroslaw
from Warsaw, Poland

PS.
more photos from our wedding you will find here.
Comments Off

on Creative Commons, a wedding beneficiary
previous page
—
next page