Creative Commons just reached an exciting milestone. As of this week, there are four million Creative Commons–licensed videos on YouTube. That's over forty years' worth of footage to remix and reuse, all licensed under CC BY, the most permissive CC license.
One thing that makes this mass of CC-licensed content really exciting is that all four million of those videos can be imported into YouTube's online video editor. By letting people remix and adapt videos without having sophisticated editing software or expertise, YouTube and CC are making it easier for anyone to build on the work of others. And that's pretty cool.
In her guest blog post on the YouTube blog, CC CEO Cathy Casserly muses on what's possible when YouTubers share their creativity:
Do you need a professional opening for your San Francisco vacation video? Perhaps some gorgeous footage of the moon for your science project? How about a squirrel eating a walnut to accompany your hot new dubstep track? All of this and more is available to inspire and add to your unique creation. Thanks to CC BY, it's easy to borrow footage from other people's videos and insert it into your own, because the license grants you the specific permissions to do so as long as you give credit to the original creator.
You can pass on the creative spirit when you publish your video, by choosing the option to license it under CC BY so that others can reuse and remix your footage with the YouTube Video Editor. This is where the fun really starts. Imagine seeing your footage used by a student in Mumbai, a filmmaker in Mexico City, or a music video director in Detroit. By letting other people play with your videos, you let them into a global sandbox, kicking off a worldwide team of collaborators. We all yearn to create and contribute — now you can join the fun, and open the door to collective imagination.
3 Comments »
The first School of Open Virtual Sprint is set to take place next Tuesday, 24 July from 2:00-5:00pm Berlin time (UTC/GMT+2). Learn how you can participate below.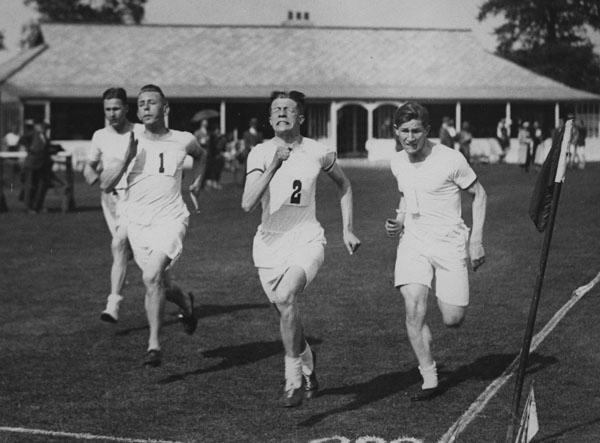 LSE Sports Day, Malden Sports Ground, c1920s / LSE Library / No known copyright restrictions
Before the Sprint
During the Sprint
After the Sprint
Related: Help Us Build the School of Open
Comments Off
It has been a little over a month since I joined Creative Commons as Community Support Intern, and now that I'm in the thick of things, I wanted to share with you what I'm working on this summer.
Allow me to introduce myself. I am currently a Master's student at Tufts University's Fletcher School of Law and Diplomacy. Prior to undertaking graduate studies, I worked at the World Bank in Washington, D.C. I am very interested in the international open movement, and am hoping to apply what I learn this summer in the field of public policy.
At CC, I am working to support the international affiliate community. Currently, I am developing toolkits that will help CC country teams educate the public in more than seventy countries about the benefits and appropriate use of CC licenses.
The toolkits I'm working on at the moment cover CC license use in three important areas: government and public sector information, journalism and blogging, and new business models.
Government agencies collect and analyze huge amounts of information, developing databases and producing reports, all of which are funded by taxpayers. The use of CC licenses allows the information captured to freely flow among government agencies, as well as out to the nonprofit and private sectors, where it could be reused, built upon, and remixed in new and unexpected ways, maximizing the benefits for society at large.
In contrast, the journalism industry has already been in turmoil for the last decade as widespread adoption of the internet disrupted traditional business models for publishing news. However, new publication models are emerging, some taking advantage of the pre-cleared permissions contained in CC licenses to quickly disseminate information for maximum impact. Additionally, blogs, social media, and collaborative production platforms like Wikipedia have risen to become an important source of analysis, commentary, and even breaking news. Authors using these platforms frequently reuse text, photos, and videos from other sources, which may claim copyright for the materials. They must be educated about copyright as well as the advantages of using materials released under open content licenses in order to maximize creative expression within the existing framework of copyright law.
Finally, my goal in developing a toolkit on business models is to better inform CC license users about the new open business models that are emerging as internet platforms grow and develop. The message will be that choosing open content licenses for your work does not necessarily mean forgoing an opportunity to make money, and is in fact an important part of many online revenue models.
The toolkits will include information on how to use CC licenses in these spheres, frequently asked questions, relevant articles, case studies, videos, etc, and will be available for all users on the CC website, under a CC license, of course.
I would love for anyone who is interested to contribute by letting me know about materials that you know of or use regularly on these topics. Please e-mail me at info@creativecommons.org.
I will highlight materials that are especially high-quality or interesting in a future blog post.
1 Comment »
Creative Commons, the U.S. Department of Education, and the Open Society Foundations are pleased to announce the winners of the Why Open Education Matters video competition. The competition was launched in March 2012 to solicit creative videos that clearly communicate the use and potential of free, high-quality Open Educational Resources — or "OER" — and describe the benefits and opportunities these materials create for teachers, students, and schools everywhere. U.S. Secretary of Education Arne Duncan announced the competition with a video on the Why Open Education Matters website. The competition received over 60 qualified entries. The winning videos are displayed below.
First Prize
Congratulations to Blinktower, an extremely talented creative agency based in Cape Town, South Africa.

Second Prize
Congratulations to Laura Rachfalski and her great team. Laura is an artist, videographer and photographer from Philadelphia.

Third Prize
Congratulations to Nadia Paola Mireles Torres and her collaborators from the design firm Funktionell. It's also amazing to see that Nadia has made all the video assets available for download and reuse under CC BY!

The prize winners were decided by a panel of distinguished experts including Davis Guggenheim, Nina Paley, Liz Dwyer, Anya Kamenetz, James Franco, Angela Lin, and Mark Surman. Due to technical problems with the public voting on the Why Open Education Matters website which prevented some persons from submitting a vote, the third prize video has been awarded by the judging panel.
In addition to the winning videos, all of the qualifying videos are available for viewing on the competition website, http://whyopenedmatters.org. All of the videos are licensed CC BY, which means others may distribute, remix, and build upon them, even commercially, as long as they give credit to the creators.
Congratulations to the winners, and thank you to everyone who submitted a video for sharing their creativity, talents, and passion in helping explain and promote Open Educational Resources.
14 Comments »
Last week, open access journal First Monday published an excellent research article (licensed CC BY-NC-ND) by Patryk Galuszka called Netlabels and Democratization of the Music Industry. If you're not familiar with the term, a netlabel is a sort of lighter-weight record label. Netlabels distribute music recordings primarily over the Internet, many of them for free with a Creative Commons license. While many netlabels are simple ventures run by small groups of likeminded artists, some are very large and rival traditional record labels in the marketing and booking services they offer musicians.
Galuszka's article — a culmination of several years of research on the topic — positions netlabels in a broader history of musicians attempting to democratize the recording industry, to varying degrees of success. For decades, musicians and fans have romanticized the idea of independent music production and distribution, but according to Galuszka, even in the heyday of the DIY movement, actually doing it yourself was economically arduous:
[…] Economic constraints of traditional phonography put some limits on independent record labels. Both more successful independent record companies and small DIY labels faced situations when their records did not sell well and their owners had problems with financing daily operations. It was quite common that to help pay the bills labels supplemented their operations with running a recording studio, retail store, distribution and other services. Analysis of British micro–independent record labels conducted in the early 2000s […] showed that it was extremely difficult to make a living out of running a label. Consequently, it was not uncommon for people involved in small DIY labels to have a daytime job.

Turntable / Alan Levine / CC BY
Galuszka suggests that as the Internet has become the dominant platform for music promotion and distribution, self-distribution and independent labels have become much more feasible alternatives to major labels.
The advent of the Internet and digitalization reduced the significance of major record labels' competitive advantages in at least two ways. First, they reduced the benefits of controlling a distribution network. Although labels' own distribution networks will continue to be the source of competitive advantage as long as tangible records are bought by consumers, it is no longer a barrier to entry preventing individual artists and small labels from selling their products globally.
Second, the advent of the Internet enabled low–cost, direct communication between artists and listeners, which helped build promotion channels outside of the mainstream media. For most of the twentieth century, exposure in the commercial radio, television and print magazines was virtually impossible if an artist was not supported by a record label […] Although radio airplay is still essential if an artist wants to become a global star, social networking sites, YouTube and blogs provide musicians with a cheap and accessible alternative. DIY musicians of the 1970s and 1980s, who had to spend a significant amount of time and money preparing and distributing zines (small circulation self–published magazines), could only dream about reaching such a wide audience at such a low cost.
Just as significant as the new connections between artists and listeners afforded by technology are the connections between artists. Take, for example, the fourth annual Free! Music! Contest (of which CC is a proud supporter). The contest's point system rewards contestants for having their songs remixed or reused in videos. Websites like ccMixter and Free Music Archive make it wonderfully easy for artists to share their work and let others reuse and play with it. Thanks to CC licenses, worldwide collaborations between musicians happen every day with an ease and spontaneity that would have made DIY artists of yore jealous.
Related

Creative Commons Korea Art Happening
CC Korea / CC BY
6 Comments »

Creative Commons Africa Convening 2012 / Ibtihel Zaatouri / CC BY
On June 26-27, Creative Commons hosted a historic event — the very first meeting of its community held on the African continent, the CC Africa Regional Convening 2012.
Held in Entebbe, Uganda, on the shores of Lake Victoria, the meeting brought together nearly 50 volunteers from more than 15 countries to discuss Creative Commons and its role in Africa, with a particular focus on open education and digital media. It was ably by hosted CC's Ugandan affiliates, the Center for Health, Human Rights and Development (CEHURD) and the National Book Trust of Uganda (NABOTU), with the support of the Macarthur Foundation as the major sponsor.
Attendees included representatives of Creative Commons' communities in Uganda, Tanzania, Rwanda, Nigeria, Ghana, Kenya, Tunisia, and South Africa, as well as representatives of government, education, academia, private industry, and CC's peers in the broader open community. Also in attendance were members of CC's international community, including Renata Avila from CC Guatemala and Naeema Zarif of CC's Lebanon community, who presented on work their communities have been undertaking that could be replicated in Africa.

Catherine Ngugi / Ibtihel Zaatouri
CC BY
The meeting was styled primarily as a discussion forum, with the majority of time spent meeting each other, learning about open activities across the continent, discussing priorities for the future of CC in Africa, and planning collaborative projects in the region. However, it also included a number of important presentations, including an introduction to Open Educational Resources (OER) and their role in Africa by Catherine Ngugi of OER Africa, and a closing address by Mrs. Mercy Kentaro Kyomugasho of the Uganda Intellectual Property Office on why governments and communities need to be aware of open culture.
The primary outcome of the meeting was a list of priority topics, priority projects, and proposed activities for CC's affiliates and the broader African community to pursue. Priority areas of work identified during the meeting included open educational resources, government adoption of open policies, and health initiatives, while proposed activities included a touring bus promoting open projects and the creation of a centralised African repository of CC materials. These outcomes, and other resources from the meeting, can be found on the meeting's wiki page.
In all, the convening was a resounding success, and a great starting point for CC's Africa community to grow and work together. We thank all those who attended, and look forward to seeing some of the exciting initiatives planned during the meeting become a reality.

Creative Commons Africa Convening 2012 crowd / Ibtihel Zaatouri / CC BY
2 Comments »
Recently, three awesome people joined the CC team, including Kat Walsh (new CC Counsel), Elliot Harmon, (new CC Communications Manager), and Sara Crouse (new CC Director of Strategic Partnerships). You'll be seeing their names pop up often in email exchanges, at events, and on this blog.

Kat joins us with an extensive background in the free culture and software communities. She has been a board member of the Wikimedia Foundation since 2006, where her focus is on legal and community issues, and she was previously a policy analyst at the American Library Association Office for Information Technology Policy. Kat has a BA from Stetson University and a JD from George Mason University. In her secret double life, she is a classical musician, performing on bassoon and viola.



Elliot has worked in the non-profit sector for eight years, mostly in the arts and technology. He has a degree in English and theatre from the University of South Dakota and a Master's in writing from the California College of the Arts. When he's not thinking about CC's communications strategy, he's often thinking about cooking, poetry, or music. He also wrote this recent CC post on how support for Open Access to science research is growing.



Sara also joins us with a background in free culture. From 2008-11, Sara was Head of Partnerships & Foundation Relations for the Wikimedia Foundation. Previously, she worked in development for Cambridge in America; and at several non- and for-profit ventures based in New York City. Sara is on the board of the Global Lives Project. She has a joint Masters in Journalism and French Studies from New York University, and a B.A. in French and English Literature from Georgetown University. Most days, Sara can be found attempting diplomatic negotiation on behalf of open knowledge, crafting with words, or inventing easier ways to do things at the office. Otherwise, she is likely hiking, cooking, reading, or out and about in San Francisco; most always with her dogs.
Please join us in welcoming our new team members. We hope to do great work in furthering openness together.
You can read more about each of them, and the rest of the Creative Commons team, at our staff page.
Comments Off
Stay up to date with CC news by subscribing to our weblog and following us on Twitter.
Comments Off

PeerJ Founders Peter Binfield and Jason Hoyt / Duncan Hull / CC BY
In their excellent Washington Post opinion piece, Matt Cooper and Elizabeth Wiley suggest that federally funded research should be freely accessible over the Internet. They argue that when students lose their access to academic databases after graduation, society doesn't get the same benefits it could from that research:
Students' library cards are a passport to the specialized knowledge found in academic journal articles — covering medicine and math, computer science and chemistry, and many other fields. These articles contain the cutting edge of our understanding and capture the genius of what has come before. In no uncertain terms, access to journals provides critical knowledge and an up-to-date education for tomorrow's doctors, researchers and entrepreneurs.
But should that access cease at graduation? Or would you rather a graduating medical student, perhaps your future doctor, be able to keep up with the latest advances? Would you rather an ambitious graduate student feel comfortable leaving the academy to found the next Google, knowing she still has access to the latest insight in her field and is able to build upon it?
Cooper and Wiley's organizations — the National Association of Graduate-Professional Students and the American Medical Student Association, respectively — joined Creative Commons and many other allies in support of a petition on Whitehouse.gov for free access to scientific journal articles arising from taxpayer-funded research. The petition quickly reached its goal of 25,000 signatures, sending a clear message that it's time for the government to rethink open access policies.
Meanwhile in Britain, the Minister for Universities and Science recently commissioned a study on how the UK could adopt open access for publicly-funded research. Dame Janet Finch and her team released their findings last week, championing in particular the "gold" route to open access.
But how do the publishers themselves fit into the discussion? Some are actively exploring open access publishing models. This month, Peter Binfield and Jason Hoyt unveiled PeerJ, a new kind of peer-reviewed academic publisher. Contributors pay a $99 lifetime membership fee, and all articles are licensed CC BY. Funded by Tim O'Reilly, PeerJ has been getting a lot of attention in the mainstream press.
Coincidentally, science publishing stalwart Nature has also adopted the CC BY license, through its open access component Scientific Reports. Previously, researchers could choose whether to license their works BY-NC-SA or BY-NC-ND. Starting July 1, they'll have the CC BY option as well. Nature's Jason Wilde explains the decision to drop the required noncommercial stipulation:
There has been much debate about commercial reuse on open access articles […] We believe in offering our authors choice. And we now know some authors will want to choose CC BY, not least as a result of new funder mandates. Unlike Nature Communications and our other titles, Scientific Reports does not have established revenues from commercial reprints or licensing, making it an economically viable proposition.
With governments, publishers, and the public all rethinking ways to make research more freely accessible, the climate seems right for a major shift toward open access.
Related: First Thoughts on the Finch Report: Good Steps but Missed Opportunities (Cameron Neylon)
3 Comments »

Ms. Catherine Ngugi.. and Letuimanu'asina Dr. Emma KRUSE VA'AI / Mariana Bittencourt / CC BY
Through the generous support of the William and Flora Hewlett Foundation and in full partnership with the Commonwealth of Learning (COL), UNESCO hosted the 2012 World Open Educational Resources (OER) Congress last week to:
showcase the world's best practices in OER policies, initiatives, and experts;
release the 2012 Paris OER Declaration calling on Governments to support the development and use of OERs; and
celebrate the 10th anniversary of the 2002 UNESCO Forum that created the term "OER."
I am pleased to report UNESCO member States unanimously approved the "Paris OER Declaration" (pdf).
This Declaration is the result of a yearlong process, led by UNESCO and the COL with regional and online meetings and final negotiations at the Congress. The Declaration recommends UNESCO member States:
a. Foster awareness and use of OER.

b. Facilitate enabling environments for use of Information and Communications Technologies (ICT).

c. Reinforce the development of strategies and policies on OER.

d. Promote the understanding and use of open licensing frameworks.

e. Support capacity building for the sustainable development of quality learning materials.

f. Foster strategic alliances for OER.

g. Encourage the development and adaptation of OER in a variety of languages and cultural contexts.

h. Encourage research on OER.

i. Facilitate finding, retrieving and sharing of OER.

j. Encourage the open licensing of educational materials produced with public funds.
The Declaration will now be delivered to UNESCO's Director General. She will submit the Declaration to the UNESCO Executive Board on October, 2012. After the UNESCO Board approves the Declaration, it will go to the General Conference for final approval. While it is important to note a "Declaration" is a non-binding UNESCO instrument, a UNESCO declaration does "set forth universal principles to which the community of States wished to attribute the greatest possible authority and to afford the broadest possible support."
OER Congress resources
Bravo to all who helped move the world to this moment! So many open advocates traveled to the regional meetings and to the Congress. Your contributions and work with your governments led us all to this successful outcome.
Lawrence Lessig's Keynote (added 27 July, 2012):
9 Comments »