This Saturday is Culture Freedom Day, a worldwide celebration of free and open culture through education efforts, on- and offline events, and promoting artists who work in free culture. Culture Freedom Day is organized by Digital Freedom International, a nonprofit that also promotes software freedom.
As stewards of the open licenses and tools that enable creators to contribute to a free and open culture, Creative Commons encourages you to celebrate this day by learning more about it and the open licenses that make up the infrastructure for free cultural works. You can also CC license one or more of your own works, remix or build upon an existing CC-licensed work, or help bring awareness to one of your favorite CC artists.
4 Comments »
From 2007 to 2011, COMMUNIA was a project funded by the European Commission to explore the role of the public domain in the digital age. Over four years, COMMUNIA, or The European Thematic Network on the Digital Public Domain, gathered over 50 members from academia and the CC community to research, promote, and preserve the digital public domain. In 2011, COMMUNIA's members decided to continue the network as an international nonprofit association.
We would like to highlight two recent publications by COMMUNIA that shed light on COMMUNIA's progress:
In April, COMMUNIA released, "The Digital Public Domain: Foundations for an Open Culture" under CC BY:
"This book brings together essays by academics, librarians, entrepreneurs, activists and policy makers, who were all part of the EU-funded Communia project [from 2007-2011]. Together the authors argue that the Public Domain — that is, the informational works owned by all of us, be that literature, music, the output of scientific research, educational material or public sector information — is fundamental to a healthy society."
More recently, COMMUNIA published its Final Report, also under CC BY:
"This Public Report is the outcome of the work of the COMMUNIA Network on the Digital Public Domain (hereinafter "COMMUNIA"). This Report was undertaken to (i) review the activities of COMMUNIA; (ii) investigate the state of the digital public domain in Europe; and (iii) recommend policy strategies for enhancing a healthy public domain and making digital content in Europe more accessible and usable. Each of the subjects indicated above will be further developed and detailed in Annex I, Annex II, and Annex III of this Report, respectively."
The Final Report, along with the collection of essays above, highlights much of the good work completed by COMMUNIA over the years, including The Public Domain Manifesto, of which many CC affiliates, staff, and community members were a part of drafting.
Comments Off

on COMMUNIA explores role of digital public domain in final report
The Saylor Foundation provides global grants of US $20,000 to college textbook authors seeking to openly license their educational textbooks for use in free Saylor college-level courses. Authors maintain their copyright and license textbooks to the world via Creative Commons Attribution (CC BY) to enable maximum reuse, remix, and redistribution. To learn more and apply, visit Saylor's Open Textbook Challenge page for more details.
In addition to providing grants for existing textbooks, the Saylor Foundation has announced a new option to award authors seeking to create open textbooks that will be CC BY licensed. Academics who are interested in creating a textbook can submit a brief statement about the proposed text and the relevant eligible Saylor course, and if successful they will receive a Request for Proposal from the Saylor Foundation (more details at the Open Textbook Development page). As a result of this new option and because preparing new texts is a lengthy process, the Saylor Foundation has decided to accept both textbook submissions and proposals for textbook development on an ongoing basis. The initiative has recently received funding from the William and Flora Hewlett Foundation and the Saylor Foundation expects to award millions of dollars for open textbooks under CC BY.

"CC BY" / opensourceway / CC BY-SA
The cost of education is spiraling, for example the average amount that a U.S. college student spends on textbooks is almost US $1,200 per year. Textbook costs may represent up to seventy-five percent of a Californian community college education, and education affordability is frequently cited as a reason for course dropouts (pdf). The Saylor Foundation tackles this issue by providing free, college-level curricula worldwide via Saylor.org. Their Open Textbook Challenge aims to alleviate cost pressures by encouraging textbook authors to openly license their textbooks with CC BY so that students may use them for free.
5 Comments »
Stay up to date with CC news by subscribing to our weblog and following us on Twitter.
Comments Off

on CC News: The Liberated Pixel Cup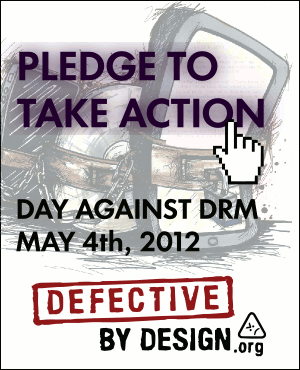 Today is Day Against DRM. If you don't already, you should know that DRM stands for Digital Rights Management (or probably more accurately, Digital Restrictions Management), and that we have blogged about this day before for good reasons, including,
DRM causes problems regarding fair use, lack of competition, privacy and security breaches, forced obsolescence, and more… (Read the Wikipedia article on DRM.)
CC provides tools to make it easier for creators and owners to say what rights they reserve and permissions they grant — maximizing sharing and collaboration. This is in stark contrast with DRM that uses technology to make it harder to share and collaborate.
CC licenses do not allow users of CC-licensed works to use DRM to prevent other users from taking advantage of the freedoms already granted by the license.
In addition, Defectivebydesign.org notes that,
While DRM has largely been defeated in downloaded music, it is a growing problem in the area of ebooks, where people have had their books restricted so they can't freely loan, re-sell or donate them, read them without being tracked, or move them to a new device without re-purchasing all of them. They've even had their ebooks deleted by companies without their permission.
See all blog posts on Day Against DRM here, where you can also access banners and pledge to take action.
3 Comments »
This year the Content in Context conference (organized by the Association of Education Publishers and the Association of American Publishers School Division) will host a free Metadata Lab centered around educational metadata adoption.
The main highlights of the lab:
Education data standards overview with Jack Buckley (NCES/CEDS), Ross Santy (US DOE), and Michael Jay (Educational Systemics)
LRMI info session
Group discussions
One-on-one meetings
Of particular interest is the LRMI session, which will include
A project update by Greg Grossmeier (Creative Commons)
A discussion led by Brandt Redd (Gates Foundation) about LRMI in relation to other initiatives like the Shared Learning Collaborative and Learning Registry
A demo of LRMI proof of concept by Mark Luetzelschwab (Agilix Labs)
Again, attendance is free but please register by contacting Dave Gladney (dgladney@AEPweb.org).
Comments Off

on LRMI integration workshop at Content in Context

Dan bull / Tim Dobson / CC BY-SA
Indie musician Dan Bull released "Sharing is Caring" into the public domain using CC0. Recently, "Sharing is Caring" reached #9 on the UK independent chart and #35 on the UK R&B Chart. Creative Commons United Kingdom interviewed Dan about why he chose to release his music for free:
"It's up to the individual musician what they want to do and it depends on their principles. In the past I have gone the way of having no licensing on my music at all, or where licensing is necessary, I make it known that I have no problem personally with people copying or remixing the music. If you want to encourage fans to engage with your music, re-interpret it and redistribute it on your behalf, then Creative Commons is a good direction to look in."
For those who don't know, CC0 is not a license, but a universal public domain dedication that may be used by anyone wishing to permanently surrender the copyright they may have in a work, thereby placing it as nearly as possible into the public domain. As far as we know, Dan is the first musician to break into top music charts with music that is free from copyright restrictions. Let us know if we're wrong!
Read the full interview with Dan over at the CC UK blog.
Comments Off

on Musician Dan Bull reaches #9 on UK indie charts using CC0

Cathy Casserly / Ede & Ravenscroft / CC BY-SA
In March, Cathy, our CEO, was recognized for her contributions to open education through an honorary doctorate awarded by The Open University. The Open University is home to the OpenLearn initiative, which makes available over 11,000 hours of structured learning via CC BY-NC-SA and has received over 20 million visitors. In addition to sustaining the largest YouTube EDU presence in Europe and iTunes U downloads totaling over a quarter a million a week, The Open University also leads the TESSA project in Africa, under CC BY-SA, which has delivered open educational resources to over a million teachers.
Professor David Vincent conferred the degree, with the following remarks:
The proliferation of knowledge on the web has challenged traditional boundaries between formal
and informal learning. Students have been quick to seize the opportunities, using their keyboards
to explore the vast archives of information now available to them. Schools and universities, and
the public bodies who fund them, have been much slower. It takes courage to abandon time-
honoured means of owning and protecting the learning resources that they have created and paid
for. Through her leadership at a number of key American foundations Cathy has played a critical
role in challenging established thinking and promoting innovation.

Her approach has been essentially collaborative. She has used donor income to stimulate change in
educational bodies in the United States and around the world. After a PhD at Stanford and a spell in
teaching, she has served as Director of the Open Educational Resources Initiative at The William and
Flora Hewlett Foundation, Vice President and Senior Partner, Innovation and Open Networks at the
Carnegie Foundation for the Advancement of Teaching and is now Chief Executive Officer of Creative
Commons, which is dedicated to providing the legal infrastructure for open resources.
Congrats, Cathy! CC hopes to do more great work in open education together.
Comments Off

on Cathy Casserly receives honorary doctorate from the Open University
In March, Creative Commons, the U.S. Department of Education, and the Open Society Institute launched the Why Open Education Matters Video Competition. The goal of the competition is to raise awareness of Open Educational Resources (OER) and solicit short, creative videos that help explain what Open Educational Resources are and how they can be beneficial for teachers, students, and schools everywhere around the world.
There's been lots of interest in the competition, and we wanted to remind you that the deadline to submit your video is June 5, 2012. The contest is open to all, and submissions can come from non-U.S. citizens. Nonprofits, schools, and companies may also enter a video, and you can work in teams. Please check out the website for all the information you need.
The first prize is $25,000 and the second prize is $5,000. We've lined up some great judges to help award these prizes, including Nina Paley, Davis Guggenheim, and James Franco. There will also be a $1,000 Community Choice Award in which the public will be able to cast their vote for their favorite video.
Again, video submissions must be received by June 5 on http://whyopenedmatters.org (look for the "Submit a Video" button). We're eating our own dog food too–any video that is submitted must be licensed under the Creative Commons Attribution (CC BY) license so that it can be freely used and shared by anyone to help explain Open Educational Resources. Please jump in and share your creative video-making skills to explain and promote OER. Roll camera!
2 Comments »
This Saturday's International Journalism Festival in Perugia, Italy will unveil a months-long collaborative effort — the Data Journalism Handbook, a free, CC BY-SA licensed book to help journalists find and use data for better news reporting.

Data Journalism Handbook – Cover Mockup / jwyg / CC BY-SA
A joint initiative of the European Journalism Centre and the Open Knowledge Foundation, the collaborative book effort was kicked off at the 2011 Mozilla Festival: Media, Freedom and the Web — which gathered reporters, data journalism practitioners, advocates, and journalism and related organizations from around the globe. Over three days, participants researched, wrote, and edited chapters of the handbook. Contributors include the Australian Broadcasting Corporation, the BBC, the Chicago Tribune, Deutsche Welle, the Guardian, the Financial Times, La Nacion, The New York Times, ProPublica, The Washington Post, and many others — including Creative Commons. Creative Commons contributed to various pieces of the "Getting Data" section, including "Using and Sharing Data: the Black Letter, Fine Print, and Reality." You can preview the outline here.
From the announcement,
Now more than ever, journalists need to know how to work with data. From covering public spending to elections, the Wikileaks cables to the financial crisis – journalists need to know where to find and request key datasets, how to make sense of them, and how to present them to the public.

Jonathan Gray, lead editor for the handbook, says: "The book gives us an unprecedented, behind-the-scenes look at how data is used by journalists around the world – from big news organisations to citizen reporters. We hope it will serve to inform and inspire a new generation of data journalists to use the information around us to communicate complex and important issues to the public.
You can sign up to get the handbook when it goes live at http://www.datajournalismhandbook.org. The entire handbook will be available for free under CC BY-SA, with an alternative printed version and e-book to be published by O'Reilly Media.
2 Comments »
previous page
—
next page