After lots of positive feedback, today we're removing the "draft" notice from our Statement of Intent for Attribution-ShareAlike Licenses. Not much has changed since the draft announcement, so most of the explanation below is cribbed from that. Of course just because this statement is no longer a draft does not mean CC could not improve its stewardship of BY-SA licenses — feedback is always welcome. And although this statement only applies to our stewardship of BY-SA licenses, we are committed to being excellent stewards of all of our licenses, and welcome suggestions across the board.
The statement we're releasing today is part of a series addressing a suggested Wikipedia CC BY-SA migration checklist. It attempts describe 1) what CC does as a license developer and steward, 2) why CC Attribution-ShareAlike licenses play a special role in the movement for free cultural works — clearly inspired by the free software movement, and 3) CC's intentions as steward of Attribution-ShareAlike licenses, in the context of (1) and (2).
Note that while (1) provides a reasonable explanation of the role CC plays for all of the licenses it develops, (2) and (3) apply only to Attribution-ShareAlike licenses. Anyone who wants a thorough understanding of the contours of content in this age should take the time to understand the movement this statement addresses. However, other communities have different requirements. It is conceivable that at some point CC will need to address the requirements of other communities in relation to other particular CC licenses and tools that help those communities. One example of this — which takes a different form because all existing CC licenses are too restrictive for the community in question (but public domain and the in-development CC0 waiver are just right) — is the Science Commons Protocol for Implementing Open Access Data. Still other communities rely on more restrictive CC licenses.
This particular statement has been reviewed by many people within CC, CC's international project teams, Wikipedians, and free software advocates. However, I take responsibility for its unwieldy verbosity and any minor or fundamental flaws it may have. Comments and criticism are strongly encouraged. Leave a comment on this post, or on the wiki (requires registration).
For reader convenience, the entire statement is copied below.
Creative Commons Statement of Intent for Attribution-ShareAlike Licenses
2008-04-17
Creative Commons is a not-for-profit organization that has created and serves as a steward for a suite of copyright licenses that enable creators to legally grant certain freedoms to the public and to clearly signal those freedoms to humans and machines.
Creative Commons Attribution-ShareAlike licenses play a particularly important role in the Free or Libre Culture movement. This document lays out Creative Commons' intention as steward for this class of licenses.
First, it is important to understand the activities Creative Commons undertakes as a steward of licenses:
Create new versions of each class of licenses when warranted by community feedback and suggestions for improvements. As of this writing most license classes have versioned from 1.0 (released December, 2002) to 2.0 (released May, 2004), 2.5 (released June, 2005), and 3.0 (released March, 2007).
Port each license to account for the nuances of copyright law in jurisdictions worldwide. As of this writing ports have been completed in 44 jurisdictions in conjunction with local legal experts in each of these jurisdictions.
For each specific license, maintain at a stable, canonical URL such as http://creativecommons.org/licenses/by-sa/3.0/ the following:

A license deed intended to convey the properties of the license in a manner useful to non-lawyer humans, including short textual descriptions and readily recognizable icons.
Translations of the aforementioned textual descriptions, so that the license may be useful to speakers of as many human languages as possible.
Metadata intended to convey the properties of the license in a manner useful to computers — but for the purpose of making licensed content more discoverable and usable, not for turning computers against their owners with DRM.
A copy of the license itself.

Develop, maintain, and encourage software and services that make Creative Commons licenses available at the point of creation and publishing, for example our web-based license chooser, widget, web services API, and OpenOffice.org plugin.
Develop, maintain, and encourage software and services that make Creative Commons licensed works available at the point of discovery and consumption, for example a web search interface and browser plugins.
Participate in standards efforts that facilitate the software and services above, for example the World Wide Web Consortium.
Maintain close contact with the communities that use Creative Commons licenses to ensure the licenses and associated tools are serving the communities well.
Educate the public about the licenses and associated tools.
Millions of creators and users expect Creative Commons to undertake these stewardship activities, and we recognize and attempt to follow through with this great responsibility. The responsibility to communities using Attribution-ShareAlike licenses is even greater, as many in those communities rely on Creative Commons to serve as a reliable steward not just in a practical legal and technical sense, but in an ideological sense.
Creative Commons Attribution-ShareAlike licenses are informed and inspired by the principles and lessons of the Free Software movement. Although certain Creative Commons licenses allow granting of relatively narrow freedoms, in this document we use Free and Libre in the sense used by the Free Software movement. As applied to content, these principles require a license to grant the following essential freedoms to ALL users of licensed works:
the freedom to use the work and enjoy the benefits of using it
the freedom to study the work and to apply knowledge acquired from it
the freedom to make and redistribute copies, in whole or in part, of the information or expression
the freedom to make changes and improvements, and to distribute derivative works
These freedoms are taken directly from the Definition of Free Cultural Works, and more thoroughly explained there. Thus, the first commitment of Creative Commons as steward of Attribution-ShareAlike licenses:
1) All versions and ports of Creative Commons Attribution-ShareAlike licenses MUST satisfy the definition of a Free Cultural License set out in the Definition of Free Cultural Works.
However, a license without the ShareAlike requirement could satisfy this definition. The crucial lesson learned from the Free Software movement is that Freedom is a public good, and the dominant Free license should not only grant essential freedoms, but protect those freedoms for all users. This is accomplished by copyleft, which adds a requirement that anyone distributing a copy of a Free work or an adaptation (also known as a derivative) of that work grant to other users the same freedoms they received. The GNU General Public License is the dominant copyleft software license, indeed the dominant Free Software license (Creative Commons uses and recommends the GNU GPL for software).
For its content licenses, Creative Commons calls the copyleft requirement ShareAlike. This requirement protects the freedoms of all users by requiring that adaptations of works licensed under Attribution-ShareAlike to also be distributed under an Attribution-ShareAlike license, or a license deemed by Creative Commons to grant and protect the same essential freedoms for all users in a compatible fashion. Thus, the second commitment of Creative Commons as steward of Attribution-ShareAlike licenses:
2) All versions and ports of Creative Commons Attribution-ShareAlike licenses MUST protect the freedom of all users by requiring that when an adaptation of a work distributed under an Attribution-ShareAlike license is distributed, the adaptation must be distributed under the same license, or a license deemed by Creative Commons to grant and protect the same essential freedoms for all users in a compatible fashion (to be clear, such a compatible license must also satisfy the definition of a Free Cultural License set out in the Definition of Free Cultural Works).
As described above, the ShareAlike requirement becomes active when an adaptation of a licensed work is distributed. Creative Commons may choose to add language to future versions of its licenses specifying that particular uses constitute adaptations from the perspective of the license, where such may not be clear. For example, since version 2.0, Creative Commons Attribution-ShareAlike licenses have included language similar to the following:
For the avoidance of doubt, where the Work is a musical composition or sound recording, the synchronization of the Work in timed-relation with a moving image ("synching") will be considered a Derivative Work for the purpose of this License.
It would abuse the trust of licensors to add a clarification that narrowed the scope of what is considered an adaptation, for this would introduce a loophole by which the freedom of all users would not be protected. As such, the third commitment of Creative Commons as steward of Attribution-ShareAlike licenses:
3) Any clarification of whether a use constitutes an adaptation for the purposes of Attribution-ShareAlike licenses may only broaden the scope of uses considered adaptations rather than collections.
When a copyleft license is widely used, it not only protects essential freedoms for all users, it fosters the spread of those freedoms. This occurs when people who may not know or care about Freedom as understood by the Free Software movement, but merely wish to use works that happen to be Free, release adaptations under a Free license in order to fulfill the requirements of the license. By the same token, if there are pools of Free content that may not be mixed because their copyleft style licenses are legally incompatible, the spread of essential freedoms is constricted. The fourth commitment of Creative Commons as steward of Attribution-ShareAlike licenses could be seen as implicit in the second commitment, but it is important to call out separately here:
4) Creative Commons will strive to enable compatibility between Attribution-ShareAlike licenses and other copyleft content licenses that grant and protect the same essential freedoms for all users (to be clear, any candidate for compatibility must also satisfy the definition of a Free Cultural License set out in the Definition of Free Cultural Works).
While every work that expands the universe of Free or Libre content is important, Free licenses play an especially crucial role for works with many collaborators. Unless each collaborator agrees to contribute under the terms of a Free license, the work rapidly becomes unusable by anyone, as past contributors must either be tracked down, or their contributions excised, before the work may be distributed or built upon (except as permitted by fair use and other limitations on copyright). But Free licenses are not enough for massively collaborative projects. In addition to social and technical affordances thankfully beyond the scope of copyright, such projects need particular licensing affordances, particularly around attribution requirements. Creative Commons took a step toward addressing these needs in version 2.5 of its licenses, but there may be more to do in this regard. Thus, the fifth commitment of Creative Commons as steward of Attribution-ShareAlike licenses.
5) Creative Commons will strive to ensure that Attribution-ShareAlike licenses meet the needs of massively collaborative works, while remaining useful for works with one or a few creators.
Our final commitment is a simple restatement of one of the stewardship activities described above, with emphasis on Free and Libre content communities and Attribution-ShareAlike:
6) Maintain close contact with Free and Libre content communities to ensure Attribution-ShareAlike licenses and associated tools are serving these communities well.
If you are a member of one of these communities, take this as an invitation to help us meet these commitments to you. Friendly suggestions for improvement and criticism if we seem to go astray are equally valuable.
Comments Off

on Creative Commons Statement of Intent for Attribution-ShareAlike Licenses released
Back in December we announced the CC0 project, which encompassed two tools. First, a waiver of all copyright and neighboring rights in a work, to the extent permitted by law. Second, an assertion that a work is not under copyright or neighboring rights. We were (and are) basically taking our existing public domain dedication and certification and everything we've learned over the past five years (in particular from working with a large network of international legal experts and experience with deploying rights metadata) and rolling them into a much improved toolset for enabling the "no rights reserved" portion of the commons.
We launched the first beta of these tools in January. One thing feedback from this beta helped us realize is that bundling the waiver and assertion in one tool could be confusing. While both tell an end user that there are no strings attached to using a work, they're actually very different. A waiver must be used by the copyright holder of a work; an assertion is made by someone with knowledge that there is no copyright holder of a work.
In February we announced that the next beta would take pains to make these two use cases distinct. We also said that we hoped to have the next beta ready for public review and discussion by March 31. We've missed that date by a couple weeks, but for the good — some exciting organizational growth (more below) and incorporation of further lessons.
We've also come to believe that we're really close on the CC0 waiver, while the assertion tool is going to require significant work before it provides a big step up from our existing public domain certification. For example, we want to facilitate publishing of facts about a work that would help one determine the work's copyright status, and separately, rules about copyright status in various jurisdicitons — people who know lots about a particular work aren't likely to be global copyright experts, and if there were a single person expert in copyright law in every jurisdiction, that person would have no room in their brains for knowledge of any creative works! There are various groups working on different pieces of this who we look forward to collaborating with. Expect news concerning public domain assertion tools in the coming months.
So the new beta we're announcing today is focused exclusively on the CC0 waiver. The big change in this beta (as planned in February) is that rather than starting with a jurisdiction-centric U.S. version of CC0, the tool will be "Universal" from the beginning. You can access the beta at ccLabs. Your feedback and criticism is most welcome. The primary venue for discussion is the cc-licenses mailing list (low volume and moderated; do not fear jumping in).
Speaking of organizational growth, one addition directly impacts this work on CC0. Diane Peters, our incoming General Counsel, will be leading this project going forward. Diane comes to CC from Mozilla,was previously GC of Open Source Development Labs, and also serves on the board of the Software Freedom Law Center. We're very happy to have Diane coming on board and are very confident she will lead CC0 to fruitful implementation and beyond.
In addition to contributions from many of you (Jordan Hatcher especially, leading by example with the PDDL), special thanks goes to CC lawyers Virginia Rutledge (who is stepping into a new role as Vice President and Special Counsel) and Thinh Nguyen (Science Commons Counsel), who have pushed us to the point we're at now — a precipice of greatness! :)
Science Commons VP John Wilbanks, ccLearn ED Ahrash Bissell, and CTO Nathan Yergler made key policy and technology contributions.
1 Comment »
Joi Ito blogged yesterday about Shinsei Bank's plans to release their methods as open courseware in collaboration with the Indian Institute of Technology Kanpur. Shinsei Bank is one of Japan's great success stories in terms of its innovative approach to business; it was this approach, an adaptation of existing industrial engineering methods to the "design of software and IT processes," that helped to establish Shinsei Bank as a solid international enterprise.
In order to disseminate the methods freely, and to garner feedback and ultimately, improvement, Shinsei Bank will work with IIT Kanpur to design courseware that will accurately capture and relay their methods in the educational setting. In their April 11th press release, Shinsei announced that the courseware will be open under one of the Creative Commons licenses (which license is yet to be decided):
"Shinsei believes it will benefit in a number of ways from disseminating its IT methods through a Creative Commons license. By increasing awareness of its methods around the world, the bank gains access to a larger pool of employees while expanding the number of skilled engineers and technicians proficient in its methods. Shinsei also believes that having others working with its methods will yield improvements and breakthroughs that will benefit all parties."
By licensing the instructional materials about their methods under CC, Shinsei will add to the growing pool of OCW and OCW institutions—see the Open CourseWare Consortium for a full list of its members. The open courseware will also establish Shinsei as a contributor to and presence in open education, something which ccLearn encourages across all diverse fields of knowledge.
Comments Off

on Shinsei Bank's Methods to be Released as Open Courseware
It's tax day here in the USA, but let's look to more interesting things. I will endeavor to send out an update, perhaps in newsletter form, of key ccLearn activities and plans every month or so, in addition to any announcements or interviews that we post to the site. As we continue to develop our internal capacities to manage communications and projects, I expect that these things will become more streamlined.
We are still hard at work considering the challenges of finding and creating open educational resources, and also with networking and research around existing OER projects. Look to this space for future announcements as we test and then roll out these (hopefully useful) tools.
We are also engaged in planning for a regional meeting among open education projects and CC jurisdictions in Latin America. This is just the first of several planned meeting in different regions of the world to enable greater collaboration and coherence among OER projects globally. We will announce further details about this and hoped-for future meetings as details become available.
We are helping too in planning the education track at this year's iSummit. The iSummit promises to be an interesting opportunity to engage with open education projects in East Asia and beyond and to consider collective actions that can help to broaden and deepen the impact of the open education movement.
If you haven't checked out the rest of the ccLearn website lately, you might pay a visit to the Resources page, where we are continuing to compile resources of interest to educators and everyone involved in open education. Also, we have gathered in one place some of the top sites for searching educational content on the web. This site is intended to help people find educational resources, but also demonstrates the challenge we face in making such searches easier.
ccLearn will be present at the upcoming OCWC meeting in Dalian, China. We'll report on that meeting afterwards.
-Ahrash
Comments Off

on ccLearn monthly update – Apr 15
From CC Switzerland:
The organization Openlaw, platform for law and Free Software, has filled the role of Legal Lead for Creative Commons Switzerland for several years. The tasks entailed, among others, the adaptation of Creative Commons in Switzerland and providing a point-of-contact for inquiries about the licenses.

Creative Commons in Switzerland will now be coordinated by Digitale Allmend, while Openlaw will be stepping down from its role at Legal Lead.

Personnel will be set along the following lines: Martin Feuz (Community); Philippe Perreaux (Legal Consultation); Simon Schlauri (Development of the CC Licenses)

Creative Commons Switzerland will be supported through Dr. Urs Gasser, Attorney, Professor at the University of St. Gallen. Within the framework of an extended support network, previous CC CH members Urs Gehrig, lic.iur (Basel) and Dr. Christian Laux, Attorney LLM (Zürich) will be readily available.
Comments Off

on Transition at Creative Commons Switzerland
Just a reminder that this Wednesday (4/16) at 7:30PM we will be returning to FOUND LA (Google Map) for another CC Salon LA!
Rex Bruce, director of the Los Angeles Center for Digital Art, will be screening a video he directed that uses public domain imagery from the US Military (also playing at the Centre Pompidou). Holly Willis, Director of Academic Programs at the Institute for Multimedia Literacy, will be presenting on art in Second Life, focusing on creators who are cognizant of the formal and ideological implications of virtual worlds.
Jack Lerner, Acting Director at the USC Intellectual Property and Technology Law Clinic, will give a talk on research he has been conducting in relation to music sampling that looks at defects in the market and proposes changes. Finally, we will be joined by multimedia designers Chris Weisbart and Michael Wilson who will explain how they are using open source technology in museums and will give a live demonstration of a holographic projection system they've recently built into an interactive exhibit.
We are super excited for the diverse group of panelists we have got together, so come out and join us for what is bound to be an enlightening evening. And yes, there will be free (as in beer) drinks!
Comments Off

on REMINDER: CC Salon LA, April 16 (This Wed) 7:30PM
This Friday, April 18, at 7PM CC's Creative Director Eric Steuer will be speaking on a panel titled New Media Artists and the Law at The Kirsch Conference Center in San Jose, CA. Hosted by California Lawyers for the Arts, Eric will be joined by Emily A. Berger, Intellectual Property Fellow with Electronic Frontier Foundation, and Joel Slayton, Director of the CADRE Laboratory for New Media, for a discussion of "the ways copyright laws are implicated in new media art and the challenges artists face in this evolving area of the law."
The panel promises to be quite fascinating, with topics including "derivative works, best practices, defensible positions, reproduction and public display rights and the Internet, peer-to-peer file sharing, streaming, [and] fair use". With three diverse backgrounds on hand, these issues will diverge and converge in unexpected ways that are bound to prove enlightening. All relative information below:
New Media Artists and the Law

April 18, 2008 at 7:00 pm PT

Location
The Kirsch Conference Center
60 South Market Street
Tenth Floor
San Jose, CA
Comments Off

on Panel 4/18: New Media Artists and the Law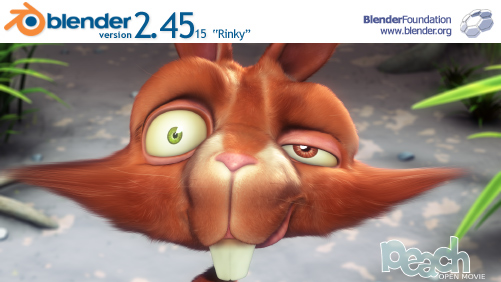 If you haven't been to Amsterdam or checked out what great work Paul Keller and CC Netherlands is doing, then I highly recommend you A.) get here when you can by jet, or B.) tap into their great projects on the net. In particular, I'm referring to the big premiere 2nd Annual Blender Peach Open Movie in Amsterdam last night. I had the great honor of speaking before the premiere which actually felt more like a warm-up gig — I took it on myself to get people pumped up for the film (laughing, chanting, etc). You can also see my slides here which debut a new style using the CC Sharing Creative Works Comics (which you may download now and translate, just as CC Netherlands has done and made availabe in a booklet here).
And finally, I spoke on a panel today called "Commons-based Peer Production" at the Economies of the Commons conference put on by CC Netherlands and others:
Strategies for Sustainable Access and Creative Reuse of Images and Sounds Online

International Working Conference
Amsterdam & Hilversum 10, 11 & 12 April 2008

This dossier documents and brings together background materials for the international conference Economies of the Commons. This public working conference and its side programs address the remarkable cultural, educational and societal significance of the new types of audiovisual commons resources that are currently being created on the internet. Sustainable public access and enhanced opportunities for creative reuse of these resources are the particular focus of this conference and this web dossier.
My panel and fellow panelists are described below:
After the lunch we continue with the second session about Commons-based Peer Production. How do new developments of creative reuse hold out against market-based production? With Felix Stalder (Open Flows), Jamie King (Steal This Film), Jon Phillips (Creative Commons) en Sebastian LÃŒtgert (oil21.org).
The panel came down to Ton Rosendaal from Blender Foundation describing his model for sustainability for Open film projects (something you will hear me describe in more depth coming soon) and Jamie King's promise for creating a better voluntary donation system. I took the position as the realist on the panel to reel in the gradient between what commercial entities are presently doing to sustain content distribution (and production in some instances) with the approaches outlined to provide a path of realidad ;)
4 Comments »
previous page
—
next page