Late last year we started a process for moving ccMixter.org, the remix community we launched November 2004, to an entity or person(s) that could take the community to the next (several) levels.
trend setting web destination … which has become the premier on-line artist's village for music makers from around the world, who sample, cut-up, share and remix each other's music legally, creatively and joyfully.
This description is corroborated by the quality of artists drawn to collaborate with the ccMixter community and the receptivity of that community, which has remixed nearly 80% of uploaded a cappellas. The software that runs the site is also award winning.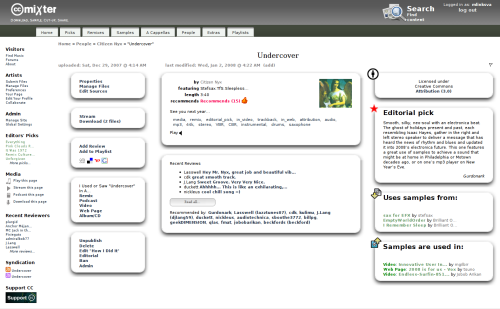 If you aren't familiar with ccMixter, or hadn't realized how cool it is, go visit the site, then return here.
The process of finding a new home for ccMixter included a survey of the ccMixter community. Results of the survey are presented at the end of this post.
Today we're announcing a Request For Proposals from entities interested in taking over the site. Please read the entire RFP. Proposals are due within 60 days (July 29) to ccmixter-rfp@creativecommons.org. Inquiries before submitting a proposal are most welcome, to the same address. Please use this address for all inquiries rather than contacting CC or ccMixter personnel directly.
The Creative Commons board will make the final determination, but here are some guidelines for what we're looking for in an acquirer (from the RFP):
Commitment and ability to conform to principles described in guidelines [at http://lessig.org/blog/2007/11/ccmixter_thinking_about_where.html].
Plan and vision for ccMixter after completion of the transaction:

Concreteness of plan;
Viability of Participant and Participant's proposal for ccMixter– long and short term; and
Scale and impact of success (taking into account web site growth plans and other marketing and promotional plans).

Amount and terms of financial compensation to CC.
Capability to run and further develop a best of breed major music website, including resources and demonstrated expertise in the following:

Web technology;
Music industry;
Legal;
Community management; and
Finance.

Understanding of and sensitivity to the needs of open sharing communities.
Understanding of and compatibility with Creative Commons' mission.
We're eager to see what the ccMixter can become — and confident it will be amazing. If the above sounds like your company or organization, please read the RFP and respond.
ccMixter community survey results summary
Total Responses: 232
What are the key features of ccMixter.org for you

The specific
musicians I
collaborate with
on ccMixter
Remixing is
integral to the
site and highly
visible and
navigable
Remixing is fully
legal &
ethical – you
know the artists
on the site
want to be
remixed & to
have a
conversation —
by using CC
licenses
The site is run
by a nonprofit
The site is run
by CC
The site is
powered by open
source software
(ccHost)
Remix contests
featuring high
profile musicians
The site
administrators
understand me
28.0%


(65)

65.5%


(152)

87.1%


(202)

34.1%


(79)

58.6%


(136)

32.8%


(76)

38.8%


(90)

26.7%


(62)

Which other CC-enabled music remix sites have you tried?
splice

Never Heard of it
Heard of it
Never Tried
Tried it
Didnt Get Into it
Im Remixing
There Too
I Left ccM
for this site
77.6%


(180)

7.3%


(17)

9.9%


(23)

4.7%


(11)

0.4%


(1)

kompoz

Never Heard of it
Heard of it
Never Tried
Tried it
Didnt Get Into it
Im Remixing
There Too
I Left ccM
for this site
84.5%


(196)

8.2%


(19)

4.3%


(10)

2.6%


(6)

0.4%


(1)

jamglue

Never Heard of it
Heard of it
Never Tried
Tried it
Didnt Get Into it
Im Remixing
There Too
I Left ccM
for this site
77.2%


(179)

13.4%


(31)

6.0%


(14)

3.0%


(7)

0.4%


(1)

Professional status

(left blank)
I am a full-time
professional
musician
I supplement my
income with music
(I have a day
job)
I am an
amateur/hobbyist/bedroom
musician
5.6%


(13)

9.1%


(21)

22.0%


(51)

63.4%


(147)

I think of myself mainly as

Producer
DJ
Singer
Instrumentalist
Other (podcaster,
music lover, film
maker, etc.)
19.0%


(44)

6.5%


(15)

5.2%


(12)

30.6%


(71)

36.2%


(84)

Gender

(left blank)
Male
Female
8.2%


(19)

87.5%


(203)

4.3%


(10)

If ccMixter.org is transferred to a commercial entity, I would

Remove my uploads
& never visit
the site again
Wait & see
how the new owner
treats the site
and community
Continue to use
the site exactly
as I do now
be really excited that a comm. entity
could take the site & community to a
new level, redouble my remixing efforts
to make that happen
3.0%


(7)

46.1%


(107)

25.4%


(59)

25.4%


(59)
8 Comments »
Today VIA launched their OpenBook, an innovative subnotebook platform. You can buy it now and also download the raw CAD files released under a Creative Commons Attribution ShareaAlike 3.0 license, meaning you can get the raw machine files to make whatever case or version you want, as long as you release your modifications under the same license and give attribution back to VIA. The VIA press release today states:
The VIA OpenBook mini-note reference design introduces a host of new innovations, including the next generation of VIA Ultra Mobile Platform, based on the VIA C7®-M ULV processor and the new all-in-one VIA VX800 digital media IGP chipset. Together, this ultra compact, power efficient platform delivers richer computing and multimedia features, including a stunning 8.9" screen and greater video playback support, in a compact and stylish clamshell form factor that weighs just 1kg.

The VIA OpenBook features a flexible internal interface for high-speed broadband wireless connectivity that provides customers with the ability to select from a choice of WiMAX™, HSDPA and EV-DO/W-CDMA modules appropriate to their market. In addition, under a unique collaborative approach, the CAD files of the external panels of the reference design are offered for download under a Creative Commons Attribution Share Alike 3.0 license to give customers such as OEMs, system integrators, and broadband service providers greater freedom in tailoring the look and feel of their device to meet the diverse needs of their target markets.
And, some blogs are praising its coolness like what crunchgear had to say (which hints at business strategy of companies like VIA):
Do you own a small fabricating plant in Taiwan? Do you have an engineering team of ten PhDs? Do you want to make small laptops? Has VIA got a deal for you. The VIA OpenBook reference design is not actually a product — it's more of an idea. Because it is ostensibly open (the CAD plans are available on the VIAOpenBook site) you simply buy the chips from VIA and use the plans to build your own cases, keyboards, and I/O systems.
Here is my quote about the release :)
"VIA is a forward thinking company that has realized that sharing enables a healthy ecosystem which helps them provide an innovative product which supports their core business," commented Jon Phillips, Business and Community Manager for Creative Commons. "Making the actual raw CAD files available under a Creative Commons Attribution ShareAlike 3.0 license is a brilliant first step that clearly and legally allows others to emergently build upon VIA's open innovation."
I'll add that this is a very interesting project that ups the "Open" ante of the ASUS EeePC's involvement in free and open culture beyond the software that ships on the platform, it competes strongly against the One Laptop Per Child XO-1, and the Intel Classmate, which are the predecessors of this generation of subnotebook. In fact, it appears that chip companies are realizing that in order to sell more chips, it is good to give away some parts of a product for free, or ship a free operating system which further reduces the cost barrier to selling more silicon. As an aside, this also mirrors what Nine Inch Nails did by releasing part of their product as an entry into more specific and special packages.
It should also be noted that this valiant efforts follows up the great work that FIC's Openmoko, Open Source Cellphone, did by releasing their CAD designs, which has already led to multiple efforts to create different cases and a great set of community pages on howto get your designs manufactured. Also, we worked with Keith Packard at Intel to release some specifications of graphics chips by Intel around the same time, which has helped for more companies to realize this same level of openness, and more importantly has allowed for developers, other companies, and people to more easily support and buy more Intel chips.
If you have a product similar to the above, or something you think could benefit from Creative Commons licensing in this way, please do contact me (Jon Phillips), contact us, or comment on this post. Let's *open* it up.
2 Comments »
The COMMUNIA Project is planning its First International Conference on the Public Domain in the Digital Age, in Louvain-la-Neuve, Belgium, on Monday 30 June and Tuesday 1 July 2008.
The event is co-organized by the COMMUNIA Thematic Network and the Global Information Commons for Science – EU activities (GICSI-EU).
The main theme is the assessment of economic and social impact of digital public domain open access initiatives throughout Europe, in particular by using the wealth of information on contract practices, successful and failed institutional experiments, and other activities developed within COMMUNIA network itself.
Some of the confirmed speakers are: Paul David (Senior Fellow, Oxford Internet Institute), Rishab Ghosh (Senior Researcher, UNU-Merit), Eric Brousseau (Université de Paris X), Karel De Vriend (European Commission, Directorate General for Informatics), Philippe Aigrain (Sopinspace, Society for Public Information Spaces).
The event is free and open to the public, and the registration deadline is 15 June 2008. For more information, full program, and registration, please visit: http://communia-project.eu/conf2008/
1 Comment »
"Remix, Redistribute, Rejoice" reads the emboldening tag line from the footage archive of STEAL THIS FILM II, a documentary that explores shifts in technology, distribution, and creative production. The recently released footage includes three hours of material from eleven interviews, all of which are released for your remixing pleasure under a CC BY-SA license.
Not only are the interviews available in high quality format to users and produsers, but thanks to the help of many volunteers, it is possible to conduct a full text search of the base material, which will guide you to the frame and immediate context of your search term.
STEAL THIS FILM II was released to file-sharing networks last winer after its premiere in Berlin. Since then, it has been subtitled in 19 languages and is estimated to have been viewed by over 4 million people — 150,000 of whom had downloaded the film in the first three days of its release.
Comments Off

on Steal This Footage
The teaser for Iron Sky, a new movie from the people behind internet-blockbuster Star Wreck, was recently posted online and has already received massive exposure (accumulating over 350,000 YouTube views in a little over two weeks). The tagline itself – "In 1945 the Nazis fled to the moon. In 2018 they are coming back." – should be enough to pique anyone's interest (you can read more about the story here) but of particular note to those in the CC-community is the filmmakers' decision to license the teaser and music therein under CC BY-NC-SA license.
Check out these stunning stills from pre-production on the film as well as explore the bevy of information on the Iron Sky website. Consider it an anticipated release in the coming months!
Comments Off

on Iron Sky
Hi, my name is Fred Benenson and I'm Creative Commons' Cultural Program Associate working in New York City. I'll be blogging about and working on all things CC in the Big Apple. Without further ado, I'm happy to announce that the eighth annual Media that Matters Film Festival is about to begin in downtown Manhattan. The festival showcases shorts created by young filmmakers and releases them after the festival under a Creative Commons Attribution-NonCommercial-NoDerivatives license. Arts Engine, the non-profit that organizes and hosts the festival also sells region-free unencrypted CC licensed DVDs of all the films that can be shown in any non-commercial setting.
A description of the festival from The Media That Matters site:
From gay rights to global warming, the jury-selected collection represents the work of a diverse group of independent filmmakers, many of whom are under 21. The films are equally diverse in style and content, with documentaries, music videos, animations, experimental work and everything else in between. What all the films have in common is that they spark debate and action in 12 minutes or less.
A short from the sixth Media That Matters film festival, "A Girl Like Me" made its way on to Oprah's television show, and has since racked up almost a million views on YouTube. Check out previous MTM festivals online here and here.  The premier of all the shorts from the eighth annual Media That Matters film festival will be happening on Wednesday, May 28th at the IFC Center in Manhattan, so buy your tickets now.
Comments Off

on Eighth Annual Media That Matters: A Film Festival of Creative Commons Licensed Shorts
Good Crew, a Japaneses pop-rock band who held a remix contest for their latest album Nippon Husky (blogged about earlier here), have posted the first batch of reworked tunes here. Be sure to check them out!
Comments Off

on Good Crew Remixes Posted
Looking for a way to get better connected to CC and its fast-growing network of supporters? We encourage you to check out our recently updated pages on the social networks Myspace, Facebook, and Change.org.
By becoming a friend, a fan, or a supporter of Creative Commons, you will help us increase our online presence as we work hard to spread the word about CC across the globe.
Comments Off

on CC's Social Network Sites
On Wednesday, June 18 Creative Commons will hold its first technology summit in Silicon Valley at Google's Mountain View campus. Over the past five years we have actively developed and contributed to technologies that complement our licenses, with the aim of using software to enhance the discoverability and practical [re]usability of content — to help users manage content, as opposed to software designed to help content manage users (i.e., DRM).
The summit is intended to bring together many parties interested in making sure "Copyright 2.0" facilitates rather than hinders innovation and the open web. The summit will include an update and overview of Creative Commons technologies, panels featuring other leaders in open digital rights technologies, and a look at the future, including the role of digital copyright registries. You can find out more about the program and schedule on the wiki page.
There is no cost to attend, but space is quite limited. If you'd like to attend, please register here.
2 Comments »
Curt Smith, best known for his work as one of the two lead vocalists in English pop band Tears for Fears, released his new album, Halfway, Pleased, this past Tuesday (digitally and otherwise). Comprised of 15 hauntingly beautiful tracks (read a nice review here), Smith has chosen to release the entire album under a CC BY-NC-SA license, allowing people to freely redistribute, reuse, and rework the songs legally. From Curt Smith:
In addition to joining the ranks of major artists releasing their work independently under their own banners, Smith is issuing "Halfway, pleased" under a Creative Commons license, which gives fans the right to copy, distribute and perform the album's songs, so long as the uses are non-commercial and properly attributed to Smith. "Nothing would make me happier," he insists, "than for my music to be heard by as many people as possible. If people like the album and its songs enough to put it on their website or share it with their friends, that's fantastic. I only ask that they not exploit my music in any way that generates revenue for them but not for me. Because at the end of the day," he points out, "artists need to realize an income from their art… or they'll have to stop making art in order to do something else to keep a roof over their heads."
Comments Off

on Curt Smith Releases "Halfway, Pleased"
next page