Blog - Page 15 of 397 - Creative Commons
Three new employees have joined Creative Commons in the last few weeks. Join us in welcoming Jenny Utke, Paul Stacey, and Puneet Kishor to the team.
Jenny Utke, Senior Accountant
Jenny is originally from Michigan but has lived in California for over 10 years. She started her career as an auditor at CPA firms in the Bay area, but has spent the remainder at various corporate industries doing general ledger accounting. She has a bachelor's degree in Accounting from Grand Valley State University. Her hobbies include collecting arcade games, playing video games, hanging with friends, reading Stephen King, and watching TV.
Paul Stacey, Senior Project Manager
Paul is responsible for project planning and implementation of initiatives across Creative Commons ensuring alignment with organizational strategy, consistency of process across projects, and customer satisfaction with the results.
Paul's entire career has revolved around innovative use of technology for adult education. Starting in the late 1990's and going to present time, Paul's work has been in the public higher education sector. From 1999 through 2003, Paul helped plan and launch a new online technical university in British Columbia. In late 2003, Paul joined BCcampus as the Director of Development supporting development of open educational resources across all postsecondary fields of study.
Puneet Kishor, Project Coordinator for Science and Data
Puneet likes to write programs that manipulate, analyze and visualize information from large datasets, but he worries what would happen to those data and results 50 or 100 years from now. He is unable to read the two decades old original digital version of his M.S. thesis even while he can read Rāmāyaṇa and Mahābhārata written a few thousand years ago. This, in part, motivates his passion for permanently free and open access to scientific data.
Puneet's main focus at Creative Commons is on science data policy. His extra-curricular engagements include developing tools and techniques for management and analysis of earth sciences data at the University of Wisconsin-Madison, and research at the National Academies/CODATA on policy issues related to citation and licensing mechanisms for digital scientific information. Any spare cycles are devoted to jazz and beer, preferably concurrently.
Comments Off

on Meet Our New Senior Accountant, Senior Project Manager, and Project Coordinator for Science and Data
As reported a few weeks ago, OCLC has recommended that its member libraries adopt the Open Data Commons Attribution license (ODC-BY) when they share their library catalog data online. The recommendation to use an open license like ODC-BY is a positive step forward for OCLC because it helps communicate in advance the rights and responsibilities available to potential users of bibliographic metadata from library catalogs. But the decision by OCLC to recommend the licensing route — as opposed to releasing bibliographic metadata into the public domain — raises concerns that warrants more discussion.
OCLC says that making library data derived from WorldCat available under an open license like ODC-BY complies with their community norms. There are other options, however, that are equally compliant. Harvard Library, for example, developed an agreement with OCLC earlier this year that makes its metadata available under the CC0 Public Domain Dedication. This means that Harvard relinquishes all its copyright and related rights to that data, thereby enabling the widest variety of downstream reuse. Even though it puts this information into the public domain, Harvard requests that users provide attribution to the source as a best practice without making attribution a legally binding requirement through a license.
There are good reasons for relying on community norms for metadata attribution instead of requiring it as a condition of a licensing agreement. The requirement to provide attribution through a contract like ODC-BY is not well-suited to a world where data are combined and remixed from multiple sources and under a variety of licenses and other use restrictions. For example, the library community is experimenting with new technologies like linked data as a means of getting more value from its decades-long collective investment in cataloging data. And we're happy to see that OCLC has released a million WorldCat records containing 80 million linked data triples in RDF. However, we believe that requiring attribution as a licensing condition introduces complexity that will make it technically difficult — if not impossible — for users to comply.
Then there is the question of how to properly attach attribution information to a discrete bit of data (e.g. a single field, subfield, or triple). OCLC has helpfully provided guidelines around attribution for its linked data, but how would these work for member libraries that follow OCLC's recommendation to adopt the ODC-BY license when they publish their own data? Library linked data collections are often derived from small subsets of many large collections and recombined with new relationships, potentially requiring separate attribution for each data element. In the case of OCLC's data release, imagine that a user downloads the OCLC file containing 80 million linked data triples, extracts the ones she's interested in, and then links them to her own catalog data to create a new linked dataset. The guidelines for the WorldCat data include the option of considering a WorldCat URI to be sufficient attribution, but how would that work for the library's own bibliographic data or for additional data drawn from non-OCLC sources? The guidelines do not include recommendations for how libraries should implement their own data in such a way that reusers can comply with the attribution requirements imposed by the ODC-BY license. The community norms and best practices for reusing library linked data are not yet well defined, so relying on them in the context of a legally binding license is troubling.
Another question arises about the scope of the ODC-BY license with its focus on European database rights in addition to copyright — database rights that do not apply in the U.S. and that cover the database in its entirety but not its contents, making it uncertain whether it can be applied to a simple file of bibliographic data. And the question of whether copyright applies at all to bibliographic data, given its mainly factual nature, is doubtful and differs depending on legal jurisdiction. While the ODC-BY license may make good sense for OCLC to apply to WorldCat itself, it would be a questionable choice for a U.S. library that is looking to share some of its catalog data as a downloadable file.
Moreover, because most countries outside of the European Union — including the United States — do not grant protection to non-creative databases, the ODC-BY license does not operate except at best as a contractual restriction on those downloading directly from the licensor's website. So this restriction, which is not based on any underlying exclusive property right, is unlikely to bind reusers that do not obtain the data directly from the original data provider. The absence of a binding contract coupled with the lack of any underlying property right means licensors may be surprised to learn they do not have a strong and effective remedy such as a claim of infringement against those downstream users. This is a known concern with the Open Database License, ODC-BY's sister license that has the same license + contract design feature. Thus, the license in many instances simply will not protect the library that shared the data, or OCLC, in the manner they expect.
Another more general concern about using a licence to share bibliographic metadata has to do with its technical feasibility. This is evident in the Model language that OCLC recommends, which includes links to the WCRR Record Use Policy (WorldCat Rights and Responsibilities), community norms and an FAQ. Following these links takes readers to pages with yet more information about the requirements expected for members and non-members. The concern is not so much the opaqueness of the rules, but that they may become linked to a great number of records which have nothing to do with OCLC. For example, many members may only have started fairly recently to re-use records from OCLC, yet in the model language no distinction is made between OCLC and non-OCLC sourced records, again, because there is no feasible technical solution to differentiate between these. The result: attribution is (wrongly) given to OCLC for the whole database, and a large number of OCLC principles linked to the library database's complete contents. While the ODC-BY and WCRR may well be well-intentioned instruments to turn the WorldCat data into a "Common Pool Resource" for OCLC members, it certainly lacks the technical solutions to demarcate where it begins and ends, potentially resulting in confusion and overreaching requirements for members that try to comply. Fundamentally, this begs the question whether library records shouldn't just be public goods released into the public domain.
For all of the above reasons, cultural institutions including The British Library, Europeana, the University of Michigan Library, Harvard and others have adopted the CC0 Public Domain Dedication for publishing their catalog data online. From this, we see that a truly normative approach for the library community would be a public domain dedication such as CC0, coupled with requests to provide attribution to the source (e.g. OCLC) to the extent possible. Such an approach would maximize experimentation and innovation with the cataloging data, in keeping with the mission and values of the library community, while respecting the investment of OCLC and the library community in this valuable resource.
Contributors to this post: Timothy Vollmer, MacKenzie Smith, Paul Keller, Diane Peters.
6 Comments »
For people wanting to learn about CC and its application in different sectors, there is a sea of materials available online. In particular, CC's international affiliates create a huge number of educational resources that cross language and cultural boundaries.
A few weeks ago, I wrote a post about my work sorting through some of these resources to identify some of the best, focusing on CC license use for public sector information, for publishing content on a variety of digital platforms, and for generating revenue. As promised, today I'll highlight some of the resources I've discovered.
Intro to CC
For those who are just getting acquainted with Creative Commons:
CC Qatar's Meet Creative Commons video offers a great introduction to the benefits of CC licensing, the different types of licenses in CC's license suite, and how to choose a license that's right for your work.
CC Poland has created a great quick guide to the licences in their open poster.
If you're looking for more depth, the new School of Open initiative, a collaboration between P2PU and CC, is just getting off the ground, but it already offers the short Get CC Savvy course.
CC and Government
For those interested in the potential of CC licenses to encourage unexpected and innovative re-use of information collected and published by government agencies:
Journalism and Blogging
For those working on journalism and citizen media in the digital age:
Business Models
Finally, resources that demonstrate how open content licenses can form an important component of online revenue models:
Creative Sector Case Studies (1.1 MB PPTX), again from CC Australia, presents cases studies of creators generating revenue by releasing their work to the public under CC licenses.
Musician Dan Bull (via CC United Kingdom), writer Cory Doctorow (who has been writing on the subject for years), and filmmaker Nina Paley have all been interviewed about how (and why) they use CC-licensed works to build a relationship with their audience, increase their distribution, and promote themselves.
On his blog Techdirt, Mike Masnick has written some of the definitive articles about monetization through what he calls the "Connect with Fans + Reason to Buy" business model.
For more information on business models, see my fact sheet, Business Models for Creative Works & Creative Commons Licensing (90 KB PDF).
The links above represent just a small portion of the resources out there teaching about Creative Commons licensing in different spheres. For more materials, a good place to start is our wiki, which has pages that collect resources and case studies on a wide range of topics. For resources in your language or relevant to your country, check out your local affiliate's website.
In closing, I wanted to mention that my internship at CC came to an end last week. I've really enjoyed working with the CC team and learning about the organization's work, and hope to stay a part of the CC community.
Natalya can be reached via Twitter at @NBerenshteyn.
Comments Off

on Great CC Resources from the Community

Tobias Schonwetter
Ibtihel Zaatouri / CC BY

Alex Gakuru
Erik Hersman / CC BY

Jane Hornibrook
Andrew McMillan / CC BY

SooHyun Pae
dreamdrawing / CC BY
It is my great pleasure to welcome to CC's staff our new Regional Project Managers for Africa and the Asia-Pacific — Tobias Schonwetter and Alex Gakuru (Africa) and Jane Hornibrook and SooHyun Pae (Asia-Pacific).
The role of the Regional Project Managers is to support and foster CC's community in their regions. Creative Commons has volunteer teams operating in over 70 countries, all of whom work to support and promote the adoption of CC in their local jurisdictions, while at the same time providing valuable expertise and input to CC's work globally. CC introduced the Regional Project Manager positions last year as part of a broader strategy to enhance the role and profile of this affiliate community.
Tobias, Alex, Jane and SooHyun have all worked with the CC community for many years, and are experienced advocates of open in their regions. The decision to appoint two project managers for each of the regions was influenced by a number of factors, including the strong pool of candidates and the size and cultural diversity of the geographic areas they will be covering. Each manager will work with their colleague to create a regional support team that is able to respond quickly and adeptly to the needs of their community. This follows the extremely successful application of the same model in Latin America, where Carolina Botero and Claudio Ruiz share the role.
Within each of the regions, we have specifically chosen the managers to have complimentary skills, locations, and backgrounds. Tobias is a lawyer and academic based in South Africa while Alex is a communication technologies expert working out of Kenya. Meanwhile, Jane is a Community Manager at the National Library of New Zealand and SooHyun is a translation expert in South Korea. All four of the managers have close ties to their local Creative Commons communities and either currently or formerly hold leading roles on their countries' teams.
I would like to thank the outgoing project managers for these regions — Aurelia Schultz (Africa) and Chiaki Hayashi (Asia-Pacific) — who have both dedicated a great deal of time to building their local CC communities over the last year and have achieved wonderful results. Both are moving on because of time commitments, and will continue to work with CC in other roles.
I would also like to thank all who applied for the positions — we had an unexpectedly large response and there were many very strong candidates.
Congratulates to Tobias, Alex, Jane, and SooHyun on your appointments, and I look forward to working with you going forward.
3 Comments »
Stay up to date with CC news by subscribing to our blog and following us on Twitter.
Top stories:
Comments Off

on CC News: Video Contest Winners Announced

iSummit08: Jimmy Soriano / Tomislav Medak / CC BY
Creative Commons would like to take this opportunity to remember the great contribution made to its community by Atty. Jimmy Soriano.
Jimmy first joined the CC community in 2005 when he launched our CC Philippines team. Over the past 7 years, he has been a constant presence at CC events, a major contributor to discussion and debates, and a particularly influential figure in our Asia-Pacific community. For several years, he served as head of the CC Asia and the Pacific Community, launching its first newsletter and hosting its conference in Manila in 2009. Jimmy's friendliness, patience and wisdom made him a natural leader in our community, taking the role of mentor and advisor to many new affiliates in his region.
In his role both in CC and as Executive Director of the e-Law Center of the Arellano University School of Law, Jimmy was a particularly strong advocate for open education and the need to make knowledge and learning accessible to all. He practiced his own values through his teaching, advocacy and academic work, in which he sought to make the law accessible and understandable to all members of society.
Jimmy passed away on Monday, after a year of lingering illness. He will be greatly missed by all in the CC community.
Below are a few memories of Jimmy and messages for his family shared by CC's community. You can find more messages here.
I am truly saddened to hear the news. He was and will always remain an inspiration to our whole community including me. – SooHyun Pae, CC Korea

Jimmy is one of the few jurisdiction project leads I first met. I admire his thoughtfulness and passion ever since. I miss you, my friend. – Tyng-Ruey Chuang, CC Taiwan

When I met him at CC Asia Conference in Seoul, he gave us a great smile and that made us relaxed and united as Asian community. Everyone will miss him a lot. – Chiaki Hayashi, CC Japan

I will never forget his passion and warm smile forever. Good bye, Jimmy, my old friend. Rest in Peace. – Jay Yoon, CC Korea

Jimmy was the sweetest person and such a dear friend. He always made me smile. He will be remembered fondly and with much love. – Alina Ng, CC Malaysia

His wisdom and sense of humor will be deeply missed. – Juan-Carlos De Martin, CC Italy

His enthusiasm will remain in our hearts forever. – Nevenka Antic, CC Serbia

Jimmy's passion, wisdom and warm smile inspired us a lot. We will miss him deeply. – Chunyan Wang and the rest of the team at CC China Mainland

Thank you to the community that Jimmy helped build for showing all of us how much he meant to us. – Lawrence Lessig, Board

CC Birthday Party in Manila (Jimmy center back) / CC Philippines / CC BY-NC
2 Comments »

Tower / Paul Holloway / CC BY-SA
We are pleased to post draft 2 of 4.0 for public discussion. This comes after several months of substantive conversations on a number of policy issues, with input solicited from our global community on the CC license-development list (archive), through affiliate consultations, via comments posted directly on our 4.0 wiki, and submissions to staff.
We fielded comments from an impressive number of jurisdictions — more than 50 by our estimate. The combined input reflects an incredibly diverse set of opinions and an equally diverse group of constituents. Individual creators, educators and educational institutions, governments, policy makers, academics and many others all added their voices to the conversation. We received a great deal of input and revision proposals, and people shared many informed (and sometimes passionate) opinions on a wide range of topics. And while compromise and consensus are not always achievable, we feel the decisions reflected in draft 2 are well grounded and considered.
Indeed, several decisions to leave existing 3.0 provisions unchanged (such as the scope of NonCommercial and ShareAlike, as well as the prohibition on TPMs) follow threads of consensus that emerged during the process. Moreover, they are consistent with our responsibility as a steward to avoid disrupting expectations absent a compelling justification and corresponding (anticipated) benefit. These outcomes also further the goals and objectives established for 4.0. We encourage a close review of the relevant pages on the 4.0 wiki for details on these decisions and more. Thanks to all who contributed to improving the 4.0 draft.
Although much progress has been made, policy and other topics remain that will benefit from your input before the next draft is published in October. Although we will be focusing much of the discussion on an identified set of issues, input on any topic or proposal of interest is welcome. Among others, we plan to solicit feedback and discuss branding and related proposals for the NC (and possibly ND) licenses, and to continue work toward compatibility with other licenses. We will also be examining in more detail how the licenses work with data and databases to ensure they operate smoothly and as expected.
Note that this 4.0d2 comment period is shorter than the previous, and is expected to close in early September.
Please contribute to this next important step in the versioning process, and watch for updates on this weblog. You can give your input on open issues and the current draft by joining and posting to the CC license development and versioning list, or by contributing ideas directly to the 4.0 wiki.
Thanks again for a productive comment period. We look forward to hearing from you in this second and equally important phase.
2 Comments »
Creative Commons is proud to announce the launch of our new license chooser tool. The license chooser has been completely redesigned for greater clarity and ease of use. While the original license chooser was successful at simplifying the act of selecting a license and applying it to one's work, its linear workflow resembled a registration process. Furthermore, as the tool had been extended numerous times, its interface became more and more cluttered. While the redesign is a total user interface overhaul, feature-wise there isn't anything new that wasn't already somewhere in the license engine. This may come as a surprise to many users familiar with the old tool.
From left to right: The original chooser's selection page, the previous chooser's results page, and the recently redesigned interactive license chooser.
CC BY
First and foremost, the license chooser is not a registration tool. It never was. But the old chooser's interface was a form you would fill out and submit to our server. The server would then return a page showing what license was chosen by the user, and provided HTML that the user could copy and paste onto their website. That page also provided other information and options for marking one's work. These additional options were tucked to the side, much like fine print, so most users ignored it. What was going on here was that the form you filled out added metadata about the work you were licensing; the HTML on the results page contained that information in a standardized way so that computer programs (like search engines) could read it. The new license chooser does away with the Submit button and more clearly explains what the metadata fields are, and that they are completely optional.
The license chooser does not generate licenses. There are six Creative Commons licenses available, which work internationally, and additional ports of these six licenses exist for specific legal jurisdictions. The license chooser is an exploration tool. To underscore that, the new chooser combines the selection and results pages into four simple panels. Some information that was already on the license deeds is presented in the chooser now. This creates a nonlinear work flow: adjusting information in one panel has an impact on the contents of other panels. This encourages a kind of back-and-forth interaction, which both exposes options that may have not been clear before (like embeddable XMP metadata instead of HTML, or a simple notice for offline works) and allows the user to make a more informed decision about selecting the license most appropriate to their circumstances and the tradeoffs between various options.
We've gotten a few questions about the "This is a Free Culture license" and "This is not a Free Culture license" messages on the chooser. The concept of Free Culture has its roots in the history of free and open source software, and it's an important philosophical underpinning to the CC license set. In English, the word "free" means either something without cost, or something that is unrestricted. The "free" in Free Culture refers to this later case. As with free software, it's "free as in freedom, not as in free beer."
Our license deed pages already contained information about whether the license was a Free Culture license or not. For example, Attribution-Sharealike is a Free Culture license. The deed has a green color scheme and a badge. On the other hand, Attribution-NonCommercial-NoDerivs includes restrictions that make it by definition not a Free Culture license. Thus, it has a different color scheme and no badge. Because it's unlikely that users will open the deeds and compare them side by side, the new license chooser includes this information in the selected license panel; as well as links to more information and newly written help text that discusses the advantages and disadvantages in selecting a Free Culture license. Ultimately, the user should select the license they believe is most appropriate for their work given the circumstances of publishing.
A Free Culture approved license deed is seen on the left. The license deed on the right indicates that it is not for a Free Culture license.
CC BY
We feel the new interactive license chooser is a dramatic improvement, and it is exciting to see that simply better organizing the tool and adopting a minimalistic design has had the effect of making such a complex tool more accessible and better exposing users to the ideas behind the CC licenses and infrastructure.
4 Comments »
Creative Commons just reached an exciting milestone. As of this week, there are four million Creative Commons–licensed videos on YouTube. That's over forty years' worth of footage to remix and reuse, all licensed under CC BY, the most permissive CC license.
One thing that makes this mass of CC-licensed content really exciting is that all four million of those videos can be imported into YouTube's online video editor. By letting people remix and adapt videos without having sophisticated editing software or expertise, YouTube and CC are making it easier for anyone to build on the work of others. And that's pretty cool.
In her guest blog post on the YouTube blog, CC CEO Cathy Casserly muses on what's possible when YouTubers share their creativity:
Do you need a professional opening for your San Francisco vacation video? Perhaps some gorgeous footage of the moon for your science project? How about a squirrel eating a walnut to accompany your hot new dubstep track? All of this and more is available to inspire and add to your unique creation. Thanks to CC BY, it's easy to borrow footage from other people's videos and insert it into your own, because the license grants you the specific permissions to do so as long as you give credit to the original creator.
You can pass on the creative spirit when you publish your video, by choosing the option to license it under CC BY so that others can reuse and remix your footage with the YouTube Video Editor. This is where the fun really starts. Imagine seeing your footage used by a student in Mumbai, a filmmaker in Mexico City, or a music video director in Detroit. By letting other people play with your videos, you let them into a global sandbox, kicking off a worldwide team of collaborators. We all yearn to create and contribute — now you can join the fun, and open the door to collective imagination.
3 Comments »
The first School of Open Virtual Sprint is set to take place next Tuesday, 24 July from 2:00-5:00pm Berlin time (UTC/GMT+2). Learn how you can participate below.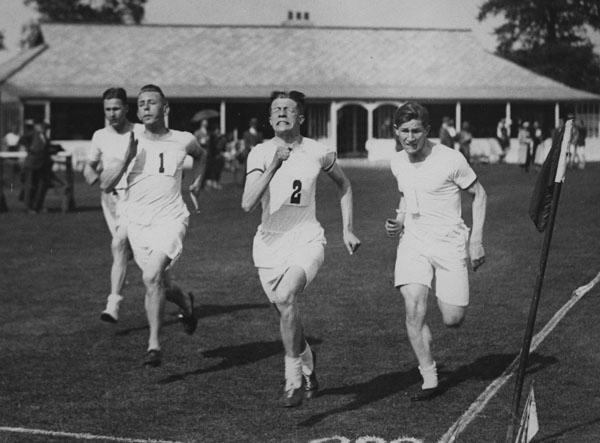 LSE Sports Day, Malden Sports Ground, c1920s / LSE Library / No known copyright restrictions
Before the Sprint
During the Sprint
After the Sprint
Related: Help Us Build the School of Open
Comments Off

on School of Open Virtual Sprint: How you can participate
previous page
—
next page