Squarespace, an easy to use website and blog creation and hosting service, recently made it easy for users to license their content via our remote licesning application.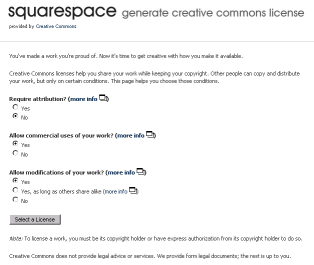 Here's what Squarespace says within their site management application about Creative Commons:
We've integrated a utility that lets you generate Creative Commons licenses for your site. A Creative Commons License is an excellent alternative to default copyright, and lets you retain very specific rights over the works you place on your website. The process for generating a license is one step, and free. Takes about 30 seconds. We recommend giving them a look!
Well said! We recommend giving Squarespace and other CC-enabled applications a look.
Comments Off

on Squarespace website service CC-enabled
My french isn't too good, but I'm going to guess that Autres Directions in Music is a new internet music label based in France releasing their songs under Creative Commons licenses. So far their releases consist of these four albums: (1, 2, 3, 4) all ready for download as MP3s or you can drop them 5 euros to get a disc. [via Aeiou]
Comments Off

on Autres Directions in Music
Lisa Rein is one of the earliest adopters of Creative Commons. Wander is one of my favorite CC licensed songs and is licensed under an Attribution license — free to copy, remix, or even synch to a movie, as long as you give Lisa attribution.
Comments Off

on CC Remix Music — Lisa Rein
Filmmaker Andy Pavis has made an eight-minute-long public service announcement about Creative Commons and our mission, entitled Some Rights Reserved. Andy cleverly frames the copyright debate between two extremes in the context of a talk show hosted by "Larry Commons." The PSA then explores an example of Aaron, a musician who goes through the process of choosing a license to put his song into the commons. The PSA ends on an inspiring note when a filmmaker, a dancer, and a musician find Aaron's song and build upon it. The PSA itself is licensed under an Attribution-Noncommercial-ShareAlike license — so feel free to distribute noncommercially, or even remix as long as you give Andy credit.
Comments Off

on Holy Cow — a CC PSA!!!
Ran across a couple interesting bits related to musicians having their songs online and record sales.
In a roundtable interview with the Chicago Tribune (registration required to view), Creative Commons chairman Lawrence Lessig and the online manager of the band Wilco talk about the internet and music. The gist of is that putting Wilco's music online helped them sell more records and greatly increase attendance at their live shows.
Cory Doctorow points at a recent Cato Institute study (PDF) that shows popular searches on a P2P network didn't correlate with lower sales.
Comments Off

on Internet helping record sales?
"Copyfight" interview by Chicago Tribune
Comments Off

on Chicago Tribune
dadaIMC, a content management system that offer a codebase for the operation of Independent Media Center sites, now supports Creative Commons licenses for users uploading content to the system. There are currently twenty eight Independent Media Center sites that run on dadaIMC.
Independent Media Centers, like the one in Baltimore, are based on a philosophy of open publishing. Their newswire is open to public use, and anyone can post articles, audio, video, or images to the site. The interface for posting media includes
a section for selecting between
copyright, public domain, or any of the Creative Commons licenses. dadaIMC has also innovated to offer a new logo that explicity signals the allowance of derivative works, something our current license engine doesn't support.
Comments Off

on dadaIMC codebase used by Independent Media Centers supports CC
Winksite is a popular mobile blogging application that lets you both post to a blog from your phone or PDA and read other blogs, in addition to a slew of other community tools. They've recently added Creative Commons support for blogs hosted on the service, so you can make it clear to readers how your content is licensed.
Comments Off

on Winksite adds CC to mobile blogging
Today Creative Commons has begun discussion of licenses in Australia and Jordan. Professors at Queensland University of Technology and law firm Blake Dawson Waldron Lawyers will be helping out on the Australian efforts while Jordan's licenses will benefit from the folks at Abu-Ghazaleh Intellectual Property. Those wishing to join the discussion can find the links here and here.
Comments Off

on Creative Commons expanding to Australia and Jordan