iSummit08: Jimmy Soriano / Tomislav Medak / CC BY
Creative Commons would like to take this opportunity to remember the great contribution made to its community by Atty. Jimmy Soriano.
Jimmy first joined the CC community in 2005 when he launched our CC Philippines team. Over the past 7 years, he has been a constant presence at CC events, a major contributor to discussion and debates, and a particularly influential figure in our Asia-Pacific community. For several years, he served as head of the CC Asia and the Pacific Community, launching its first newsletter and hosting its conference in Manila in 2009. Jimmy's friendliness, patience and wisdom made him a natural leader in our community, taking the role of mentor and advisor to many new affiliates in his region.
In his role both in CC and as Executive Director of the e-Law Center of the Arellano University School of Law, Jimmy was a particularly strong advocate for open education and the need to make knowledge and learning accessible to all. He practiced his own values through his teaching, advocacy and academic work, in which he sought to make the law accessible and understandable to all members of society.
Jimmy passed away on Monday, after a year of lingering illness. He will be greatly missed by all in the CC community.
Below are a few memories of Jimmy and messages for his family shared by CC's community. You can find more messages here.
I am truly saddened to hear the news. He was and will always remain an inspiration to our whole community including me. – SooHyun Pae, CC Korea

Jimmy is one of the few jurisdiction project leads I first met. I admire his thoughtfulness and passion ever since. I miss you, my friend. – Tyng-Ruey Chuang, CC Taiwan

When I met him at CC Asia Conference in Seoul, he gave us a great smile and that made us relaxed and united as Asian community. Everyone will miss him a lot. – Chiaki Hayashi, CC Japan

I will never forget his passion and warm smile forever. Good bye, Jimmy, my old friend. Rest in Peace. – Jay Yoon, CC Korea

Jimmy was the sweetest person and such a dear friend. He always made me smile. He will be remembered fondly and with much love. – Alina Ng, CC Malaysia

His wisdom and sense of humor will be deeply missed. – Juan-Carlos De Martin, CC Italy

His enthusiasm will remain in our hearts forever. – Nevenka Antic, CC Serbia

Jimmy's passion, wisdom and warm smile inspired us a lot. We will miss him deeply. – Chunyan Wang and the rest of the team at CC China Mainland

Thank you to the community that Jimmy helped build for showing all of us how much he meant to us. – Lawrence Lessig, Board

CC Birthday Party in Manila (Jimmy center back) / CC Philippines / CC BY-NC
2 Comments »

Tower / Paul Holloway / CC BY-SA
We are pleased to post draft 2 of 4.0 for public discussion. This comes after several months of substantive conversations on a number of policy issues, with input solicited from our global community on the CC license-development list (archive), through affiliate consultations, via comments posted directly on our 4.0 wiki, and submissions to staff.
We fielded comments from an impressive number of jurisdictions — more than 50 by our estimate. The combined input reflects an incredibly diverse set of opinions and an equally diverse group of constituents. Individual creators, educators and educational institutions, governments, policy makers, academics and many others all added their voices to the conversation. We received a great deal of input and revision proposals, and people shared many informed (and sometimes passionate) opinions on a wide range of topics. And while compromise and consensus are not always achievable, we feel the decisions reflected in draft 2 are well grounded and considered.
Indeed, several decisions to leave existing 3.0 provisions unchanged (such as the scope of NonCommercial and ShareAlike, as well as the prohibition on TPMs) follow threads of consensus that emerged during the process. Moreover, they are consistent with our responsibility as a steward to avoid disrupting expectations absent a compelling justification and corresponding (anticipated) benefit. These outcomes also further the goals and objectives established for 4.0. We encourage a close review of the relevant pages on the 4.0 wiki for details on these decisions and more. Thanks to all who contributed to improving the 4.0 draft.
Although much progress has been made, policy and other topics remain that will benefit from your input before the next draft is published in October. Although we will be focusing much of the discussion on an identified set of issues, input on any topic or proposal of interest is welcome. Among others, we plan to solicit feedback and discuss branding and related proposals for the NC (and possibly ND) licenses, and to continue work toward compatibility with other licenses. We will also be examining in more detail how the licenses work with data and databases to ensure they operate smoothly and as expected.
Note that this 4.0d2 comment period is shorter than the previous, and is expected to close in early September.
Please contribute to this next important step in the versioning process, and watch for updates on this weblog. You can give your input on open issues and the current draft by joining and posting to the CC license development and versioning list, or by contributing ideas directly to the 4.0 wiki.
Thanks again for a productive comment period. We look forward to hearing from you in this second and equally important phase.
2 Comments »
Creative Commons is proud to announce the launch of our new license chooser tool. The license chooser has been completely redesigned for greater clarity and ease of use. While the original license chooser was successful at simplifying the act of selecting a license and applying it to one's work, its linear workflow resembled a registration process. Furthermore, as the tool had been extended numerous times, its interface became more and more cluttered. While the redesign is a total user interface overhaul, feature-wise there isn't anything new that wasn't already somewhere in the license engine. This may come as a surprise to many users familiar with the old tool.
From left to right: The original chooser's selection page, the previous chooser's results page, and the recently redesigned interactive license chooser.
CC BY
First and foremost, the license chooser is not a registration tool. It never was. But the old chooser's interface was a form you would fill out and submit to our server. The server would then return a page showing what license was chosen by the user, and provided HTML that the user could copy and paste onto their website. That page also provided other information and options for marking one's work. These additional options were tucked to the side, much like fine print, so most users ignored it. What was going on here was that the form you filled out added metadata about the work you were licensing; the HTML on the results page contained that information in a standardized way so that computer programs (like search engines) could read it. The new license chooser does away with the Submit button and more clearly explains what the metadata fields are, and that they are completely optional.
The license chooser does not generate licenses. There are six Creative Commons licenses available, which work internationally, and additional ports of these six licenses exist for specific legal jurisdictions. The license chooser is an exploration tool. To underscore that, the new chooser combines the selection and results pages into four simple panels. Some information that was already on the license deeds is presented in the chooser now. This creates a nonlinear work flow: adjusting information in one panel has an impact on the contents of other panels. This encourages a kind of back-and-forth interaction, which both exposes options that may have not been clear before (like embeddable XMP metadata instead of HTML, or a simple notice for offline works) and allows the user to make a more informed decision about selecting the license most appropriate to their circumstances and the tradeoffs between various options.
We've gotten a few questions about the "This is a Free Culture license" and "This is not a Free Culture license" messages on the chooser. The concept of Free Culture has its roots in the history of free and open source software, and it's an important philosophical underpinning to the CC license set. In English, the word "free" means either something without cost, or something that is unrestricted. The "free" in Free Culture refers to this later case. As with free software, it's "free as in freedom, not as in free beer."
Our license deed pages already contained information about whether the license was a Free Culture license or not. For example, Attribution-Sharealike is a Free Culture license. The deed has a green color scheme and a badge. On the other hand, Attribution-NonCommercial-NoDerivs includes restrictions that make it by definition not a Free Culture license. Thus, it has a different color scheme and no badge. Because it's unlikely that users will open the deeds and compare them side by side, the new license chooser includes this information in the selected license panel; as well as links to more information and newly written help text that discusses the advantages and disadvantages in selecting a Free Culture license. Ultimately, the user should select the license they believe is most appropriate for their work given the circumstances of publishing.
A Free Culture approved license deed is seen on the left. The license deed on the right indicates that it is not for a Free Culture license.
CC BY
We feel the new interactive license chooser is a dramatic improvement, and it is exciting to see that simply better organizing the tool and adopting a minimalistic design has had the effect of making such a complex tool more accessible and better exposing users to the ideas behind the CC licenses and infrastructure.
4 Comments »
Creative Commons just reached an exciting milestone. As of this week, there are four million Creative Commons–licensed videos on YouTube. That's over forty years' worth of footage to remix and reuse, all licensed under CC BY, the most permissive CC license.
One thing that makes this mass of CC-licensed content really exciting is that all four million of those videos can be imported into YouTube's online video editor. By letting people remix and adapt videos without having sophisticated editing software or expertise, YouTube and CC are making it easier for anyone to build on the work of others. And that's pretty cool.
In her guest blog post on the YouTube blog, CC CEO Cathy Casserly muses on what's possible when YouTubers share their creativity:
Do you need a professional opening for your San Francisco vacation video? Perhaps some gorgeous footage of the moon for your science project? How about a squirrel eating a walnut to accompany your hot new dubstep track? All of this and more is available to inspire and add to your unique creation. Thanks to CC BY, it's easy to borrow footage from other people's videos and insert it into your own, because the license grants you the specific permissions to do so as long as you give credit to the original creator.
You can pass on the creative spirit when you publish your video, by choosing the option to license it under CC BY so that others can reuse and remix your footage with the YouTube Video Editor. This is where the fun really starts. Imagine seeing your footage used by a student in Mumbai, a filmmaker in Mexico City, or a music video director in Detroit. By letting other people play with your videos, you let them into a global sandbox, kicking off a worldwide team of collaborators. We all yearn to create and contribute — now you can join the fun, and open the door to collective imagination.
3 Comments »
The first School of Open Virtual Sprint is set to take place next Tuesday, 24 July from 2:00-5:00pm Berlin time (UTC/GMT+2). Learn how you can participate below.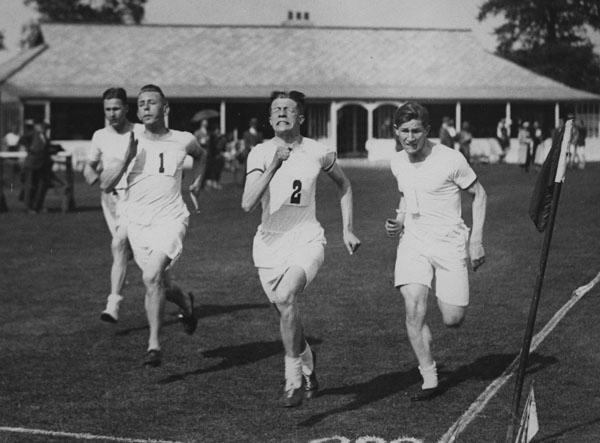 LSE Sports Day, Malden Sports Ground, c1920s / LSE Library / No known copyright restrictions
Before the Sprint
During the Sprint
After the Sprint
Related: Help Us Build the School of Open
Comments Off

on School of Open Virtual Sprint: How you can participate
It has been a little over a month since I joined Creative Commons as Community Support Intern, and now that I'm in the thick of things, I wanted to share with you what I'm working on this summer.
Allow me to introduce myself. I am currently a Master's student at Tufts University's Fletcher School of Law and Diplomacy. Prior to undertaking graduate studies, I worked at the World Bank in Washington, D.C. I am very interested in the international open movement, and am hoping to apply what I learn this summer in the field of public policy.
At CC, I am working to support the international affiliate community. Currently, I am developing toolkits that will help CC country teams educate the public in more than seventy countries about the benefits and appropriate use of CC licenses.
The toolkits I'm working on at the moment cover CC license use in three important areas: government and public sector information, journalism and blogging, and new business models.
Government agencies collect and analyze huge amounts of information, developing databases and producing reports, all of which are funded by taxpayers. The use of CC licenses allows the information captured to freely flow among government agencies, as well as out to the nonprofit and private sectors, where it could be reused, built upon, and remixed in new and unexpected ways, maximizing the benefits for society at large.
In contrast, the journalism industry has already been in turmoil for the last decade as widespread adoption of the internet disrupted traditional business models for publishing news. However, new publication models are emerging, some taking advantage of the pre-cleared permissions contained in CC licenses to quickly disseminate information for maximum impact. Additionally, blogs, social media, and collaborative production platforms like Wikipedia have risen to become an important source of analysis, commentary, and even breaking news. Authors using these platforms frequently reuse text, photos, and videos from other sources, which may claim copyright for the materials. They must be educated about copyright as well as the advantages of using materials released under open content licenses in order to maximize creative expression within the existing framework of copyright law.
Finally, my goal in developing a toolkit on business models is to better inform CC license users about the new open business models that are emerging as internet platforms grow and develop. The message will be that choosing open content licenses for your work does not necessarily mean forgoing an opportunity to make money, and is in fact an important part of many online revenue models.
The toolkits will include information on how to use CC licenses in these spheres, frequently asked questions, relevant articles, case studies, videos, etc, and will be available for all users on the CC website, under a CC license, of course.
I would love for anyone who is interested to contribute by letting me know about materials that you know of or use regularly on these topics. Please e-mail me at info@creativecommons.org.
I will highlight materials that are especially high-quality or interesting in a future blog post.
1 Comment »
Creative Commons, the U.S. Department of Education, and the Open Society Foundations are pleased to announce the winners of the Why Open Education Matters video competition. The competition was launched in March 2012 to solicit creative videos that clearly communicate the use and potential of free, high-quality Open Educational Resources — or "OER" — and describe the benefits and opportunities these materials create for teachers, students, and schools everywhere. U.S. Secretary of Education Arne Duncan announced the competition with a video on the Why Open Education Matters website. The competition received over 60 qualified entries. The winning videos are displayed below.
First Prize
Congratulations to Blinktower, an extremely talented creative agency based in Cape Town, South Africa.

Second Prize
Congratulations to Laura Rachfalski and her great team. Laura is an artist, videographer and photographer from Philadelphia.

Third Prize
Congratulations to Nadia Paola Mireles Torres and her collaborators from the design firm Funktionell. It's also amazing to see that Nadia has made all the video assets available for download and reuse under CC BY!

The prize winners were decided by a panel of distinguished experts including Davis Guggenheim, Nina Paley, Liz Dwyer, Anya Kamenetz, James Franco, Angela Lin, and Mark Surman. Due to technical problems with the public voting on the Why Open Education Matters website which prevented some persons from submitting a vote, the third prize video has been awarded by the judging panel.
In addition to the winning videos, all of the qualifying videos are available for viewing on the competition website, http://whyopenedmatters.org. All of the videos are licensed CC BY, which means others may distribute, remix, and build upon them, even commercially, as long as they give credit to the creators.
Congratulations to the winners, and thank you to everyone who submitted a video for sharing their creativity, talents, and passion in helping explain and promote Open Educational Resources.
14 Comments »
Last week, open access journal First Monday published an excellent research article (licensed CC BY-NC-ND) by Patryk Galuszka called Netlabels and Democratization of the Music Industry. If you're not familiar with the term, a netlabel is a sort of lighter-weight record label. Netlabels distribute music recordings primarily over the Internet, many of them for free with a Creative Commons license. While many netlabels are simple ventures run by small groups of likeminded artists, some are very large and rival traditional record labels in the marketing and booking services they offer musicians.
Galuszka's article — a culmination of several years of research on the topic — positions netlabels in a broader history of musicians attempting to democratize the recording industry, to varying degrees of success. For decades, musicians and fans have romanticized the idea of independent music production and distribution, but according to Galuszka, even in the heyday of the DIY movement, actually doing it yourself was economically arduous:
[…] Economic constraints of traditional phonography put some limits on independent record labels. Both more successful independent record companies and small DIY labels faced situations when their records did not sell well and their owners had problems with financing daily operations. It was quite common that to help pay the bills labels supplemented their operations with running a recording studio, retail store, distribution and other services. Analysis of British micro–independent record labels conducted in the early 2000s […] showed that it was extremely difficult to make a living out of running a label. Consequently, it was not uncommon for people involved in small DIY labels to have a daytime job.

Turntable / Alan Levine / CC BY
Galuszka suggests that as the Internet has become the dominant platform for music promotion and distribution, self-distribution and independent labels have become much more feasible alternatives to major labels.
The advent of the Internet and digitalization reduced the significance of major record labels' competitive advantages in at least two ways. First, they reduced the benefits of controlling a distribution network. Although labels' own distribution networks will continue to be the source of competitive advantage as long as tangible records are bought by consumers, it is no longer a barrier to entry preventing individual artists and small labels from selling their products globally.
Second, the advent of the Internet enabled low–cost, direct communication between artists and listeners, which helped build promotion channels outside of the mainstream media. For most of the twentieth century, exposure in the commercial radio, television and print magazines was virtually impossible if an artist was not supported by a record label […] Although radio airplay is still essential if an artist wants to become a global star, social networking sites, YouTube and blogs provide musicians with a cheap and accessible alternative. DIY musicians of the 1970s and 1980s, who had to spend a significant amount of time and money preparing and distributing zines (small circulation self–published magazines), could only dream about reaching such a wide audience at such a low cost.
Just as significant as the new connections between artists and listeners afforded by technology are the connections between artists. Take, for example, the fourth annual Free! Music! Contest (of which CC is a proud supporter). The contest's point system rewards contestants for having their songs remixed or reused in videos. Websites like ccMixter and Free Music Archive make it wonderfully easy for artists to share their work and let others reuse and play with it. Thanks to CC licenses, worldwide collaborations between musicians happen every day with an ease and spontaneity that would have made DIY artists of yore jealous.
Related

Creative Commons Korea Art Happening
CC Korea / CC BY
6 Comments »

Creative Commons Africa Convening 2012 / Ibtihel Zaatouri / CC BY
On June 26-27, Creative Commons hosted a historic event — the very first meeting of its community held on the African continent, the CC Africa Regional Convening 2012.
Held in Entebbe, Uganda, on the shores of Lake Victoria, the meeting brought together nearly 50 volunteers from more than 15 countries to discuss Creative Commons and its role in Africa, with a particular focus on open education and digital media. It was ably by hosted CC's Ugandan affiliates, the Center for Health, Human Rights and Development (CEHURD) and the National Book Trust of Uganda (NABOTU), with the support of the Macarthur Foundation as the major sponsor.
Attendees included representatives of Creative Commons' communities in Uganda, Tanzania, Rwanda, Nigeria, Ghana, Kenya, Tunisia, and South Africa, as well as representatives of government, education, academia, private industry, and CC's peers in the broader open community. Also in attendance were members of CC's international community, including Renata Avila from CC Guatemala and Naeema Zarif of CC's Lebanon community, who presented on work their communities have been undertaking that could be replicated in Africa.

Catherine Ngugi / Ibtihel Zaatouri
CC BY
The meeting was styled primarily as a discussion forum, with the majority of time spent meeting each other, learning about open activities across the continent, discussing priorities for the future of CC in Africa, and planning collaborative projects in the region. However, it also included a number of important presentations, including an introduction to Open Educational Resources (OER) and their role in Africa by Catherine Ngugi of OER Africa, and a closing address by Mrs. Mercy Kentaro Kyomugasho of the Uganda Intellectual Property Office on why governments and communities need to be aware of open culture.
The primary outcome of the meeting was a list of priority topics, priority projects, and proposed activities for CC's affiliates and the broader African community to pursue. Priority areas of work identified during the meeting included open educational resources, government adoption of open policies, and health initiatives, while proposed activities included a touring bus promoting open projects and the creation of a centralised African repository of CC materials. These outcomes, and other resources from the meeting, can be found on the meeting's wiki page.
In all, the convening was a resounding success, and a great starting point for CC's Africa community to grow and work together. We thank all those who attended, and look forward to seeing some of the exciting initiatives planned during the meeting become a reality.

Creative Commons Africa Convening 2012 crowd / Ibtihel Zaatouri / CC BY
2 Comments »
Recently, three awesome people joined the CC team, including Kat Walsh (new CC Counsel), Elliot Harmon, (new CC Communications Manager), and Sara Crouse (new CC Director of Strategic Partnerships). You'll be seeing their names pop up often in email exchanges, at events, and on this blog.

Kat joins us with an extensive background in the free culture and software communities. She has been a board member of the Wikimedia Foundation since 2006, where her focus is on legal and community issues, and she was previously a policy analyst at the American Library Association Office for Information Technology Policy. Kat has a BA from Stetson University and a JD from George Mason University. In her secret double life, she is a classical musician, performing on bassoon and viola.



Elliot has worked in the non-profit sector for eight years, mostly in the arts and technology. He has a degree in English and theatre from the University of South Dakota and a Master's in writing from the California College of the Arts. When he's not thinking about CC's communications strategy, he's often thinking about cooking, poetry, or music. He also wrote this recent CC post on how support for Open Access to science research is growing.



Sara also joins us with a background in free culture. From 2008-11, Sara was Head of Partnerships & Foundation Relations for the Wikimedia Foundation. Previously, she worked in development for Cambridge in America; and at several non- and for-profit ventures based in New York City. Sara is on the board of the Global Lives Project. She has a joint Masters in Journalism and French Studies from New York University, and a B.A. in French and English Literature from Georgetown University. Most days, Sara can be found attempting diplomatic negotiation on behalf of open knowledge, crafting with words, or inventing easier ways to do things at the office. Otherwise, she is likely hiking, cooking, reading, or out and about in San Francisco; most always with her dogs.
Please join us in welcoming our new team members. We hope to do great work in furthering openness together.
You can read more about each of them, and the rest of the Creative Commons team, at our staff page.
Comments Off

on Meet our new Counsel, Communications Manager, and Director of Strategic Partnerships