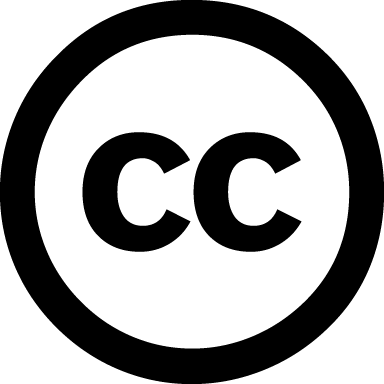 The Museum of Modern Art (MoMA) announced today its acquisition* of the Creative Commons logo and license icons into its permanent collection, currently featured as part of a new exhibit called, "This Is for Everyone: Design Experiments for the Common Good." The Creative Commons logo (double C in a circle) and license icons for Attribution, ShareAlike, Noncommercial, and NoDerivatives are featured alongside universal designs such as the @ symbol and the International Symbol for Recycling.
From the MoMA blog,
"The exhibition takes its title from British computer scientist Tim Berners-Lee, inventor of the World Wide Web, who lit up the stadium at the 2012 London Summer Olympics opening ceremony with a simple tweet: "This Is for Everyone." His buoyant message highlighted how the Internet—perhaps the most radical social design experiment of the last quarter century—has created seemingly limitless possibilities for discovering, sharing, and expanding knowledge and information.
The Creative Commons logos, and the organization and movement for the commons they represent, fit solidly within this narrative of imagining a better world through design — and Creative Commons is honored to be featured in this new exhibit and acquired as part of MoMA's permanent collection. We'd especially like to highlight the designers: Ryan Junell of the original and now standardized CC logos, Alex Roberts of the re-conceived Attribution icon.
Read more about the acquisition at the MoMA blog and Wired's coverage of the exhibit. Also stay tuned for a more detailed post on the origin story of the CC logos.
* Different museums have different criteria for acquiring objects into their collection. Here's MoMA's criteria in context of its @ symbol acquisition. To acquire doesn't mean to own, but to obtain permission for reproducing the work as a matter of copyright. Our logos are still our trademarks!
Comments Off

on Creative Commons logo acquired by MoMA and featured in new exhibit
Made of glass from Vendel parish Up (SHM Invnr 7250) | Photo: Christer Åhlin SHMM |
CC BY-NC-ND
Earlier this week Swedish museum Historiska Museet announced the adoption of CC licenses for their digital catalog (Google translation here). Roughly 63,500 item photographs, 1200 illustrations, and 264,500 scanned catalog cards are now released, depending upon the medium, under our Attribution-Noncommercial-No Derivative Works license or Attribution-Noncommercial-Share Alike license.
Project Manager Ulf Bodin notes that while the museum is starting out with a more restrictive license choice they hope to find ways to continue to open their catalog with less restrictions in the future. Like the Brooklyn Museum, Historiska Museet is looking at this as a first step, aiming to provide more openness as they better understand how the public will use these new resources.
To that end, author Nina Simon's recently release, The Participatory Museum, is of related interest. Released under a CC Attribution-Share Alike license CC Attribution-NonCommercial license, the book explores ways to increase audience participation in cultural institutions to make them "more dynamic, relevant, [and] essential" destinations.
Comments Off

on Swedish Museum Historiska Museet Adopts CC Licenses
We're collaborating with MuseumPods, a company focused on helping museums and other institutions publish podcasts, on a project to learn more about the how members of the museum and education communities want to share the media they create. If you are affiliated with a museum – and particularly if your museum produces podcasts or is interested in doing so – we encourage you to spend a few minutes taking our Podcast Publishing, Access, and Rights Survey. Your responses will be used to help us make decisions about ways we can make it easier for musuems to mark their media with clear permissions. The data will also be aggregated later and shared online, but your answers will remain anonymous.
Comments Off

on Creative Commons and MuseumPods launch Podcast Publishing, Access, and Rights Survey