$0: cost for reusing educational materials developed by #TAACCCT grantees thanks to @creativecommons licensing. 1.usa.gov/S6ZcqQ

— Hilda L. Solis (@HildaSolisDOL) September 19, 2012
In September, the Obama administration announced $500 million in grants to community colleges around the country for the development of professional training programs under the new Trade Adjustment Assistance Community College and Career Training initiative (TAA-CCCT), run by the US Department of Labor in coordination with the Department of Education. This is the second round of grants in a four-year initiative totaling $2 billion.
For the first time in a federal initiative of this size, grantees are required to license the training materials they produce under the Creative Commons Attribution licence. In her speech announcing the grants, Secretary of Labor Hilda L. Solis stressed that the open-licensing requirement will make it easier for education providers to build on each other's work.
It's striking that this announcement comes within days of California's first-of-its-kind open textbook legislation. As more government agencies begin to require publicly funded learning resources to be openly licensed, the more impact those resources will have. As Ms. Solis put it in her speech, "'We're stronger when we work together' [is] not just a statement of American values. It's also a winning strategy for growth."
Comments Off

on US Department of Labor Invests in Open Educational Resources
Mountain View, CA and Cambridge, MA — Creative Commons and the OpenCourseWare Consortium announce the formation of a task force to determine how open educational resources (OER) can support the success of girls and women in science, technology, engineering and math (STEM) in support of the Equal Futures Partnership, announced on September 24 by U.S. Secretary of State Hillary Clinton.
"The gender gap in participation in STEM areas around the world is significant," said Cathy Casserly, CEO of Creative Commons. "We need to address the barriers to girls' success in STEM to ensure that the future is filled with bright, ambitious, well-educated people of both genders who are able to contend with future global challenges."
The OER-STEM task force will examine how OER can attract and support girls in STEM education, including additional support services necessary to ensure high levels of success. OER are high-quality educational materials that are openly licensed and shared at no cost, allowing learners and educators to use, adapt, change and add information to suit their education goals. The task force will include experts in STEM education for girls and women along with experts in OER to determine specific projects that will advance achievement in these important areas.
"We are seeking innovative support solutions for girls to succeed in STEM subjects using open educational resources," said Mary Lou Forward, Executive Director of the OpenCourseWare Consortium. "Since OER can be accessed freely by anyone, anywhere, and modified to fit different cultural contexts and learning needs around the world, we are looking at this issue from a global perspective."
About Creative Commons
Creative Commons is a globally-focused nonprofit organization dedicated to making it easier for people to share and build upon the work of others, consistent with the rules of copyright. Creative Commons provides free licenses and other legal tools to give everyone from individual creators to large companies and institutions a simple, standardized way to grant copyright permissions and get credit for their creative work while allowing others to copy, distribute and make specific uses of it.
About the OpenCourseWare Consortium
The OpenCourseWare Consortium is an international group of hundreds of institutions and organizations that support the advancement open sharing in higher education. The OCW Consortium envisions a world in which the desire to learn is fully met by the opportunity to do so anywhere in the world, where everyone, everywhere is able to access affordable, educationally and culturally appropriate opportunities to gain whatever knowledge or training they desire.
3 Comments »
It's official. In California, Governor Jerry Brown has signed two bills (SB 1052 and SB 1053) that will provide for the creation of free, openly licensed digital textbooks for the 50 most popular lower-division college courses offered by California colleges. The legislation was introduced by Senate President pro Tem Darrell Steinberg and passed by the California Senate and Assembly in late August.
A crucial component of the California legislation is that the textbooks developed will be made available under the Creative Commons Attribution license (CC BY):
The textbooks and other materials are placed under a creative commons attribution license that allows others to use, distribute, and create derivative works based upon the digital material while still allowing the authors or creators to receive credit for their efforts.
The CC BY license allows teachers to tailor textbook content to students' needs, permits commercial companies to take the resources and build new products with it (such as video tutorials), and opens the doors for collaboration and improvement of the materials.
Access to affordable textbooks is extremely important for students, as textbook costs continue to rise at four times the rate of inflation, sometimes surpassing the cost of tuition at some community colleges. So, in addition to making the digital textbooks available to students free of cost, the legislation requires that print copies of textbooks will cost about $20.
This is a massive win for California, and a most welcome example of open policy that aims to leverage open licensing to save money for California families and support the needs of teachers and students. We'll continue to track this initiative and other Open Education Policies at our OER registry.
25 Comments »
We're psyched to be a part of OKFestival: Open Knowledge in Action. The OKFestival takes place September 17-22, 2012 in Helsinki, Finland, and features "a series of hands-on workshops, talks, hackathons, meetings and sprints" exploring a variety of areas including open development, open cultural heritage, and gender and diversity in openness. You can buy tickets to the festival for any number of days until September 16 at http://okfestival.org/early-bird-okfest-tickets/. The OKFestival website has all the details, including the preliminary schedule.
We are particularly interested in and helped to shape the Open Research and Education topic stream, where we are leading an "Open Peer Learning" workshop on Wednesday (Sept 19) from 11:30am to 3:30pm. For the workshop the School of Open (co-led by Creative Commons and P2PU) is combining forces with the OKFN's School of Data to explore, test and develop learning challenges around open tools and practices in data, research, and education. Participation in the workshop is free (you don't even have to buy a festival ticket), but space is limited, so RSVP at: http://peerlearningworkshop.eventbrite.com/
The workshop will be held in this awesome space, reserved for four HACK workshops:

hack-2 / juhuu / CC BY-NC-SA
For those of you able to come to Helsinki, look out for our CC staff reps, Jessica Coates and Timothy Vollmer, along with many of our European affiliates who will be holding a regional meeting on Day four of the fest.
For the rest of you, you can still participate in helping to build initiatives like the School of Open from wherever you are by visiting http://schoolofopen.org/ and signing up for the mailing lists there.
Comments Off

on Counting down to the Open Knowledge Festival (Sept 17-22)
Tags:
event
,
festival
,
OER
,
OKFestival
,
OKFN
,
open access
,
open data
,
open education
,
research
,
School of Data
,
School of Open
The first School of Open Virtual Sprint is set to take place next Tuesday, 24 July from 2:00-5:00pm Berlin time (UTC/GMT+2). Learn how you can participate below.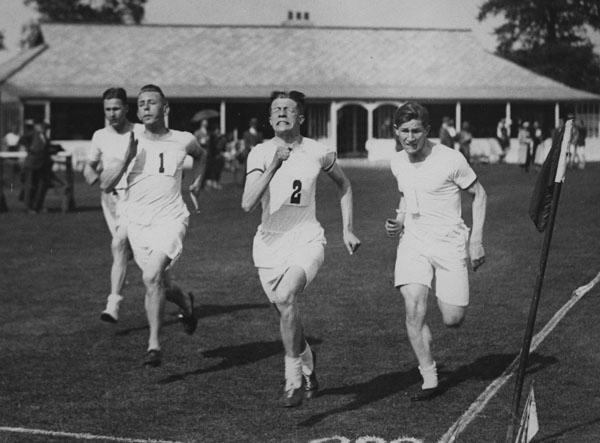 LSE Sports Day, Malden Sports Ground, c1920s / LSE Library / No known copyright restrictions
Before the Sprint
During the Sprint
After the Sprint
Related: Help Us Build the School of Open
Comments Off

on School of Open Virtual Sprint: How you can participate
Creative Commons, the U.S. Department of Education, and the Open Society Foundations are pleased to announce the winners of the Why Open Education Matters video competition. The competition was launched in March 2012 to solicit creative videos that clearly communicate the use and potential of free, high-quality Open Educational Resources — or "OER" — and describe the benefits and opportunities these materials create for teachers, students, and schools everywhere. U.S. Secretary of Education Arne Duncan announced the competition with a video on the Why Open Education Matters website. The competition received over 60 qualified entries. The winning videos are displayed below.
First Prize
Congratulations to Blinktower, an extremely talented creative agency based in Cape Town, South Africa.

Second Prize
Congratulations to Laura Rachfalski and her great team. Laura is an artist, videographer and photographer from Philadelphia.

Third Prize
Congratulations to Nadia Paola Mireles Torres and her collaborators from the design firm Funktionell. It's also amazing to see that Nadia has made all the video assets available for download and reuse under CC BY!

The prize winners were decided by a panel of distinguished experts including Davis Guggenheim, Nina Paley, Liz Dwyer, Anya Kamenetz, James Franco, Angela Lin, and Mark Surman. Due to technical problems with the public voting on the Why Open Education Matters website which prevented some persons from submitting a vote, the third prize video has been awarded by the judging panel.
In addition to the winning videos, all of the qualifying videos are available for viewing on the competition website, http://whyopenedmatters.org. All of the videos are licensed CC BY, which means others may distribute, remix, and build upon them, even commercially, as long as they give credit to the creators.
Congratulations to the winners, and thank you to everyone who submitted a video for sharing their creativity, talents, and passion in helping explain and promote Open Educational Resources.
14 Comments »

Ms. Catherine Ngugi.. and Letuimanu'asina Dr. Emma KRUSE VA'AI / Mariana Bittencourt / CC BY
Through the generous support of the William and Flora Hewlett Foundation and in full partnership with the Commonwealth of Learning (COL), UNESCO hosted the 2012 World Open Educational Resources (OER) Congress last week to:
showcase the world's best practices in OER policies, initiatives, and experts;
release the 2012 Paris OER Declaration calling on Governments to support the development and use of OERs; and
celebrate the 10th anniversary of the 2002 UNESCO Forum that created the term "OER."
I am pleased to report UNESCO member States unanimously approved the "Paris OER Declaration" (pdf).
This Declaration is the result of a yearlong process, led by UNESCO and the COL with regional and online meetings and final negotiations at the Congress. The Declaration recommends UNESCO member States:
a. Foster awareness and use of OER.

b. Facilitate enabling environments for use of Information and Communications Technologies (ICT).

c. Reinforce the development of strategies and policies on OER.

d. Promote the understanding and use of open licensing frameworks.

e. Support capacity building for the sustainable development of quality learning materials.

f. Foster strategic alliances for OER.

g. Encourage the development and adaptation of OER in a variety of languages and cultural contexts.

h. Encourage research on OER.

i. Facilitate finding, retrieving and sharing of OER.

j. Encourage the open licensing of educational materials produced with public funds.
The Declaration will now be delivered to UNESCO's Director General. She will submit the Declaration to the UNESCO Executive Board on October, 2012. After the UNESCO Board approves the Declaration, it will go to the General Conference for final approval. While it is important to note a "Declaration" is a non-binding UNESCO instrument, a UNESCO declaration does "set forth universal principles to which the community of States wished to attribute the greatest possible authority and to afford the broadest possible support."
OER Congress resources
Bravo to all who helped move the world to this moment! So many open advocates traveled to the regional meetings and to the Congress. Your contributions and work with your governments led us all to this successful outcome.
Lawrence Lessig's Keynote (added 27 July, 2012):
9 Comments »
Some of you may have heard about a School of Open, especially if you follow us on Twitter/Identi.ca/Facebook, or if you're already a part of the P2PU community and follow their blog. Whether you have or not, the School of Open is still very much a concept, and one which we invite you to join in building.

What open means to you / johndbritton / CC BY-SA
What is School of Open?
The School of Open is a collaboration between Creative Commons and P2PU (Peer 2 Peer University). Its aim is to provide easily digestible educational exercises, resources, and professional development courses that help individuals and institutions learn about and employ open tools, such as the CC licenses.
Why is CC doing this?
Also known as,

What problem are we trying to solve? / johndbritton / CC BY-SA
Several reasons, including, but not limited to:
Universal access to and participation in research, education, and culture is made possible by openness, but not enough people know what it means or how to take advantage of it. One solution: peer learning on what "open" means and how it applies to you, powered by mentors and learners like you, self-organized into study groups which themselves leverage existing "open" learning materials. We imagine artists, educators, learners, scientists, archivists, and other creators improving their fields via the use of open tools and materials. Eventually, we'd like to offer certification around "open" skills that result in the spread of openness.
The CC community has often expressed a need for more community/communications support regarding best practices, explanatory materials, help generally in convincing entities (whether GLAMs, IGOs, governments) to use CC and other open tools. The School of Open is a great place for this.
Community members have also expressed priorities regarding open advocacy and policy activities. The School of Open could be one venue for open advocates to work together to develop and provide these resources.
In regards to content that Creative Commons itself will develop: We want to provide better education around CC tools, and we would love community appropriation and adaptation/translation of these resources.
Working with P2PU
School of Open leverages P2PU's active peer learning platform for developing courses, challenges, and study groups. The P2PU community has been a part of the open education movement since 2009 and promoted openness to the education sector. P2PU ran a number of successful courses on licensing for educators, which will become part of the School of Open. All peer-produced resources on p2pu.org are defaulted under CC BY-SA, the same license as Wikipedia.
School of Open is hosted on the P2PU platform, but courses will also link out to other websites and use a variety of social media tools. We want people to use (open) tools they are already comfortable with. The School of Open is the umbrella under which all of these activities are to take place, a landing spot for those who want get involved but follow different tracks.
Multiple Languages
You should feel free to develop materials in your native language, especially since we want education around openness to reach all cultures and sectors of society. Depending on interest/demand, the P2PU platform may incorporate additional languages (current user interface already translated into Spanish, Swedish, and Mandarin), or as mentioned above link out to the tools/resources that are being run in your language.
What is CC doing on School of Open now?

Essential elements of a School of Open / johndbritton / CC BY-SA
Jane Park (that's me) is transitioning to be Project Manager in education at CC. A major component of my new position is to establish School of Open in collaboration with the CC, P2PU, and related open communities. First thing is to lay a road and skills map for School of Open, and seed the School with a few core resources and courses. Imminent events include:
Berlin, Germany (July 2012): School of Open month-long workshop as part of the P2PU pop-up office. Jane and P2PU community members will start mapping and developing some key components of the School. An evening hands-on event will be held Thur, 26 July in Berlin that is open to the public. You're invited (RSVP here). If you're nearby, please join us!
Helsinki, Finland (September 2012): OKFestival's Open Research and Education track includes an "Open Peer Learning: School of Open and School of Data" workshop to engage the OKFN, CC, and European open communities. Will take place Wed afternoon, 19 September before the CC Europe regional meeting to allow CC affiliates to participate.
Palo Alto, CA, U.S. (October 2012): School of Open and Open Policy Institute convening to get key funders and representatives from the various "open" sectors on board and involved, eg. open policy, open licenses, open GLAM, open data, open science, open education, etc.
CC affiliate regional meetings (various): discussion and/or workshop on School of Open at these meetings (led by CC Affiliate Coordinator Jessica Coates)
Get Involved
In addition to participating in one of the above events, feel free to:
2 Comments »
We're happy to see so many great submissions to the Why Open Education Matters video competition. You can now view all the qualifying videos and vote for your favorite. The goal of the competition is to raise awareness of Open Educational Resources (OER) and solicit short, creative videos that help explain what Open Educational Resources are and how they can be beneficial for teachers, students, and schools everywhere around the world. The competition closed on June 5.
Our panel of judges is currently reviewing the entries and will choose the first ($25,000) and second ($5,000) prizes. The winner of the Public Choice Award will win $1,000. Click on a video to view it, read the voting instructions, and vote. Public Choice Award voting will end July 11, 2012. We hope to announce all the winners on July 18, 2012. Good luck!
Comments Off on Vote now for your favorite Why Open Education Matters video
The 2012 World Open Educational Resources (OER) Congress is kicking off tomorrow in Paris, France. Organized by UNESCO and the Commonwealth of Learning (COL), the World OER Congress will encourage more governments to adopt policies that include OER and will bring together Ministers of Education/Human Resource Development, senior policy makers, expert practitioners, researchers, students and many other relevant stakeholders to:
1. Showcase the world's best practices in OER policies, initiatives, and experts
2. Release a 2012 Paris OER Declaration calling on Governments to support the development and use of OERs
3. Celebrate the 10th anniversary of the 2002 UNESCO Forum that created the term OER
Participate
There are several ways you can participate in the congress. From 20-22 June, the congress will be livecast in two web streams:
1. The official congress featuring discussion on the Paris OER Declaration and governmental actions for OER (English stream, French stream)
2. A parallel stream featuring an Open Seminar & Exhibition of the world's best OER practices, policies, and initiatives (English stream, French stream). For this stream, UNESCO will have present a digital moderator to whom you can pose questions via identi.ca or Twitter using the #oercongress hashtag.
You can also follow the congress on Twitter, join and ask questions on the OER community WSIS KC platform, and contribute to the draft Paris OER Declaration (pdf) until Thursday 21 June, 12pm Paris time by writing to oerdeclaration@unesco.org.
The complete program of sessions and speakers, and all other information, is available at the website.
1 Comment »