One Thursday a few weeks ago, just as most of us at Creative Commons were on our way home for the evening, we saw this startling tweet:
@creativecommons You need to know: ~30 maths enthusiasts begin a CC-BY course book hackathon in five hours in Helsinki, Finland.

— Joonas Mäkinen (@JoonasD6) September 28, 2012
Of course we had to learn more. I contacted Joonas Mäkinen to get more information, and he explained to me that he'd helped organize a team to write a secondary school mathematics textbook over a weekend, in an event called Oppikirjamaraton ("textbook marathon"). The book was to be licensed CC BY, so that anyone could reuse or remix it in Finland or around the world.
The text — now in version .91 in GitHub — is called Vapaa Matikka. The title translates as "Free Math," but since matikka can also mean "burbot," the book's title also reads as "free fish" and its slogan — Matikka verkosta vapauteen — could be either a rallying cry to keep educational resources free and open or an instruction to free a fish from a net.
But I was interested in more than math puns. I wanted to find out how the book sprint had gone, what the team was planning to do with the textbook, and what advice he had for others organizing similar events. This interview was conducted by email between October 2 and 5.
What range of math concepts does the book cover?
It is a text book for the first advanced level mathematics course in Finnish upper secondary (high) schools. Although people who just start the course have usually just finished their mandatory primary school studies, we decided to take quite a "for dummies" approach and try to minimize all the prerequisites.
We introduce rational numbers, go through the arithmetic of them and real numbers in general. Power rules and roots follow and lead to the very basics of equation solving and the concept of a function. The most important applications of all this are proportionality and percentage calculations. Even with the freedom of writing we had we were tied to the current curriculum.
Tell me more about the curriculum requirements. Are they the same throughout Finland?
There is one national curriculum and everyone follows it. The only standardized tests you get are your finals, or matriculation examinations as they are known here, so some book series approach topics in a slightly different order than others. There is some flexibility and writing a course book based on the curriculum was easy.
Doesn't change the fact that the curriculum sucks, though. The first reaction from a lot of participants was: "Can we write a new curriculum first?" And I understand them. We don't have wars over content as I've understood you have in the USA, though. It's more about how certain topics are grouped together in courses.
In the case of advanced level mathematics, there are 10 national, mandatory courses that consist of approximately 18 75-minute lessons. Plus a few optional courses, plus a lot more if you're in a science- or math-focused school. An example of a highly non-mathematical, non-systematic grouping would be for example a course which is supposed to cover sequences and trigonometric functions. These two have nothing in common at this level. They could if series expansions and complex numbers were taught earlier, but nooooo…
Oppikirjamaraton (Caption added) / Joonas Mäkinen / CC BY
Vesa Linja-Aho / Senja Opettaa / CC BY
What was the breakdown of participants? Was everyone involved an educator? Did participants have prior experience writing or editing textbooks?
There were over 20 people who partook in writing that weekend. We had regular upper secondary teachers, university students (mathematics and computer science), a teacher of automotive electronics, my own private students, and even a couple of university professors working both locally and remotely. We had our own inner circle of enthusiastic grammar nazis, too, to help us actually write grammatically and typographically better materials than you see in some books by big publishers. The diversity of people involved turned out to be a great resource for producing a variety of problems and perspectives.
A few people had experience writing and publishing a "normal," old-fashioned commercial book, but that experience didn't seem to divide people into groups at all when we actually started working.
How did you organize yourselves? Were people's roles in the project determined before the weekend began?
Vesa Linja-aho, who got the idea of this booksprint/hackathon in the first place, was our de facto PR and bureaucracy guy. Lauri Hellsten promised to take the main role in creating much-needed graphics at the set. Other than them, no writer was predestined any specific work. Surely quite a few people had their own topics they really, really wanted to write about, but all in all the whole writing process was very spontaneous and dynamic.
Video in English: youtu.be/ThbUiky4AKA RT @slashdot: Teachers Write an Open Textbook In a Weekend Hackathon bit.ly/Rr78RZ

— Joonas Mäkinen (@JoonasD6) September 30, 2012
Lauri Hellsten / Senja Opettaa / CC BY
How much preparation happened ahead of time? Did you enter the weekend with an outline of the book? Schedules?
After realizing that this could be a big thing we just sort of waited for our friends and friends' friends to fill out a Doodle poll about which weekend we should pick. I planned a table of contents beforehand to have something as a starting point, but it was modified very heavily during Friday and Saturday. Juhapekka Tolvanen made us some LaTeX layout templates beforehand, and we also had one planning meeting but that was not really about content but more about technology: which version management systems we should use, etc. Most of the planning in general was just about getting potential sponsors, writing a press release, checking where we can actually do the writing work, did we have enough laptops, and so on.
One funny copyright anecdote: we had gathered up pretty much all available, related text books. You know, to check how others have explained this and that. Another reason was that in mathematics education (and obviously in other subjects too) there are usually many "pathological" examples and exercises that it's good for everyone to go though, so you keep running into and using the same tasks again and again. Vesa Linja-aho had received a written decision earlier from the local copyright council that exercises do not constitute works and thus are not copyrightable. Nevertheless, a teacher who had written one of the books we had with us commented and reminded us on our Facebook page that it's not right to copy others' work. We got some good laughs out of that.
Siiri Anttonen / Senja Opettaa / CC BY
What did you learn from the experience? What was more difficult than you expected? What advice would you give others planning a similar sprint?
Get the tech side done before you start, and that will save everybody's nerves and time for the actual writing! We used LaTeX to write and typeset the whole book and Github to handle versions, but hassling with both caused a lot of delays during the first two days. Most people were not familiar with Git and version conflicts and other funnies took maybe a half of our time. Just think what we could have achieved if everyone had had their laptops completely ready…
Some guys were still debating if we should add this and that during Saturday and Sunday, and that was something people should try to avoid. In sprints like this, it's always the best to just keep writing more content – it's always easier to comment out or edit something later on. Some arguments got pretty heated a couple of times, but that might also be the lack of sleep talking. Keep it cool and remember to have fun!
Joonas Mäkinen / Senja Opettaa / CC BY
What's next? Is there a revision or review period planned? Are there educators planning to teach from it?
The immediate physiological response after finishing the marathon on Sunday was euphoria. Everyone agreed immediately to organize another sprint. The technical delays and lack of graphics artists made sure that our book didn't reach the level of ready that we'd just send it to printing immediately, but it's alive now: people keep sending "bug reports" over Github and all participants have continued to make improvements: fixing typos, adding exercises, fixing inconsistencies…
Our book is now version 0.9, and we'll wait a couple of weeks till we say it's appropriately ready for translations and focused printing. Though, we've already been hearing that the book has been used as a handbook by a couple of teachers, some have been giving their students exercises from the book and so forth. And of course I and other writers have used it as a resource, too, when teaching our own students. After some polishing we're pretty sure it'll be used in plenty of places. Another kick in popularity will come when we continue with the rest of the courses (since schools don't like to switch book series between courses).
The project was so fun and well-received that we'll have our next sprint on the second course soon!
1 Comment »
On October 5, Creative Commons and P2PU convened community advocates and policy leaders from the various "open" movements to lay the curriculum framework for the School of Open. If you haven't heard of it yet, the School of Open is a community initiative that will provide online educational resources and professional development courses on the meaning and impact of "openness" in the digital age and its benefit to creative endeavors, education, research, and more. Participants gathered the day before for a convening on an Open Policy Institute, which will be blogged about separately in the coming weeks.
The meeting/workshop was extremely valuable in identifying existing needs around education and training on open policy, open education, open access, open science, and open culture. It was also a lot of fun! The full agenda and raw notes are at the etherpad, but here is a brief overview.
First, in pictures:
We broke out into groups and thought long and hard about the one person we'd really like to help as part of the School of Open. Who would actually come to take courses about "open" and what would they want to learn about? What questions would they have? The result was a set of detailed user scenarios spanning from Marcie the researcher working for a legislator to Maggie the wannabe rap star, from academic Professor Lovenchalk with questions about losing control over his work to elementary school teachers with questions about CC and copyright, and even to "optics nerds" on Wikipedia. You can check out all the user scenarios at Flickr. The folder of user scenarios will continue to grow with each workshop.
Based on our user scenarios, we outlined course ideas, potential partners, and existing resources. Course ideas included: Crash course on the basics of open for government officials; How to ensure that my film can be shared; Rights info and tagging for (cultural) curators; How to integrate Wikipedia authorship in your academic workflow; Intro to Open Textbooks; and OER for faculty: what's in it for me? More courses outlined at the pad.
Everyone was excited for the potential of the School of Open to support existing efforts and demand. And we want you to join us! Whether you're part of the CC, P2PU, Open Access, OER, free culture, or any other open communities, the School of Open exists to support your education needs. We are aiming for an ambitious (but not impossible!) official launch date of February 2013, with at least five facilitator-led courses and five peer-led courses. Help make this possible by joining in course development efforts!
Where do I start?
We will be holding several virtual meetings (eg. webinars) to support course creators, so stay tuned for those!
For those of you who just want to receive key updates and find out when the School of Open officially launches, sign up for our announcements-only list.
The School of Open is being run as an open community project — which means that you can help shape its direction and drive it forward. Find out more about that here.
Also see: School of Open builds community at the Open Knowledge Festival
1 Comment »
Visual Notes of Honourable John Yap's announcement at #opened12 / Giulia Forsythe / CC BY-NC-SA
The government of British Columbia, Canada's westernmost province, has announced its support for the creation of open textbooks for the 40 most popular first- and second-year courses in the province's public post-secondary system. The texts will be available for free online, or at a low cost for printed versions, to approximately 200,000 students. The first texts under this project could be in use at B.C. institutions as early as 2013 for courses in arts, sciences, humanities, and business.
BCcampus, a publicly funded collaborative information technology organization serving the higher-education system, will engage B.C. faculty, institutions, and publishers to implement the open textbook project through an open request for proposals.
David Porter, executive director for BCcampus, explained why CC licenses are crucial to this project. "Open licenses are integral to making textbooks free for students, and flexible enough for instructors to customize the material to suit their courses."
B.C.'s minister of advanced education, John Yap, announced the project at the Open Education Conference in Vancouver. He said students could save up to $1,000 a year on textbooks if free, open versions were available for many of their courses, and he challenged other jurisdictions to follow British Columbia's lead and support open educational resources: "By taking advantage of technology, more people can get the learning they need in the knowledge economy and access to new or better jobs."
You might remember that a few weeks ago, we celebrated a similar piece of legislation in California. The British Columbia legislation was actually based on California's version. Taken together, these are exciting steps for the OER (open educational resources) movement. Since the textbooks produced in B.C. and California will be licensed under the CC BY license, their impact has the potential to spread far beyond the US and Canada, being reused and adapted by educators around the world.
B.C. is leveraging 21st-century technologies and licensing to ensure that its citizens have affordable access to high-quality post-secondary textbooks. Open licensing on publicly funded content ensures the greatest impact for the public dollar.
There was an OER Forum later that week. Videos and images.
7 Comments »
Ada Lovelace / Kaldari / CC0
Ada Lovelace — widely considered the first computer programmer — famously said, "I never am really satisfied that I understand anything; because, understand it well as I may, my comprehension can only be an infinitesimal fraction of all I want to understand." That quotation brings to mind the axiom that a curious mind is always asking more questions and learning is never complete. Every day, like Lovelace, I am all too aware that my knowledge is dwarfed by what I have yet to learn.
Around the world today, the technology community is celebrating Lovelace and the many women in technology who've followed in her footsteps. Here at Creative Commons, we think a lot about women in science and technology and the untapped potential we have yet to realize. In his speech to the United Nations a few weeks ago, President Obama spoke of the importance of women and girls in STEM fields (science, technology, engineering, and mathematics). The White House identified Creative Commons as a key member of an emerging community of practice supporting girls in STEM.
A few days later, Creative Commons and the OpenCourseWare Consortium announced that we'd formed a task force to determine how open educational resources (OER) can support the success of girls and women in STEM fields. As I said in that announcement, the challenges of the future will require bright, ambitious, well-educated people of both genders.
Many people reading this probably know that the OER movement played a pivotal role in my career. When I was at the Hewlett Foundation, we made a gamble in starting our OER initiative. At that time, OER was an untested idea. Today, those early investments are paying off, with open-licensed resources benefitting women, men, boys, and girls around the world, many of whom wouldn't otherwise have access to high-quality educational materials that can be localized and improved for teaching and learning.
But like Lovelace, we're not yet satisfied. Last month's groundbreaking open textbook legislation in California was a huge step in the right direction, but it was just one step. We must keep the end vision in mind: together, we can democratize education through openly licenses resources, tools and processes. While we can't create future Ada Lovelaces in a lab, we can provide for a culture of education that rises to the challenge of its most curious learners.
1 Comment »
Helsinki Class Group Shot / Timothy Vollmer / CC BY
A few weeks ago a group of CC staffers traveled to the Open Knowledge Festival in Helsinki, Finland to meet with our friends in the open knowledge and data community. There were many welcome outcomes from this – including our European regional meeting (expect a post on this soon) – not the least of which was our second School of Open workshop.
For those who haven't heard of it yet, the School of Open is a collaboration between Creative Commons and P2PU (Peer 2 Peer University). Its aim is to provide easily digestible educational exercises, resources, and professional development courses that help individuals and institutions learn about and employ open tools, such as the CC licenses. You can find out more at this wiki page.
During the second half of 2012, Creative Commons is holding School of Open workshops around the world, including Berlin, Palo Alto, Mexico City, London, and Jakarta. The idea behind these workshops is to bring together those interested in spreading the word about open knowledge, teach them about peer-learning and the role it can play in this, and (hopefully) start them down the track of creating their own peer-led course on open.
The Helsinki workshop, which ran on the Wednesday of the festival, was a joint project with the School of Data, a similar initiative run by P2PU and the Open Knowledge Foundation to promote data literacy and data 'wrangling' skills. The workshop was a great success, with a full house of more than 25 attendees, including educators, programmers, digital technologists and enthusiasts. After introductions and explanations, about 12 chose to work on projects for the School of Open, while the rest broke off to take School of Data courses.
Helsinki Class Photo / Timothy Vollmer / CC BY
In just four hours, this School of Open team managed to complete the "Teach someone something with open content" challenge and get a good way through the "Make a P2PU course in half an hour" mini-course. The result were outlines for several new P2PU courses, designed to teach people new skills entirely through CC-licensed and other open materials including "How to share and distribute a song". You can find all related notes and materials from the workshop here.
Feedback from the participants in the workshop was great – everyone felt that by the end of the day they had a good understanding of the workings of the School of Open and the potential it had to provide learning resources for anyone and everyone. They also had some great feedback on ways to improve the school's web interface, materials and structure, based on their own experiences and expertise. And they were all keen to continue to work on their courses and the School of Open.
Congratulations to all those who participated in the workshop on achieving so much in such a short amount of time. We look forward to seeing you around the School of Open discussion lists and events. For anyone else who wants to get involved, the best way to start is to join the discussion list and/or sign up for announcements. You can also email the Project Manager directly.
1 Comment »
$0: cost for reusing educational materials developed by #TAACCCT grantees thanks to @creativecommons licensing. 1.usa.gov/S6ZcqQ

— Hilda L. Solis (@HildaSolisDOL) September 19, 2012
In September, the Obama administration announced $500 million in grants to community colleges around the country for the development of professional training programs under the new Trade Adjustment Assistance Community College and Career Training initiative (TAA-CCCT), run by the US Department of Labor in coordination with the Department of Education. This is the second round of grants in a four-year initiative totaling $2 billion.
For the first time in a federal initiative of this size, grantees are required to license the training materials they produce under the Creative Commons Attribution licence. In her speech announcing the grants, Secretary of Labor Hilda L. Solis stressed that the open-licensing requirement will make it easier for education providers to build on each other's work.
It's striking that this announcement comes within days of California's first-of-its-kind open textbook legislation. As more government agencies begin to require publicly funded learning resources to be openly licensed, the more impact those resources will have. As Ms. Solis put it in her speech, "'We're stronger when we work together' [is] not just a statement of American values. It's also a winning strategy for growth."
Comments Off

on US Department of Labor Invests in Open Educational Resources
Mountain View, CA and Cambridge, MA — Creative Commons and the OpenCourseWare Consortium announce the formation of a task force to determine how open educational resources (OER) can support the success of girls and women in science, technology, engineering and math (STEM) in support of the Equal Futures Partnership, announced on September 24 by U.S. Secretary of State Hillary Clinton.
"The gender gap in participation in STEM areas around the world is significant," said Cathy Casserly, CEO of Creative Commons. "We need to address the barriers to girls' success in STEM to ensure that the future is filled with bright, ambitious, well-educated people of both genders who are able to contend with future global challenges."
The OER-STEM task force will examine how OER can attract and support girls in STEM education, including additional support services necessary to ensure high levels of success. OER are high-quality educational materials that are openly licensed and shared at no cost, allowing learners and educators to use, adapt, change and add information to suit their education goals. The task force will include experts in STEM education for girls and women along with experts in OER to determine specific projects that will advance achievement in these important areas.
"We are seeking innovative support solutions for girls to succeed in STEM subjects using open educational resources," said Mary Lou Forward, Executive Director of the OpenCourseWare Consortium. "Since OER can be accessed freely by anyone, anywhere, and modified to fit different cultural contexts and learning needs around the world, we are looking at this issue from a global perspective."
About Creative Commons
Creative Commons is a globally-focused nonprofit organization dedicated to making it easier for people to share and build upon the work of others, consistent with the rules of copyright. Creative Commons provides free licenses and other legal tools to give everyone from individual creators to large companies and institutions a simple, standardized way to grant copyright permissions and get credit for their creative work while allowing others to copy, distribute and make specific uses of it.
About the OpenCourseWare Consortium
The OpenCourseWare Consortium is an international group of hundreds of institutions and organizations that support the advancement open sharing in higher education. The OCW Consortium envisions a world in which the desire to learn is fully met by the opportunity to do so anywhere in the world, where everyone, everywhere is able to access affordable, educationally and culturally appropriate opportunities to gain whatever knowledge or training they desire.
3 Comments »
It's official. In California, Governor Jerry Brown has signed two bills (SB 1052 and SB 1053) that will provide for the creation of free, openly licensed digital textbooks for the 50 most popular lower-division college courses offered by California colleges. The legislation was introduced by Senate President pro Tem Darrell Steinberg and passed by the California Senate and Assembly in late August.
A crucial component of the California legislation is that the textbooks developed will be made available under the Creative Commons Attribution license (CC BY):
The textbooks and other materials are placed under a creative commons attribution license that allows others to use, distribute, and create derivative works based upon the digital material while still allowing the authors or creators to receive credit for their efforts.
The CC BY license allows teachers to tailor textbook content to students' needs, permits commercial companies to take the resources and build new products with it (such as video tutorials), and opens the doors for collaboration and improvement of the materials.
Access to affordable textbooks is extremely important for students, as textbook costs continue to rise at four times the rate of inflation, sometimes surpassing the cost of tuition at some community colleges. So, in addition to making the digital textbooks available to students free of cost, the legislation requires that print copies of textbooks will cost about $20.
This is a massive win for California, and a most welcome example of open policy that aims to leverage open licensing to save money for California families and support the needs of teachers and students. We'll continue to track this initiative and other Open Education Policies at our OER registry.
25 Comments »
We're psyched to be a part of OKFestival: Open Knowledge in Action. The OKFestival takes place September 17-22, 2012 in Helsinki, Finland, and features "a series of hands-on workshops, talks, hackathons, meetings and sprints" exploring a variety of areas including open development, open cultural heritage, and gender and diversity in openness. You can buy tickets to the festival for any number of days until September 16 at http://okfestival.org/early-bird-okfest-tickets/. The OKFestival website has all the details, including the preliminary schedule.
We are particularly interested in and helped to shape the Open Research and Education topic stream, where we are leading an "Open Peer Learning" workshop on Wednesday (Sept 19) from 11:30am to 3:30pm. For the workshop the School of Open (co-led by Creative Commons and P2PU) is combining forces with the OKFN's School of Data to explore, test and develop learning challenges around open tools and practices in data, research, and education. Participation in the workshop is free (you don't even have to buy a festival ticket), but space is limited, so RSVP at: http://peerlearningworkshop.eventbrite.com/
The workshop will be held in this awesome space, reserved for four HACK workshops:

hack-2 / juhuu / CC BY-NC-SA
For those of you able to come to Helsinki, look out for our CC staff reps, Jessica Coates and Timothy Vollmer, along with many of our European affiliates who will be holding a regional meeting on Day four of the fest.
For the rest of you, you can still participate in helping to build initiatives like the School of Open from wherever you are by visiting http://schoolofopen.org/ and signing up for the mailing lists there.
Comments Off

on Counting down to the Open Knowledge Festival (Sept 17-22)
Tags:
event
,
festival
,
OER
,
OKFestival
,
OKFN
,
open access
,
open data
,
open education
,
research
,
School of Data
,
School of Open
The first School of Open Virtual Sprint is set to take place next Tuesday, 24 July from 2:00-5:00pm Berlin time (UTC/GMT+2). Learn how you can participate below.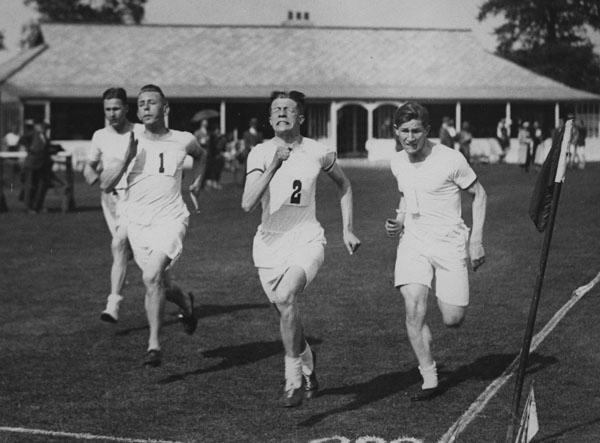 LSE Sports Day, Malden Sports Ground, c1920s / LSE Library / No known copyright restrictions
Before the Sprint
During the Sprint
After the Sprint
Related: Help Us Build the School of Open
Comments Off

on School of Open Virtual Sprint: How you can participate