At Creative Commons, we offer an array of learning and training opportunities to support our global community in developing open licensing expertise and a deeper understanding of recommended practices for better sharing. Choose from workshops, lectures, and our CC Certificate courses to find what meets your needs.
Contact us via our online form!
---
CC Certificate Courses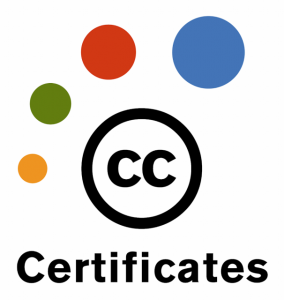 The CC Certificate program offers in-depth courses about CC licenses, open practices, and the ethos of sharing in our global, digital commons. These courses are a core part of CC's work and are used to train advocates, educators, librarians, and open culture advocates in the nuances of open licensing and copyright. The courses are led by expert instructors, and are highly interactive, including readings, quizzes, discussions and practical exercises to develop your open skills.
We offer CC Certificate courses on three tracks: (1) Certificate for Educators, (2) Certificate for Academic Librarians, and (3) Certificate for Open Culture/GLAM (galleries, libraries, archives and museums). After graduating from the program, participants report that they are better equipped to advise their institutions and peers on open licensing best practices and how best to create and engage with existing openly-licensed works. To date, we've graduated 1459 participants across 65 countries.
Registration: varies based on 10 week course, one-week bootcamp, and scholarship options.
Learn more about courses, registration options, open educational resources, and more >
---
Global Lecture Series
Curious for an in-depth overview of open education, open access, open policy, open culture and open source topics? Join us for Q&A webinars with experts from around the world. Lectures are held at varying times throughout the year.
Registration: Some lectures are free. For some lectures, we encourage participants to pay what they can.
---
CC Webinars and Trainings
CC offers periodic webinars and trainings to community members interested in hour-long to half-day deep-dives into open topics.
Webinars are free to the public and times vary.
In general, training sessions will take place on select Fridays between 2pm-7pm UTC. Local time: confirm your time with the time zone converter. Registration: $25-100 USD
---
Custom CC Workshops
CC workshops provide professional learning opportunities on elements of open licensing, open education, open access, and how to get involved in open movements. These workshops can be tailored to meet host-institution instructional needs, and range from partial day, full-day to multi-day events.
Registration: Varies based on scope of work, the length of the training, and the number of participants.
---
Calendar of All Events
---
Interested in finding out more about CC Training opportunities or CC Consulting? Contact us for further information (learning at creativecommons.org).