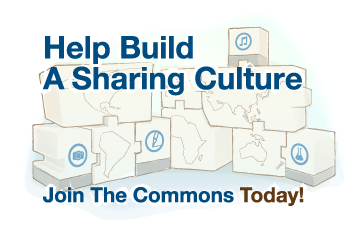 Creative Commons is in the midst of its 2008 fundraising campaign. Find out how you can support Creative Commons at our support site.
In conjunction with Jesse Dylan's original "A Shared Culture," we are excited to present a short video explicating our sister project, Science Commons.
Since "scientists are the ultimate remixers", there needs to be an easy way for them to share and distribute upstream data. Just as Dylan did in "A Shared Culture" he puts the Creative Commons system into action by punctuating the interview footage with dozens of photos that have been offered to the public for use under CC licenses.
Download
"Science Commons" is available in several formats:
Translations
To view subtitled versions, or to contribute a translation, visit the dotSub page for this video.
Assets
Some source assets for this video are available on the Creative Commons wiki.
License
Science Commons by Jesse Dylan is licensed under a Creative Commons Attribution-Noncommercial-ShareAlike (CC BY-NC-SA) license. Please link to this page when providing attribution.
Attribution
Flickr
Other
Music