In January, Creative Commons kicked off an exciting new initiative called CC usability with two primary goals:
To update the experience of CC licensing and discovery to reflect the realities of how people are sharing in 2018

To anticipate and design for the future of digital content sharing
In the next two sections, I provide background on the initiative and the process we used to conduct the research. If you're short on time, you can skip all of it and go directly to the findings. You can also peruse this slide deck for a quick visual summary.
I'm also pleased to announce that in order to further this work, I have stepped into a new role at CC. As the Director of Product and Research, I will lead the strategy, design, and implementation of CC's product vision for CC Search and related products. Our work will be driven by a research-based approach, which you can learn more about below.
Background
"Relevance to the real world is what separates innovation from invention. Understanding why and how people do what they do today is essential to making new concepts fit into their lives tomorrow."  
— Erika Hall, Director of Strategy at Mule Design, Just Enough Research
The driving motivation behind this initiative is relevance. CC was founded in 2001 and launched its first licenses in 2002, and in the 16 years since, the landscape of the internet has changed a great deal. The CC licenses have been versioned several times over to adapt to international copyright laws and trade agreements, and we've developed some new tools (Public Domain Mark, CC0). Lots of programs have been founded and re-founded, driving growth of a global commons of 1.4 billion works, fostering collaboration across an international network of advocates and practitioners, and shifting norms and policies within governments and educational institutions.
But one thing that has not changed in the past decade or so that I've been with Creative Commons is how to actually CC license a work. Or for that matter, how to figure out which license is right for you. Or how to add license information so that your computer can detect it. And really, the following things have not changed much either: How to find licensed works. How to attribute authors. How to know whether your application of a CC license is even the right call, since your work may very well fall into the nebulous land of "emerging media and technology" that didn't exist 16, ten or even a few years ago.
All of this is to say that while the internet and platform technologies for sharing content have changed pretty drastically — the trend towards a few major companies monopolizing content sharing and distribution, machine algorithms determining the content you consume, mobile becoming ubiquitous, media emerging that didn't exist before like 3D printing and virtual reality — the technicalities and user experience of CC licensing and discovery have remained largely the same, raising the question of CC's relevance in the internet of 2018.
Is CC still relevant? CC's tools are used in many different fields, so there's no one answer on how to be relevant, but in all fields we know the landscape has changed. The way content is created and shared has changed, and even the number and composition of the communities who do the creating and sharing has changed.
I'm happy to report that after six months of user research, I do think CC is still relevant, namely because 80+ people told us as much, and we did not just speak with the choir.
The catch? In order to remain relevant, CC will have to evolve.
Human-Centered Design
"Human-centered design is all about starting with people and building deep empathy; generating lots of possible ideas; building and testing prototypes with the people you're designing for; and eventually putting new solutions out into the world to improve lives."
— IDEO.org
We adapted human-centered design principles to conduct our research. HCD is a philosophy and set of tools that have permeated all aspects of user experience and product design today. The specific term — human-centered design — was popularized by IDEO, the design consulting firm, which became known for its multidisciplinary approach to solving real world problems. HCD consists of three phases: discovery, design, and development. Discovery is research, including ongoing background research and reading, but most importantly, talking directly to the people who you are designing for, which in our case are the actual users and creators of digital content.
From February through July, we conducted a total of 81 interviews, in addition to pulling 36 interviews from relevant publications (CC Talks With, Humans of the Commons, Made with Creative Commons). We interviewed super, expert, and future users and creators of all kinds of media, including images, text, data, audio, 3D designs, games, virtual and augmented reality assets. We defined super users as those creators or users who have been using CC for years. We considered expert users people at the forefront of their fields, like academics and company founders, who think a lot about how CC and their subject matter intersect. And we wanted future users that were both professionals in fields like photography who don't currently use CC but could, and those who have yet to enter a profession because they are too young, like Generation Z (yes, there is a generation after the oft talked about Millennials!). We talked to each person for roughly an hour about their motivations, behaviors, problems, and ideal outcomes for sharing content online, with and without CC licensing.
Then we aggregated, analyzed, and synthesized everything people said in all 117 interviews.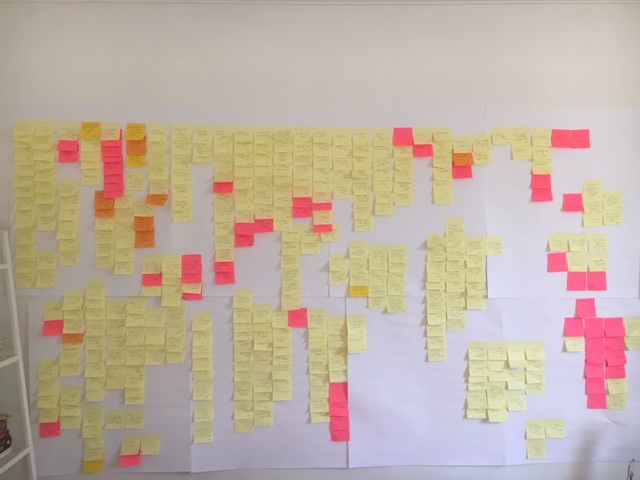 Findings
"An Insight is both an opportunity and a problem statement — two things with tension, two things where you can't readily have both. For example, share stuff for free but also make money."
~ Tom De Blasis, Design Strategy Consultant at (tbd) collective
Working closely with two experienced design consultants, we pulled patterns from the data, ultimately extracting nine key insights pertaining specifically to the sharing of images and longform texts (we tabled the domains of data and emerging media/tech for a later date). Insights fell loosely into three categories:
i) insights pertaining to CC's current tools,

ii) insights pertaining to the core experience of sharing content, and

iii) insights about futures CC might help build.
The following nine insights are a direct result of many people voicing the same needs and concerns across 117 interviews. To preserve the privacy of our interviewees, we will not share the full interviews, but anonymous quotes are included in the slide deck.
The nine insights are:
People understand that CC stands for free content sharing, but the nuances of the specific licenses are lost on them — including experts and longtime CC users.

People are motivated to license their work under CC, but have a hard time figuring out how to do it.

People are motivated to give credit to other people, but they find attribution complicated and a hassle.

People like seeing how their work is used, where it goes, and who it touches, but have no easy way to find this out. This insight incorporated the following two insights:

People care that the work they share resonates with people, especially personally, but can only know this if they are told directly by the person it resonated with.

People want their work to have real world or social impact, but their sense about what these impacts are are vague. However, people can identify some real or potential outcomes from sharing their work that they enjoy.   

People are often first introduced to CC when they have completed a work, but at that point they are more interested in getting the work out there than thinking through a whole new system for sharing.  

People want to share and find good work, but find it difficult to navigate the abundance of content and information online.

People like the efficiency of sharing via centralized platforms, but are frustrated by the lack of control and ownership over their work, and increasing devaluation of individual creativity.  

People aren't driven to create for the money, but money is always a good outcome. People like sharing freely, but if someone is making a lot of money off their work, they want to be fairly compensated.

People have a desire to create work that is lasting and meaningful, that eventually has a life of its own, but don't know what to do with a work beyond publishing it.
Insights 1-3 pertain to CC's current tools; insights 4-6 pertain to the core experience of sharing content, and insights 7-9 are about futures CC might help build.
Some of these insights may seem obvious. If so, then we did our job by bringing what was obvious to the forefront, but this time backed by data and not conjecture. Other insights are less obvious, such as the one about introducing the concept of CC too late in the process of creation. These are the kinds of insights we relish, and we dug into all insights by developing specific design challenges and generating potential solutions to meet them.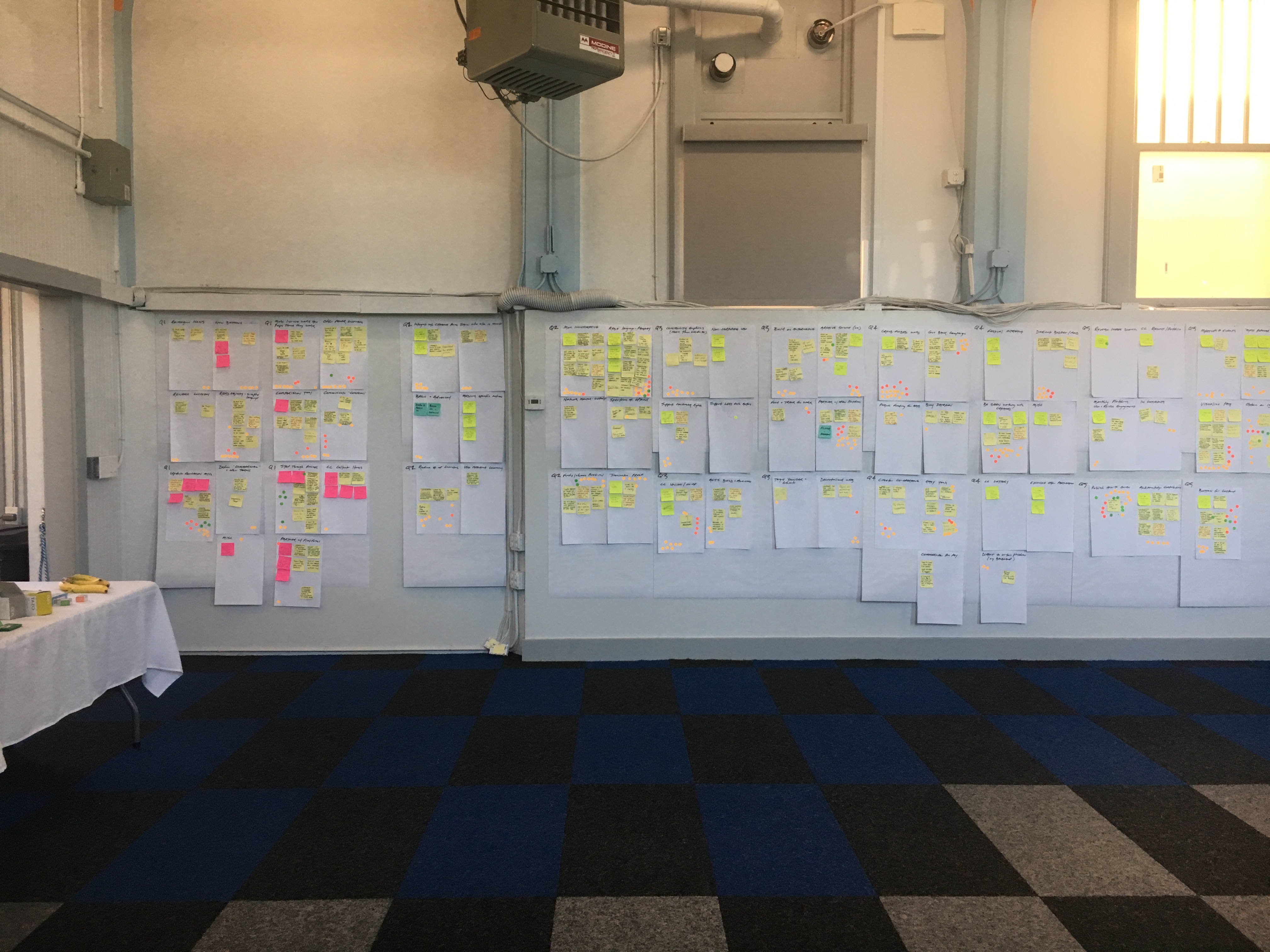 This occurred in a design workshop with CC staff from legal, product, development, and communications. Over the course of 2.5 days, we generated 250+ ideas, heat mapped them to find common issues and approaches, fleshed out the most viable ideas, and decided on nine interventions to bring forward into the Design phase. They are not the only things we'll ever do, but they are experiments we want to try to see if they can meaningfully address the needs we have identified.
The nine interventions are:
1) New step-through process / Redo language + pathway
Prototype a new pathway and educational tool that clearly communicates the licenses and leads the creator to the appropriate license for her needs. (Insights addressed: 1, 2)
2) Publish a "How To Guide" for where to find your work
Develop and publish a guide to finding where your CC-licensed work was used online, e.g. via reverse image search. (Insights addressed: 4)
3) Button for contact
Prototype an easy way for a user to get in touch with a creator and/or vice versa that ties to a CC license or tool. This could be done in a number of ways, including a button that is chosen from a new CC chooser, a deed + platform solution that connects users to creators, or a separate "contact me" button. (Insights addressed: 4)
4) Archiving
Prototype a few concepts that provide creators with the choice of archiving a version of their works when CC licensing. This could be an archive we provide as a service, tied to a new chooser tool, a separate web page for preserving your work, and also in partnership with an organization like the Internet Archive. (Insights addressed: 7, 9)
5) Reward & Delight — infuse through all prototypes, esp #1
Use this as a framework for all prototypes we develop. In addition, prototype a small, fun idea that gives reward and delight to users, e.g. a graphic CC mascot overlaid to help users navigate the licensing process. (Insights addressed: All)
6) "Polaroid" watermark
Prototype a CC branded watermark that lives outside the image that can be added on download from CC search, as part of "no click attribution." (Insights addressed: 3, 4)
7) No click attribution
Prototype a tool that removes all friction for users providing correct attribution. This could play out in a number of ways, including having attribution and related information attach upon download of an image (0 click attribution) in CC search, an attribution filter/plugin service that bulk links attribution, or a credit that is automatically added by a platform or related service. (Insights addressed: 3)
8) Narrow use case search
Prototype in CC search a way to search for specific materials to use for specific types of projects, starting with the most popular use cases, e.g. CC music for videos or podcasts. (Insights addressed: 6)
9) Obtain a unique ID to track your work
Prototype a CC unique ID registry that links to the CC catalog and provides information about each CC work through the ID, e.g. CC/12345 would display information such as author, number of shares, etc. (Insights addressed: 3, 4, 6)
What's next
These nine interventions will be developed or prototyped over the next 3-6 months (pending alignment with CC's overall product strategy given my new role). Ready prototypes, including those built related to CC Search, will be demo-ed and tested at the Mozilla Festival and Nonprofit Software Development Summit in October and November. Following the design phase, CC will reassess prototypes along user feedback and against new organizational objectives to decide which to phase into development. It's important to note that some of these ideas might not work out, and might not solve the problems they seek to address. That's part of the iterative process of human-centered design. Separately, CC will evaluate findings from usability research that did not make it to the design phase as part of its other organizational objectives.
The question of CC's relevance to various user groups, particularly mainstream creators, is ongoing. We will bring forward a plan to engage more deeply in that work in the next phase of the initiative in 2019, and will engage the community in that discussion at the CC Global Summit in Lisbon next May.
Get involved
If there's one thing you can do now, it's to join the #cc-usability channel over at the Creative Commons Slack (https://slack-signup.creativecommons.org) and say — Hi! I'm interested in providing feedback on CC search and usability prototypes as you roll them out — or something to that effect. I'd just like to get to know you and where you're coming from, like we got to know the 81 people we talked to earlier this year.
You can also follow me (@janedaily) on Twitter, where I'll post updates and conferences I'll be at.
If you're a developer, or versed in the ways of developers, you can follow our progress on each prototype at CC's public Github repos. We have one specifically for intervention #4 (Archiving) at https://github.com/creativecommons/cc-archive, and will be posting the rest as part of other repos at https://github.com/creativecommons.