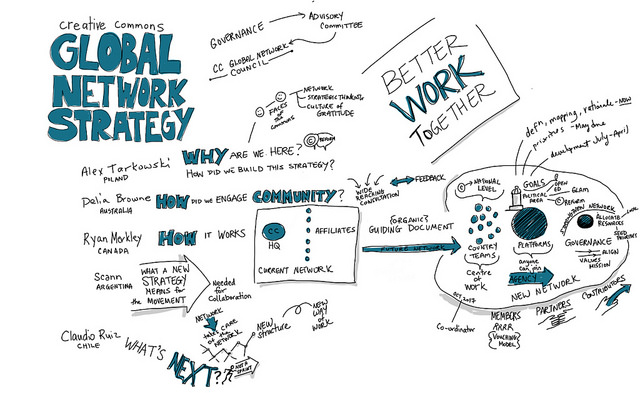 How can we build a Global Network at scale, empower members and communities to lead, and drive a new era of growth and opportunity for Creative Commons and its community? CC has been engaged with this question over the past few years as we rebuild our Global Network to work better together. Today, we're celebrating 306 individual members and 42 institutional members! Membership is distributed across 68 countries, and 31 chapters – a truly global movement for the Commons.
Structured membership has been the key to the network's growth. With a network site and robust vouching system, our members are self-organizing in platforms, committees, and chapters with clear, inclusive pathways for contribution.
In November, the network's governing council met to solidify and approve network activity, which means that now is a great time to join the platform of your choice. The list of platforms, working documents, and invitation to get involved is below:
Open Education Platform

845 members from 55+ countries
platform vision, mission, scope, goals, principles approved
Working on process to propose, select, fund and launch international open education activities / projects

Copyright Reform Platform

150 members
Platform rationale, goals and objectives, areas of engagement approved
Working on drafting collaborative projects

Community Development Platform
Open GLAM Platform
Culture Platform
Whether you're a CC Newbie or a seasoned Commoner, you're invited to join the platform of your choice to connect, build, and grow. Want to jumpstart your involvement? Register for the CC Summit today and meet community members from around the world.
Other ways to get involved:
Join the community via Slack or the network site or sign up for the newsletter
Sign up to join the Network platforms using the links above
Contribute skills like license translation by connecting with us at info@creativecommons.org
And of course, you can always donate