We're Turning 20! What's Happened Since 2001?
About CC
Creative Commons is turning 20!
We are celebrating with a special Better Sharing campaign, honoring 20 years of commitment to open access and better sharing.
We invite you to join us. We have an ambitious goal to raise over $15 million in support.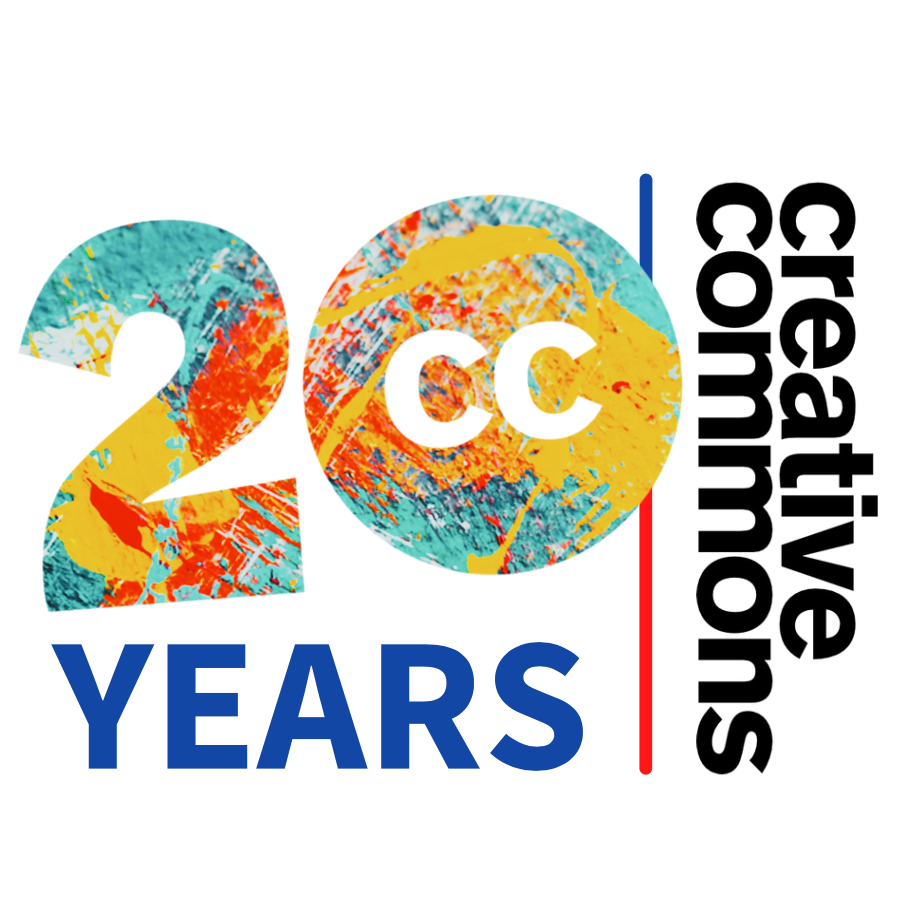 When Creative Commons was founded in 2001, the internet was a budding universe with high potential, and platforms widely used today like Wikipedia and Google were only just getting started. CC's founders were keen to hit the ground running, building on their work to ensure that, as the internet continued to grow, safeguards to knowledge, culture, and creativity were firmly in place. 
While those familiar with Creative Commons may know about our CC licenses that form the backbone of open and accessible sharing, they may be less tuned into our larger portfolio of work, spanning Open Education, Open GLAM (Galleries, Libraries, Archives and Museums), advocacy and global network building. 
In celebration of 20 years of CC, we are excited to shed light on these endeavors, sharing our major accomplishments, and highlighting, too, some noteworthy appearances of CC in popular culture.
Some of CC's Big Wins
Today,

over 2 billion works are licensed under the various CC licenses.

The very first set of

Creative Commons

licenses

were released in 2002, giving everyone from individual creators to large institutions a standardized way to grant the public permission to use their creative work under copyright law; a

nd in 2017, CC laun

ched CC Search, making this content easier to discover and use.

CC licenses are behind the widely used online encyclopedia Wikipedia.

Since 2009, all Wikipedia content, in every language, has been under CC license, which means that annually billions of people around the world are interacting with CC licensed content. 

CC's Global Network

has been critical to the growth of the

Open Movement

, and the development of accessible CC licenses available in many languages.

Today, CC spans 86 countries

, and continues to expand its reach with annual events like the

CC Global Summit

. 

The first

CC Global Summit

was originally called

iCommons Summit

and was held at Harvard Law School in 2005 followed by a

2006 Summit in Rio de Janeiro, Brazil

that brought over 250 participants and high profile presenters like Brazilian music icon (and Brazil's then-Minister of Culture) Gilberto Gil and Wikipedia founder Jimmy Wales. Fast forward, today's

CC Global Summit

is an annual event that brings together

over 1,300 educators, artists, technologists, legal experts, and activists from more than 60 countries

to promote the power of open licensing and global access.

CC has sustained

a 20-year commitment to Open Education. In 2017, we launched the CC Open Education Platform, welcoming over 1000 open education advocates and practitioners from 90+ countries

to collaborate in identifying, planning and coordinating multi-national open education content, practices and policy activities.

The Creative Commons Certificate helps educators, librarians and GLAM leaders to become experts in creating, engaging, and advocating for openly licensed content

, offering in-depth courses on open licensing, copyright and the commons.  Since its launch in 2018, we've registered over 980 people with 889 graduates from 56 countries. 

CC continues to work with multinational institutions, governments, foundations, and institutions to create, adopt, and implement open licensing policies.

We have engaged collaborations with over 30 countries, and institutions like the Smithsonian, UNESCO, US Government Departments, World Bank, European Union, philanthropic foundations,

and

many more with numerous successes to date. For example,

the Smithsonian recently introduced Smithsonian Open Access, releasing 2.8 million images and data into the public domain using Creative Commons Zero.

Creative Commons licensed content is everywhere. Platforms and tools like Wikipedia, Flickr, YouTube, Vimeo, SoundCloud, Google Search, the Free Music Archive, Bandcamp, Thingiverse, DeviantArt and many others use CC licensing to make hundreds of millions of images, articles, videos and other content openly accessible to the world. Many popular educational resources; science and research publishers; news sources; and arts, games, and creative projects around the world use Creative Commons licenses as well.
These examples offer a glimpse of the impact Creative Commons has had on the world in our first twenty years. You can help us celebrate, and help to ensure bigger and better sharing in the decades to come by supporting our 20th Anniversary campaign.
24 May 2021
Tags
Related posts