Creative Commons (CC) Certificate Content: Available in French and Spanish!
Open Education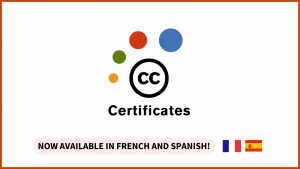 The CC Certificate program offers training covering open licensing and the ethos of sharing. All CC Certificate content is openly licensed and built with the intention of adaptation and remix. While CC currently offers Certificate courses to address (1) educators, (2) academic librarians, and (3) cultural heritage communities (also known as GLAM: galleries, libraries, archives and museums), everyone is welcome. We seek opportunities to share and adapt the course content for different cultures, languages and countries — leveraging its Creative Commons Attribution licensing (CC BY). The more audiences for whom the content resonates, the greater the impact of our open licensing training.
Creative Commons proudly presents the latest translations of the CC Certificate course content. Thanks to the translation efforts of CC Certificate graduates and additional translators below, a total of 569 million people will have access to the educational resources in their native languages. These published works enable 493 million native Spanish speakers and 76 million native French speakers to access translations in their languages — not to mention others who have Spanish or French as a second language.
Nicolas Simon offered the first iteration of our French translation. Nicolas Simon is an Associate Professor of Sociology in the Department of Sociology, Anthropology, Criminology, and Social Work at Eastern Connecticut State University. He graduated from the CC Certificate for Educators course in 2022.
The following individuals engaged in a two-week "translation sprint" using open source software, built for translations:
Carlos E. Ferrero is an ATA certified English into Spanish translator. He was a financial analyst for La Banque Française et Italienne pour L'Amérique du Sud in Caracas and the Citizens & Southern National Bank in Atlanta, GA.
⎯⎯
Emma Miliani is Linguistics Full Professor at Carabobo University, Valencia Venezuela. (Now retired). Milani taught English and Spanish at  Università della Tuscia in Viterbo, Italy, after leaving Venezuela.

⎯⎯
Hector Teran Torres (also known as Hecter) is a Professor in the Engineering Faculty at Simon Bolivar University, Colombia.  He is passionate about the Sustainable Development Goals and Creative Commons. He likes to share knowledge, teach computer science, volunteer, inspire his students and ride his bike.  Hector was part of the inaugural CC Certificate BETA class for Educators, and graduated in 2019.
⎯⎯
Talia Méndez Mahecha (also known as Tata) is a digital creative. She is a PhD student at Western University studying Media Studies. Her experience includes consulting for libraries, museums, and historical memory projects, including the National Library of Colombia and the Colombian Truth Commission. Currently, she serves as research assistant to the projects "Surviving Memory in Post War El Salvador" and "Google Arts & Culture – Assessment of Collection". Tata graduated from the CC Certificate for Open Culture / GLAM (Galeries, Libraries, Archives and Museums) in 2022.
⎯⎯
Jackeline Bucio currently serves as Deputy Director in the Online high school & MOOC area at the Open University, Educational Innovation and Distance Education Department (CUAIEED), Universidad Nacional Autónoma de México (UNAM). She also works actively in the use of Wikipedia in educational contexts (WMMX).  Jackeline graduated from the CC Certificate for Educators in 2022. 
⎯⎯
Carlos Ferrero, Emma Miliani and Hector Teran Torres revised the drafted translation following the sprint, providing the final version. 
Both translations are available on the CC Certificate website.  While Creative Commons does not vet or update translations, we are proud to share these efforts to localize the core CC Certificate content. We celebrate having the CC Certificate materials now available in nine languages: Arabic, Burmese, English, French, Italian, Spanish, Turkish and Yoruba!
Want to get involved? 

If you are interested in translating CC Certificate content in a different language or creating an audio version of the content in 2023, please be in touch. We hope to work with you.


We also look forward to working with Nicolas Simon and other native French speakers on a revision process for the French translation in 2023, to ensure the translation is useful to a range of French speaking communities beyond France. Please contact jennryn@creativecommons.org if you are interested in either of these opportunities.
06 January 2023
Related posts