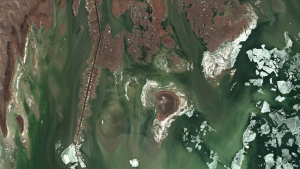 At CC we believe that to solve big problems, the knowledge and culture about those problems needs to be open and freely accessible. In line with our Open Climate Campaign, which focuses on opening up climate research, we recently launched the Open Climate Data project, to facilitate better sharing of climate data on a global scale. Making climate data more open and easily accessible is a crucial step towards addressing the climate crisis.
We started this project by asking a fundamental question: "What climate data exists, and what can I do with it?" To reach an answer, we conducted a landscape analysis to better understand the permissible uses of existing large climate data sets. We surveyed a range of organizations that provide climate data on behalf of national, intergovernmental and/or global populations and are both publishers and sources of climate data. This approach enabled us to assess the current status of major sources of climate data and propose practical ways in which it can be shared more effectively. We hope this initial analysis provides clarity to researchers, policymakers, educators, civil society organizations and advocates.
Read our Landscape Analysis report to learn more about how we analyzed large climate data sources, in accordance with the FAIR data principles: findability, accessibility, technical interoperability, and reusability (as dictated by licensing terms).
As the primary aim of the Open Climate Data project is to facilitate better sharing of climate data, we analyzed a range of data-sharing approaches from multiple sources including: US government, global NGOs, regional international governments, European governments, and global intergovernmental alliances.
Landscape Data Sources
US Government
Atmospheric Radiation Measurement Data Center (ARM)
Envirofacts
Environmental System Science Data Infrastructure for a Virtual Ecosystem (ESS-DIVE)
National Centers for Environmental Information at NOAA
NASA Earth Science Data Systems
Global NGOs
GEOSS Portal
International Energy Agency
Sensor.Community
The World Bank Group Climate Change Knowledge Portal
WRI Data
Regional International Governments
3CN Climate Database: Latin America
Asia-Pacific Data-Research Center (APDRC): Asia
Chinese Academy of Science Earth: China
IGAD Climate Predictions and Applications Centre: Africa
European Governments
Atmosphere Data Store (ADS)
CEDA Archive
Climate Data Store
European Space Agency Climate Change Initiative
Met Office
Global Intergovernmental Alliances
European Centre for Medium-Range Weather Forecasts (ECMWF)
European Organisation for the Exploitation of Meteorological Satellites (EUMETSAT)
The Food and Agriculture Organization of the U.N. Geographic Network
International Renewable Energy Agency
OECD Data
UN Environment Programme Global Resource Information Database (GRID) – Geneva
FAIR Data Principles
Given the diverse range of climate data sponsors, publishers, and sources from around the world, we found a wide variety of methods for accessing climate data. Our goal was to understand how their climate data can be accessed in accordance with the FAIR data principles: findability, accessibility, technical interoperability, and reusability (as dictated by licensing terms). We examined how these climate data providers share their data today, and established a baseline of open climate data information by assessing each of these variables.
FAIR Data Characteristics

The left column lists four principles of FAIR data, Rows in the right column list characteristics associated with each principle.

Findability
Has its own search function
Appears in external federated searches
Uses DOIs or some standard PID on all its datasets
Relevant metadata available for each dataset
Accessibility: Public Access
Available to the public
All datasets are offered for free
No registration/information required
Interoperability: Technical
Every dataset is downloadable
No special software required
All their data is hosted on their site; none of the data requires getting it from an external site
Machine-readable file types
Reusability: Legal Permissions
Licensed for public domain
Okay for commercial purposes
Specific license reference(s)
This project is dedicated to improving the sharing of climate data, and we place great importance on pursuing this goal collaboratively with the diverse range of stakeholders involved in addressing climate change. Our next step is to establish a dedicated working group of expert practitioners and representatives from regional and global climate data publishers and data source entities, and collectively, to develop a community sharing standard for open climate data. We hope to offer guidance to stewards of large open climate datasets and the broader climate data community — including those not involved in the original data creation — on best practices for sharing climate data in standardized ways that maximize accessibility, reuse and sharing.
We invite you to join us in our ongoing journey of learning and collaboration as we develop policies and practices to open up data for the advancement of climate research and innovation. Stay connected with us by emailing openclimatedata@creativecommons.org and subscribing to our newsletter.