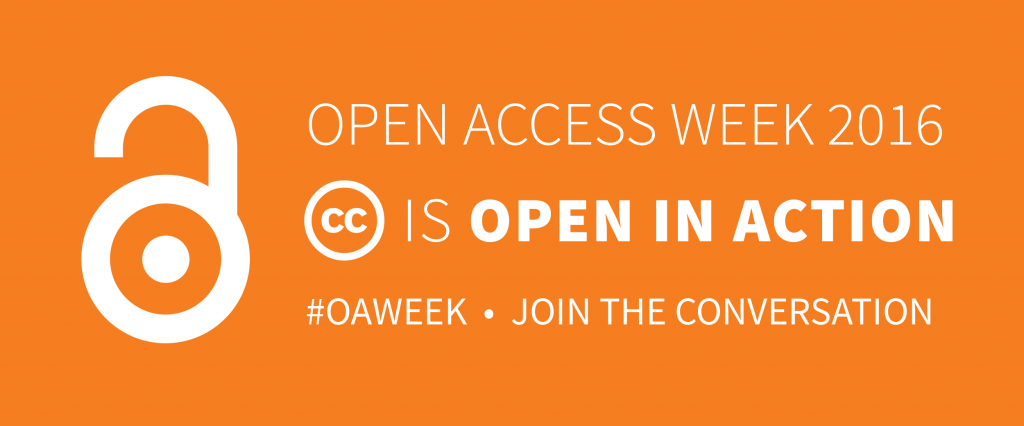 It's Open Access Week 2016. Open Access Week is an annual week-long event that highlights the importance of sharing scientific and scholarly research and data. The goal is to educate people on the benefits of open publishing, advocate for changes to policy and practice, and build a community to collaborate on these issues. This year's theme is open in action.
---
Scientist Erin McKiernan practices Open Science with a capital "O." She is a researcher, an advocate for scientific diversity, and an educator on a mission to make science more inclusive and supportive. Erin's work has appeared in journals such as Journal of Computational Neuroscience, and she has written book chapters and articles for a variety of media, including Scientific American and The Guardian. Her Shuttleworth Foundation sponsored project "Why Open Research?" is a lighthearted, educational take on the importance of open access scientific research. Erin lives and works in Mexico, where she is a professor in the Department of Physics, Biomedical Physics Program at the National Autonomous University of Mexico.
You are an international researcher who advocates for open science, open data, and other open systems. What initially interested you about working in research and education outside of the mainstream academic publishing climate? What drives you to continue doing this work?
I first became interested in open access while working as an adjunct professor at the University of Puerto Rico. I worked at one of the smaller campuses and we had limited access to the scientific literature. Struggling to access articles on a daily basis really puts the problem in perspective. Even more frustrating was watching my students struggle to access the literature they needed for their classes and research projects. I saw how it hindered their learning. Around the same time, I joined Twitter and began to connect with people in the open advocacy space. Through reading their tweets and blogs, I learned more about open access and open science in general, and found a very supportive community.
For the last four years, I have worked as an educator and researcher in Mexico, where we have similar problems with a lack of access to scientific information as those I saw while working in Puerto Rico. While I'm lucky to work now at a large public institution with relatively good access to the scientific literature, many other scientists and students in Mexico struggle every day to access the information they need. This, along with a belief that increasing transparency makes for better science, is what drives me to continue my open advocacy work.
The theme of this year's Open Access week is "Open in Action." How do you put "open in action?" How can other scientists and researchers put "open in action" through their research, teaching, and educational activities?
In 2014, I publicly pledged to publish my work only in open access journals. Since then, I have expanded this pledge and have committed to share not only my published articles but also my preprints, code, data, and laboratory notebooks when possible. You can find my full pledge here.
I understand not all researchers are comfortable with this level of sharing, especially at first, but I think all researchers can commit to simple actions. For example, you can upload author versions of your published articles to open repositories to ensure all your work is accessible regardless of the venue in which it was originally published. Around 80% of journals currently allow this type of self-archiving. Another simple action educators and researchers can take is to share their slide decks from classes or seminars on open platforms like Figshare. As researchers take these simple steps and start to see the benefits, I hope they'll be encouraged to take even bigger steps (like data sharing) in the future.
What can open advocates do to begin to fix scholarly publishing?  
One of the best things advocates can do is lead by example. If you are a researcher and believe in the importance of open research, then share your articles, code, data, and tell people about your choices and successes. As people see you sharing and being successful, it will inspire them to do the same.
Another thing advocates can do is help educate their students and colleagues. Ask your colleagues where they plan to publish and why they chose that venue. Tell them about open publishing options in their field. Do this respectfully — the idea is not to preach or push, but rather to give them options. Many researchers are happy to explore new, more open venues, but simply aren't aware of the wide variety of platforms that exist for sharing their work.
Finally, if you sit on employment, grant review, or promotion and tenure committees, speak out about how the current emphasis on journal-level metrics, like impact factor, is hurting researchers and not always rewarding the best science. Encourage these committees to look at article-level metrics instead, and to value the importance of open publishing and science communication.
Your project "Why Open Research" provides a long list of reasons why open publishing is good for researchers, their career, and the future of science. What are the some of the benefits you've seen personally from your work in open?
Yes, I built Why Open Research? as a fun and visual way to show researchers the benefits to them of sharing their work. In addition, together with an excellent group of collaborators in the open advocacy and research space, I also recently published an article in the journal eLife called "How open science helps researchers succeed."
I would say the biggest way in which I've benefitted from openly sharing my work is increased visibility. I've been able to reach a larger audience that I would have if I published only in closed-access journals. People have reached out to me through my blog and Twitter to discuss my work, and even talk about potential collaborations. This increased visibility is particularly important for researchers in the early stages of their career, who are looking to build a name for themselves. I think open research has helped me do that. Another way I've benefitted is receiving feedback. I've put preprints out and received detailed feedback from others in the field that helped me improve my manuscripts before journal submission. In my view, the more eyes on my work before final publication, the better. Open platforms have helped me get more eyes on my work.
How can other researchers be better advocates for open science and open data? How can the scientific community come together to support each other in this worthy goal?
Again, it's important to start with your little corner of the world. Begin by sharing your own work and speaking to your colleagues about your choices. Establish a set of best practices for managing and sharing data from your lab, use electronic notebooks that can be easily shared, tweet and blog about your research. Most importantly, teach your students to do the same. In this way, we ensure that the next generation of researchers sees open research practices as the default way of doing science rather than the exception to the rule.
The scientific community as a whole is diverse. We have people working all over the world, and under very different conditions. We have to be aware of these different conditions (limited or no access to high-speed internet, limited financial resources for research, institutions with varying levels of infrastructure), and think about how some of the solutions we propose for promoting open science and open data may be affected by these factors.
It is important that researchers from these countries and institutions be given a chance to voice their specific concerns when we're discussing how to move forward. Some of the most relevant and innovative solutions for improving science and science communication are likely to come from developing countries.
The open advocacy space is perhaps even more diverse, with not only researchers at a variety of institutions, but also librarians, scholarly communication experts, policy makers, publishers, etc. I think the most important thing we can do is keep talking, and create more spaces (conferences, conference calls, community events) where we can overlap and talk about the unique challenges facing each of our communities.