---
Open Policy is when governments, institutions, and non-profits enact policies and legislation that makes content, knowledge, or data they produce or fund available under a permissive license to allow reuse, revision, remix, retention, and redistribution. This promotes innovation, access, and equity in areas of education, data, software, heritage, cultural content, science, and academia.
For several years, Creative Commons has been tracking the spread of open policies around the world. And now, with the new Global Open Policy Report (PDF) by the Open Policy Network, we're able to provide a systematic overview of open policy development.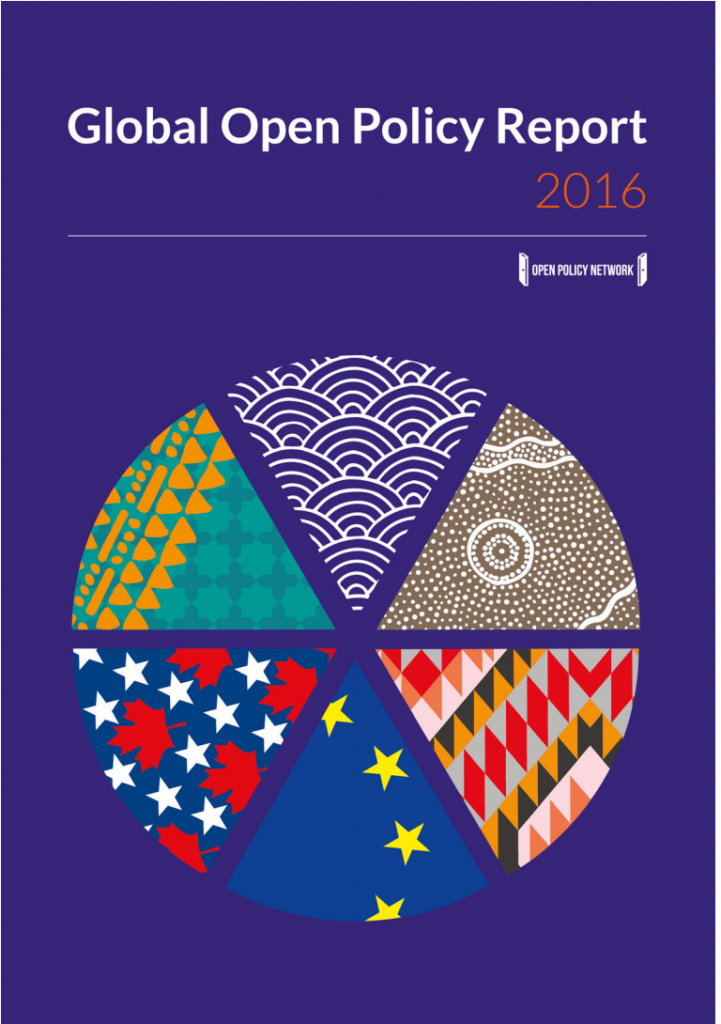 The first-of-its-kind report gives an overview of open policies in 38 countries, across four sectors: education, science, data and heritage. The report includes an Open Policy Index and regional impact and local case studies from Africa, the Middle East, Asia, Australia, Latin America, Europe, and North America. The index measures open policy strength on two scales: policy strength and scope, and level of policy implementation. The index was developed by researchers from CommonSphere, a partner organization of CC Japan.
The Open Policy Index scores were used to classify countries as either Leading, Mid-Way, or Delayed in open policy development. The ten countries with the highest scores are Argentina, Bolivia, Chile, France, Kyrgyzstan, New Zealand, Poland, South Korea, Tanzania, and Uruguay.
The Index scores show that open data policies are the most common, while the rarest open policies are in the heritage sector. Our data also shows a clear correlation between the scope of policy and the level of its implementation. "The Open Policy Index is the first measurement tool that aims at cross-sector comparison of policies, at global scale. The 2016 edition is a prototype which we will be developing further in coming years. We would like to double the number of indexed countries to cover all those in which Creative Commons is active," says CC Poland's Alek Tarkowski, one of the leaders of the project.
In his introduction, Creative Commons Public Policy Lead Timothy Vollmer calls us to action, saying that with open policies we have the opportunity, the infrastructure, and the ability to "improve educational opportunities and help solve some of the world's toughest scientific challenges."
This report documents global achievements from teams all over the world. Each section was written by experts in open policy in their region. Kelsey Wiens, Project Manager for the Global Open Policy Report, emphasizes the importance of communities and open policy: "We need to leverage effective open policies with vibrant, active communities to embrace, embed, and enhance policies in addition to written statements. Without communities like Creative Commons and OPN, policies are simply paper, not actions."
Our partners in collaboration are:
Carolina Botero – Karisma Foundation (Colombia)
María Juliana Soto – Karisma Foundation (Colombia)
Laura Mora – Karisma Foundation (Colombia)
Tomohiro Nagashima – CommonSphere (Japan)
Tomoaki Watanabe – CommonSphere (Japan)
Alek Tarkowski – Centrum Cyfrowe (Poland)
Kelsey Wiens – Currently CC Canada, formerly CC South Africa (Canada)
Nicole Allen – SPARC (United States)
Delia Browne – Australia National Copyright Unit (Australia)
Baden M Appleyard – AusGOAL (Australia)
Jessica Smith – Australia National Copyright Unit (Australia)
Nancy Salem – Access to Knowledge for Development Center (Egypt)
Editor: Isla Haddow-Flood (South Africa)
Graphics: Atramento.pl (Poland)
Survey Partner: CommonSphere (Japan)
We would not have been successful without the participation and support of the Creative Commons Affiliate Network. We give thanks to all who participated in the survey, interviewed for the case studies or provided research support.
This project was a part of the Open Policy Network grants made possible by a generous donation from the Hewlett Foundation and the Open Policy Network supported by Creative Commons.