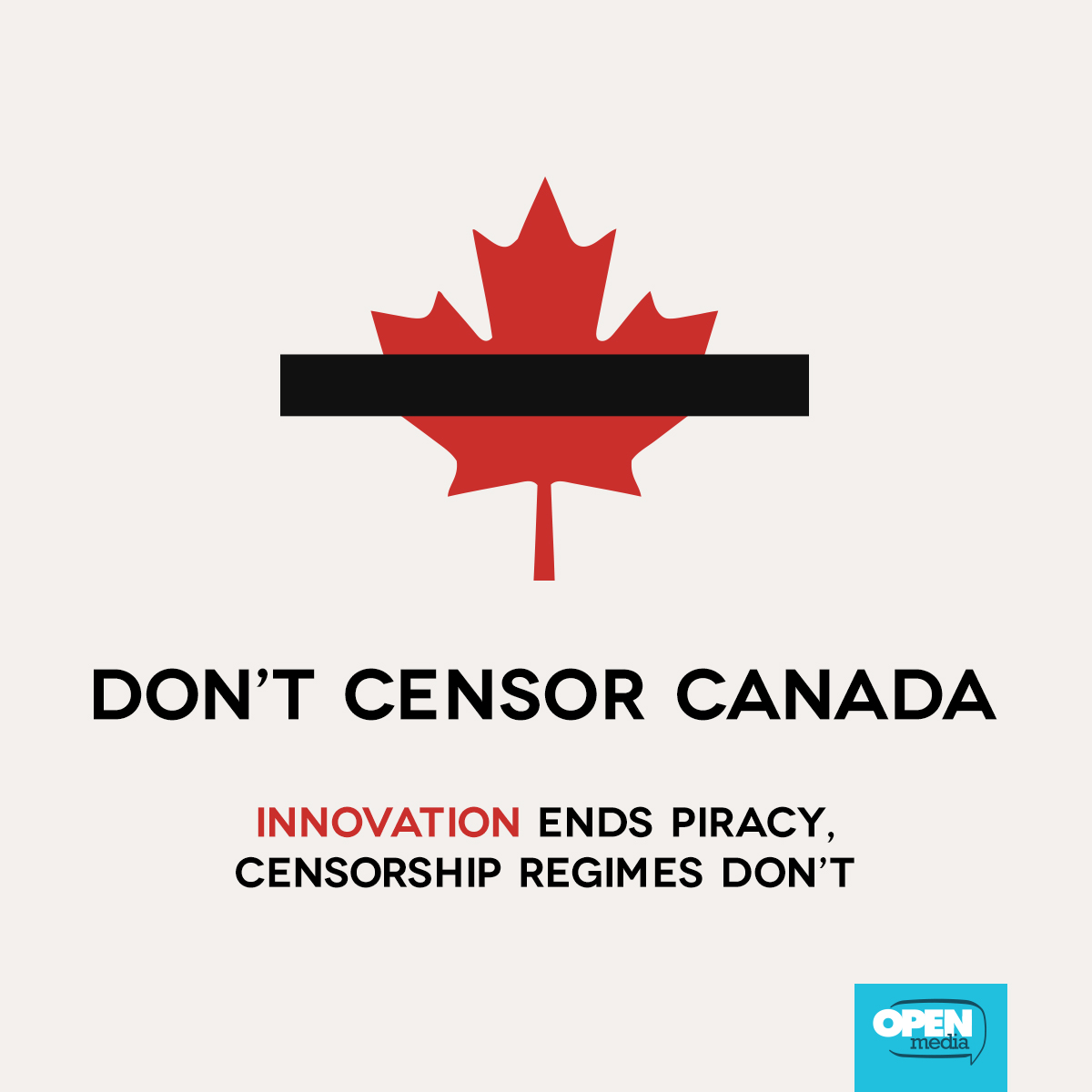 Earlier this month Bell and a group of Canadian telecommunications and media companies submitted a proposal that asks the Canadian government to identify websites engaged in content piracy and compel internet service providers to block access to those sites.
Specifically, the proposal asks the Canadian Radio-television and Telecommunications Commission (CRTC) to set up an "Internet Piracy Review Agency." The agency would be responsible for identifying websites that are "blatantly, overwhelmingly or structurally" involved in piracy. After the sites are identified, internet service providers would be notified and required to block access to those sites.
Today, a coalition of over 25 organisations—led by digital rights NGO OpenMedia—launched a campaign asking Canadians to voice their opposition to Bell's plan. Says OpenMedia: "This radical proposal will lead to legitimate content and speech being censored, violating our right to free expression and the principles of Net Neutrality, which the federal government has consistently pledged support for."
Michael Geist, the Canadian law professor, has been writing extensively (11 blog posts and counting) about the potential harms of the proposal. He described Bell's plan as having a similar negative effects as the SOPA/PIPA legislation floated in the U.S. a few years ago. Geist says, "the CRTC should not hesitate to firmly reject the website blocking plan as a disproportionate, unconstitutional proposal sorely lacking in due process that is inconsistent with the current communications law framework." We agree.
Why is this the wrong approach?
Canada already has strong rules against copyright infringement, and an existing mechanism for copyright holders to go to court and get a takedown order.

The Bell proposal seems to

make up its own definition of piracy

because it doesn't reference any current Canadian legislation.

It's up for debate whether the CRTC actually has the expertise to conduct this sort of piracy review. CIPPIC

observes

that the proposal "calls upon the Commission to undertake a new role under which it will be obligated to make legal determinations under the Copyright Act, a role far removed from the Commission's area of expertise and one with which the Commission has not had significant historical experience."

There could be overblocking of sites that have significant non-infringing uses, such as torrent sites that track and share open source software, openly licensed creative works, and works in the public domain.

There's

little evidence

that piracy in Canada is as bad as suggested by Bell. As OpenMedia notes, "the most effective way to stop piracy is to provide affordable, user-friendly services that give people access to the content they want, when and where they want it."
What you can do
OpenMedia is aiming to submit 50,000 comments into the CRTC by the end of the day of action—February 28. Here's what you can do: