I'm happy to share Flickr's announcement today that all CC-licensed and public domain images on the platform will be protected and exempted from upload limits. This includes images uploaded in the past, as well as those yet to be shared. In effect, this means that CC-licensed images and public domain works will always be free on Flickr for any users to upload and share.
Flickr is one of the most important repositories of openly-licensed content on the web, with over 500M images in their collection, shared by millions of photographers, libraries, archives, and museums around the world. The company was an early adopter of CC licenses, and was bought by Yahoo! and later sold to Verizon. Last year, Flickr was sold again, this time to a family-owned photo service called SmugMug. Many were justifiably concerned about the future of Flickr, an essential component of the digital Commons.
Once the sale of Flickr was announced, CC began working closely with Don and Ben MacAskill of SmugMug, Flicker's new owners, to protect the works that users have shared. Last November, Flickr posted that they were moving to a new paid service model that would restrict the number of free uploads to 1,000 images. Many, including Creative Commons, were concerned this could cause millions of works in the Commons to be deleted. We continued to work with Flickr, and a week later, they announced that CC-licensed images that had already been shared on the platform would be exempted from upload limits.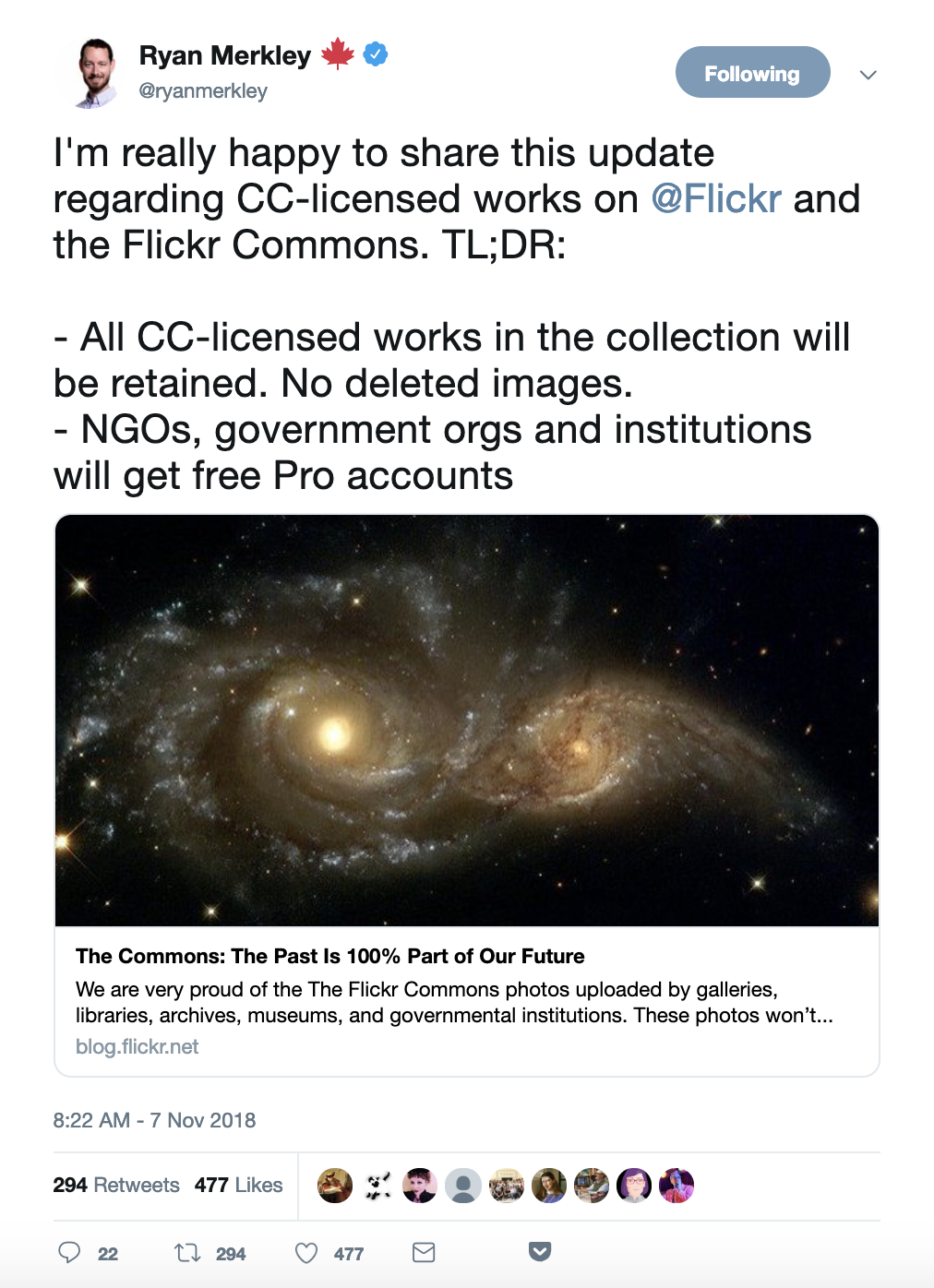 Today's announcement takes that commitment one step further, and ensures that every CC-licensed or public domain image shared on Flickr is protected for all to use and re-use. It's a significant commitment. Don and Ben MacAskill and the whole Flickr team have been supportive of CC and Flickr's responsibility to steward the Commons from day one, and have been open and collaborative with Creative Commons all along.
For users of Flickr (and no doubt also for Flickr staff) it's been a tumultuous time. Migrating to new business models is difficult, and will undoubtedly anger some users, especially those used to getting things for free. However, we've seen how unsustainable and exploitative free models can be, and I'm glad that Flickr hasn't turned to surveillance capitalism as the business model for its sustainability plan – but that does mean they'll have to explore other options.
Choosing to allow all CC-licensed and public domain works to be uploaded and shared without restrictions or limits comes at a real financial cost to Flickr, which is paid in part by their Pro users. We believe that it's a valuable investment in the global community of free culture and open knowledge, and it's a gift to everyone. We're grateful for the ongoing investment and enthusiasm from the entire Flickr team, and their commitment to support users who choose to share their works. We will continue to work together to help educate Flickr's users about their options when sharing works online, and to support the communities contributing to the growth and preservation of a vibrant collection of openly-licensed and public domain works.