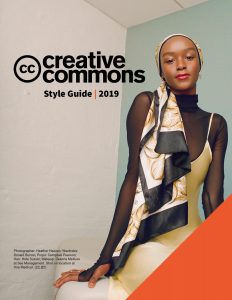 Crafting and maintaining a consistent style is essential to establishing and promoting an organization's brand. 
As with any organization, Creative Commons' (CC) brand should help CC build trust with its stakeholders and the broader open movement, as well as maintain and grow CC's reputation, legitimacy, and leadership in the Global Commons.
With that in mind, we decided to create a CC style guide for CC staff, affiliates, community members, and CC Chapters to use as a reference when creating content specifically for CC as an organization. 
In this guide, you'll find information on CC's: 
Mission and brand tagline

Mood board

Brand identity—including information on our logos, fonts, color palette, and visual elements

Publications style—including guidance on tone, specific language, abbreviations, acronyms, titles and capitalization, numbers, spelling, punctuation, referencing and licensing, and writing tips
Although important, this style guide shouldn't feel restrictive or diminish creative expression. 
Instead, it should serve as a useful and inspirational guide for anyone creating content specifically for CC as an organization, such as CC staff and members of the CC Global Network. This style guide is also not final and/or comprehensive, it's the beginning of a longer process to flesh out, define, and standardize CC's style in order to portray our brand more clearly and consistently. 
Remix this guide for your own use!
We also decided to publish this guide under CC BY and share it externally so that it can be adapted by anyone for their own personal and/or organizational branding needs. If you're just starting out as a freelance photographer or emerging as an industry thought leader, for example, we encourage you to adapt and remix this guide to build your own! 
We'd love to know how you use this style guide, so tag us on social media when you do!
Download the CC style guide here.
Please note: Our plan is to revisit this guide annually, with our first review taking place in early 2020. Be sure to send us your suggestions for potential changes and/or additions before December 31, 2019 by adding comments to this online document. (Although this is our preferred method for feedback, we will also accept direct emails to victoria@creativecommons.org.)