2020 was a year none of us will forget—and while there are many reasons to look back on last year with sadness and anger, we've chosen a different path: one of optimism and hope.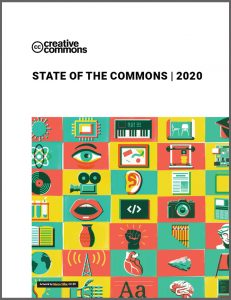 In our 2020 State of the Commons report, we take you through what we accomplished last year, from effectively unlocking hundreds of thousands of patents to the public through the Open COVID Pledge to hosting over 1300 people in our first virtual CC Global Summit. "Despite the year's many challenges," CEO Catherine Stihler writes in her opening message, "CC made great strides in our mission to build and sustain a thriving commons of shared knowledge and culture." In this report, we also tried something new, featuring posts written by members of the CC Global Network (CCGN) originally published on the CCGN's Medium publication. From using open-source games to host artistic performances in Indonesia to creating a digital advocacy project that reached over 257,000 people in Nigeria, these individuals' work and words have both inspired and motivated us to continue onward. Hopefully, they'll do the same for you.
Read the 2020 State of the Commons report!
Finally, we couldn't do any of this work without the support of individual donors, foundations, and corporations who share our commitment to open knowledge and creativity. We'd like to take this moment to gratefully acknowledge past and present supporters, including:
HMK
John Lilly and Kathy Howe
Paul and Iris Brest
Ron Conway
Stewart J. Guss, Attorney at Law
Ted Wang

Interested in becoming a CC Supporter? Please contact our Director of Development Jami Vass at jami@creativecommons.org, or donate here. Thank you!