Read Hugh MacLeod's How to Be Creative now. Nearly any sentence could be lifted as a pull quote, so I won't bother lifting any. Only fifty pages, super easy to read ebook formatting, great cartoons, tremendous relevance to creating free culture while surviving and thriving, and it's CC licensed.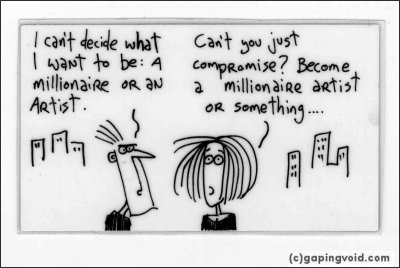 Also check out the few dozen other ebook manifestos at ChangeThis. Same great ebook presentation, same great licensing.
Via Boing Boing. More CC content via Boing Boing yesterday: Banjo manuals and a science fiction novel. BB is hot, CC is hot!