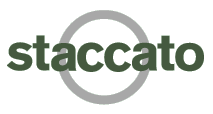 Staccato is a music program featuring all Creative Commons licensed tracks selected by Matt May.
If you dig the sort of super eclectic show often found on the best community and college radio stations where the dj cares about nothing but the music and knows the music, sometimes producing transcendent experiences … you'll be comfortable with Staccato. Nothing transcendent yet, but pretty good, and he's only four shows in.
It's about discovery now.