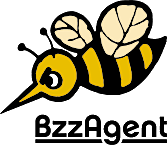 Creative Commons is fortunate to have a partnership with BzzAgent Inc., a word-of-mouth marketing firm based in Boston. Today, BzzAgent launched a grass roots marketing campaign to promote Creative Commons. What does this mean? The marketing campaign is a network of volunteer brand evangelists who share their honest opinions about products and services with other consumers. The Bzz agents are regular joes like you and me who bzzz (or promote) different campaigns.
BzzAgent's GoodBzz Partnership provides selected non-profits with a pro bono 12 week marketing campaign. To become a BzzAgent and help support Creative Commons in this BzzCampaign, visit BzzAgent.com.
Update: Many find this program disagreeable. Please leave comments and advice at Bzzzz: seeking advice on our chairperson's blog.
Update: We took your advice. Now help us Spread CC.