Late last year we started a process for moving ccMixter.org, the remix community we launched November 2004, to an entity or person(s) that could take the community to the next (several) levels.
trend setting web destination … which has become the premier on-line artist's village for music makers from around the world, who sample, cut-up, share and remix each other's music legally, creatively and joyfully.
This description is corroborated by the quality of artists drawn to collaborate with the ccMixter community and the receptivity of that community, which has remixed nearly 80% of uploaded a cappellas. The software that runs the site is also award winning.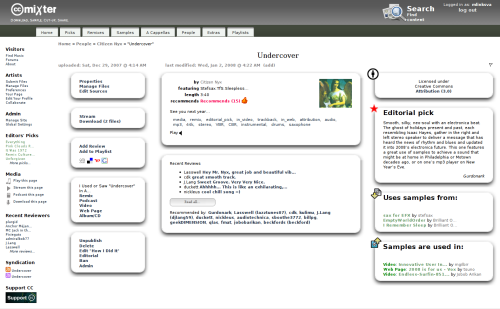 If you aren't familiar with ccMixter, or hadn't realized how cool it is, go visit the site, then return here.
The process of finding a new home for ccMixter included a survey of the ccMixter community. Results of the survey are presented at the end of this post.
Today we're announcing a Request For Proposals from entities interested in taking over the site. Please read the entire RFP. Proposals are due within 60 days (July 29) to ccmixter-rfp@creativecommons.org. Inquiries before submitting a proposal are most welcome, to the same address. Please use this address for all inquiries rather than contacting CC or ccMixter personnel directly.
The Creative Commons board will make the final determination, but here are some guidelines for what we're looking for in an acquirer (from the RFP):
Commitment and ability to conform to principles described in guidelines [at http://lessig.org/blog/2007/11/ccmixter_thinking_about_where.html].
Plan and vision for ccMixter after completion of the transaction:

Concreteness of plan;
Viability of Participant and Participant's proposal for ccMixter– long and short term; and
Scale and impact of success (taking into account web site growth plans and other marketing and promotional plans).

Amount and terms of financial compensation to CC.
Capability to run and further develop a best of breed major music website, including resources and demonstrated expertise in the following:

Web technology;
Music industry;
Legal;
Community management; and
Finance.

Understanding of and sensitivity to the needs of open sharing communities.
Understanding of and compatibility with Creative Commons' mission.
We're eager to see what the ccMixter can become — and confident it will be amazing. If the above sounds like your company or organization, please read the RFP and respond.
ccMixter community survey results summary
Total Responses: 232
What are the key features of ccMixter.org for you

The specific
musicians I
collaborate with
on ccMixter
Remixing is
integral to the
site and highly
visible and
navigable
Remixing is fully
legal &
ethical – you
know the artists
on the site
want to be
remixed & to
have a
conversation —
by using CC
licenses
The site is run
by a nonprofit
The site is run
by CC
The site is
powered by open
source software
(ccHost)
Remix contests
featuring high
profile musicians
The site
administrators
understand me
28.0%


(65)

65.5%


(152)

87.1%


(202)

34.1%


(79)

58.6%


(136)

32.8%


(76)

38.8%


(90)

26.7%


(62)

Which other CC-enabled music remix sites have you tried?
splice

Never Heard of it
Heard of it
Never Tried
Tried it
Didnt Get Into it
Im Remixing
There Too
I Left ccM
for this site
77.6%


(180)

7.3%


(17)

9.9%


(23)

4.7%


(11)

0.4%


(1)

kompoz

Never Heard of it
Heard of it
Never Tried
Tried it
Didnt Get Into it
Im Remixing
There Too
I Left ccM
for this site
84.5%


(196)

8.2%


(19)

4.3%


(10)

2.6%


(6)

0.4%


(1)

jamglue

Never Heard of it
Heard of it
Never Tried
Tried it
Didnt Get Into it
Im Remixing
There Too
I Left ccM
for this site
77.2%


(179)

13.4%


(31)

6.0%


(14)

3.0%


(7)

0.4%


(1)

Professional status

(left blank)
I am a full-time
professional
musician
I supplement my
income with music
(I have a day
job)
I am an
amateur/hobbyist/bedroom
musician
5.6%


(13)

9.1%


(21)

22.0%


(51)

63.4%


(147)

I think of myself mainly as

Producer
DJ
Singer
Instrumentalist
Other (podcaster,
music lover, film
maker, etc.)
19.0%


(44)

6.5%


(15)

5.2%


(12)

30.6%


(71)

36.2%


(84)

Gender

(left blank)
Male
Female
8.2%


(19)

87.5%


(203)

4.3%


(10)

If ccMixter.org is transferred to a commercial entity, I would

Remove my uploads
& never visit
the site again
Wait & see
how the new owner
treats the site
and community
Continue to use
the site exactly
as I do now
be really excited that a comm. entity
could take the site & community to a
new level, redouble my remixing efforts
to make that happen
3.0%


(7)

46.1%


(107)

25.4%


(59)

25.4%


(59)