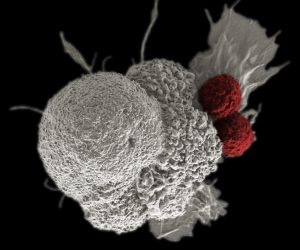 Photo: Cancer Immunotherapy by National Institutes of Health, CC BY 2.0
Under the direction of Vice President Joe Biden, the National Cancer Moonshot Initiative seeks to make ten years of progress on cancer research in half that time, with a goal to end cancer in our lifetime.
Today, Creative Commons will participate in Biden's Cancer Moonshot Summit in Washington, D.C. I will join the Summit, which is aimed at creating action and fostering collaborations around the goals of the Cancer Moonshot. The event will bring together a wide spectrum of stakeholders, including researchers, oncologists, nurses and other care providers, data and technology experts, philanthropists, advocates, patients, and survivors.
Changing Policy to Improve Access to Cancer Research
We need a new approach that will give cancer researchers broad, unencumbered access to scientific literature and data. Even with significant investments in cancer research, the scientific publishing environment hampers innovation and discoveries. In 2016 alone, $5.21 billion of public money was allocated to the National Cancer Institute for cancer related research. Other major agencies such as the National Institutes of Health fund billions more. Despite this massive public investment, research articles remain hidden behind paywalls, delayed from release by long, unnecessary embargo periods. Research data remain unavailable, or are restricted from being machine-readable, an essential element needed to allow deep analysis by new technologies. If all publicly-funded cancer research was required to be shared, and researchers had unfettered access to the underlying data, it would allow everyone to cooperate and lead to new discoveries, analysis, cancer treatments, and ultimately a cure.
Recently, Creative Commons made recommendations on how the federal government can accelerate the speed and probability of discovery for new cancer treatments and cures:
Make open access the default for cancer research articles and data.
Take embargo periods on research articles and data to zero.
Build and reward a culture of sharing and collaboration.
Share cancer education and training materials as open educational resources.
We also asked our community to share their personal stories about the need for open access in cancer research. There stories are powerful and important, and they make a compelling case for immediate open access. Read some of their stories on Medium.
Our Commitments to the Cancer Moonshot Initiative
In response to the Vice President's call for open access to cancer research publications, Creative Commons is committing to provide open educational resources and tools that will support researchers, funders, medical professionals, professors, and patients as they build open and collaborative communities for cancer research. These materials will include guides for adopting and implementing open licensing policies, training materials regarding working openly and using licensed materials, and technical tools for applying licenses to shared works.
As with all of Creative Commons' programs, these materials and tools will be freely available and openly licensed for all who need them, and can also be remixed and repurposed by anyone to serve each community's needs. Sharing resources ensures that the best materials are available to everyone to increase the effectiveness and impact of the cancer community as a whole.
In addition to providing educational resources and open licensing assistance to researchers, CC will engage, educate, and support federal departments and agencies, cancer research centers, universities, nonprofits, and foundations that fund cancer research to adopt and implement open policies that require knowledge to be openly licensed and freely-available without restrictions or embargoes.
We applaud the bold goals of the National Cancer Moonshot Initiative. Its success will depend both on breaking down barriers of access to research by promoting information sharing and scientific collaboration. One way to do this is to require full, immediate open access to government-funded cancer research, data, and educational resources. Creative Commons is committed to aiding federal agencies in the development and implementation of policies that meet these requirements. We are thrilled to participate in today's Cancer Moonshot Summit. We look forward to providing leadership, training, and educational materials that will help open up research, enable collaboration, and put an end to cancer.