In the fall of 2016, a small Toronto-based civic tech group convened around a question: What if we could use technology to connect municipal campaigners and enable them to share knowledge and tools in an open resource kit across traditional geographic and partisan divides?
We were motivated by the significant advantage incumbents enjoy as well as an appreciation of the potential impact thousands more well-run, digitally-savvy campaigns could have on our democracy.
At their best, local campaigns are ideal learning environments for skills to drive community change. They can be:
Relevant – Issues often directly affect all community members.
Independent – In jurisdictions with no political parties, individual candidates must make a direct appeal to voters based on their own track record and ideas.
Diverse – Campaigns draw teams of volunteers across professional, class, ethnic and partisan lines.
Entrepreneurial – They're low-resource pressure-cooker environments that form meaningful bonds between community volunteers.
Risky – Campaigns are time-limited and election day provides a built-in failure mechanism.
Important! Campaign volunteers make our system of representative government possible by helping civic leaders find their public voice and run for office.
Despite the significant role election campaigns play in our democratic system, the process of planning and managing a successful ground campaign remains a mystery to the average citizen.
DemocracyKit
In October 2016, we founded the Open Democracy Project and launched an Indiegogo campaign that raised $31K – enough to develop the first version of DemocracyKit. Upon release April 25, 2017, DemocracyKit will have a searchable campaign resource library, community directory and campaign orientation with five modules: Explore, Build Your Team, Create a Plan, Choose Technology and Run a Campaign. Documents are stored in Google Drive to facilitate editing by a distributed team of contributors and editors and made available under a Creative Commons Attribution-NonCommercial (CC BY-NC) licence.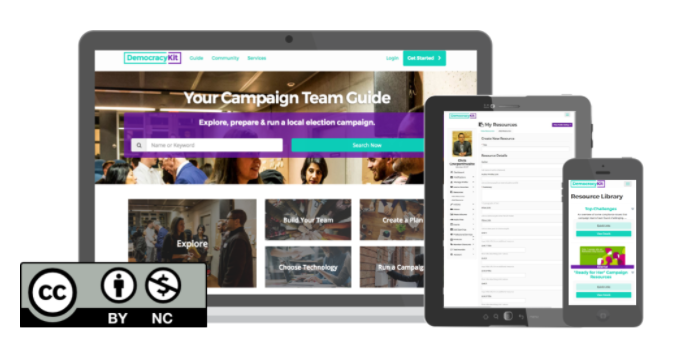 Your Input
Open Democracy Project is a distributed team and we use the same technology and tactics as the municipal campaigns we're preparing to serve. Currently, we meet weekly in Toronto and Ottawa, Ontario and have volunteers organizing to launch this summer in Alberta.
We're in the process of drafting a 2-year strategic plan and are keen for input on how best to structure the organization to allow for growth and partnerships across Canada and abroad.
We would appreciate your input. Please join our Creative Commons Global Summit workshop on April 29, 5 – 6pm.
Workshop Agenda
Introduction to the Open Democracy Project
DemocracyKit walkthrough
Workshop & feedback:
Feedback on Mission, Vision, Values
Preparing to expand in Canada
Preparing to partner internationally
Hope to see you there!