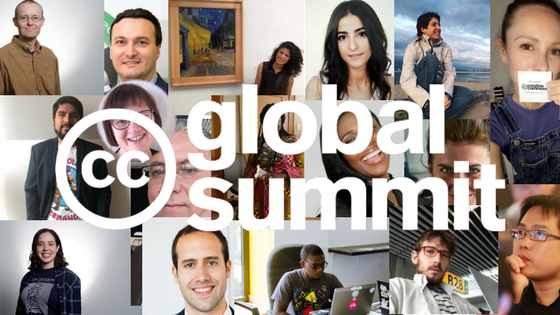 The Creative Commons Global Summit, the annual event for the promotion of open knowledge, sharing, and the Commons around the globe, kicks off on Friday in Toronto, Canada. This can't miss event will bring together more than 450 advocates, activists, lawyers, educators, policy-makers and technologists for over 110 sessions about open education; galleries, libraries, archives, and museums (GLAM); legal and copyright reform; open access; the future of the Commons; and the Creative Commons Global Network.
CEO Ryan Merkley says, "At its heart, the CC Summit is a community event — people from all over the world built the program, selected the speakers, and will now travel to Toronto to plan the future of the collaborative commons. It's inspiring."
Keynotes and panels will feature Katherine Maher, Executive Director of Wikipedia / Wikimedia Foundation, Chris Bourg, Director of MIT Libraries, and Ruth L. Okediji, John Jeremiah Smith, Jr. Professor of Law at Harvard University and Co-Director of the Berkman Center for Internet and Society. Each day of the Summit, Creative Commons will launch a new project or piece of work, including the 2017 State of the Commons annual report, the official launch of the CC Certification Program for Librarians and Educators, and the much-anticipated announcement of the recipients of the Bassel Khartabil Free Culture Fellowship and Memorial Fund. The fellowship announcement will be accompanied by exclusive footage from award-winning, BAFTA nominated documentarian Yasmin Fedda, whose film "Ayouni" chronicles the lives of Khartabil and Jesuit Priest Paolo Dall'Oglio, both killed in Syria in the ongoing humanitarian crisis. Merkley will be joined via video conference by Khartabil's widow, Syrian human rights lawyer Noura Ghazi Safadi, to present the award.
Featured sessions at the CC Summit include:
Thank you to Private Internet Access, lead sponsor of the CC Global Summit, as well as supporting sponsors: The Argosy Foundation, Top Hat, eCampus Ontario, Mozilla, Re:Create Coalition, Intellus Learning, Lumen Learning, Yoyow, and in-kind sponsors Canvas and Shareable.
Keynotes will be streamed at 11AM Friday, 10:15AM Saturday, and 10:30AM Sunday, EST, on YouTube @creativecommons. Follow the Summit on Twitter at #ccsummit.