It's now or never: EU copyright must protect access to knowledge and the commons
Copyright Reform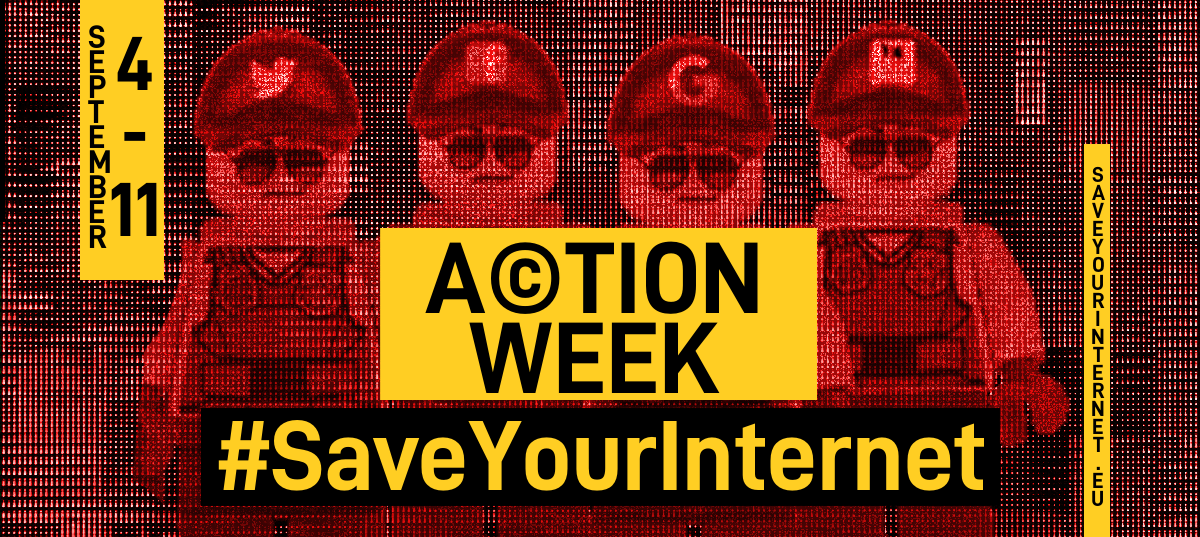 We're coming up on a crucial decision on changes to copyright in the European Union that will govern how creativity is accessed and shared for years to come. On 12 September the European Parliament will vote on the draft Directive on Copyright in the Digital Single Market.
If you're in the EU, go to https://saveyourinternet.eu/ and tell your MEPs to stop the harmful Article 13 upload filters and support a balanced copyright reform
MEPs should vote against Article 13 upload filters, which would scan all content uploaded to online platforms for any copyrighted works and prevent those works from going online if a match is discovered. It will limit freedom of expression, as the required upload filters won't be able to tell the difference between copyright infringement and permitted uses of copyrighted works under limitations and exceptions. It puts into jeopardy the sharing of video remixes, memes, parody, and code, even works that incorporate openly licensed content.
MEPs should vote against Article 11, the unnecessary and counterproductive press publishers right that would require anyone using snippets of journalistic content to first get a license or pay a fee to the publisher for its use online.
MEPs should support amendments that expand Article 4, the copyright exception for education, and Article 3, the exception for text and data mining, which needs to be broadened so that the "right to read is the right to mine." There's also some last minute amendments that should be supported, such as the exception that would improve the ability to share remixes and other user-generated content, as well as an exception to enable the commonsense practice of being able to take and share photographs of works of art in public spaces, called "freedom of panorama."
Even though the Parliament's Legal Affairs committee approved some of the most harmful measures on the docket back in June, the 5 July plenary vote opened up the debate on the directive to the full Parliament. Hundreds of thousands of people made their voices heard, urging for a better and more progressive copyright that will stop the backward proposals like the content filters suggested by Article 13.  
Much of the copyright directive has been narrowly tailored to serve the interests of the most powerful rights holders from the entertainment and publishing sectors. These powerful actors wish to prevent any deviation from their bottom line profits by the revolutionary changes brought about by digital technologies and the internet.
These voices do not represent the incredible diversity of creativity online. On the internet, everyone is a creator, and we want to share knowledge, artistic and political expression, photos and home movies, news, and even code with others in the global commons, on platforms from Wikipedia to YouTube to open access journals to online learning websites. We need progressive policies that support this type of sharing and access if we want to achieve our vision of universal access to research and education and full participation in culture to drive a new era of development, growth, and productivity.
Now is the time for Europe to secure progressive rules on copyright that will truly protect all creators and users, not just special interests. MEPs need to listen to the countless voices that represent the future of creativity, innovation, and online sharing.
Tell them now before it's too late.
07 September 2018
Related posts