Another year, another incredible Creative Commons Global Summit! This year, nearly 400 Creative Commoners gathered in Lisbon, Portugal to lift their voices in support of the Commons as advocates, activists, creators, and community members dedicated to a more open and sharing world.
It's all about Community
The Global Summit was designed by the community, for the community to inspire action and events for this group of participants from around the world. Each one of the over 130 sessions was chosen by our volunteer program committee, proposed by CC chapters and organizations from around the world. From Portugal to Tanzania to New Zealand, our presenters came from hundreds of local contexts, sharing stories, data, projects, and ideas at the beautiful Museu do Oriente, our main venue.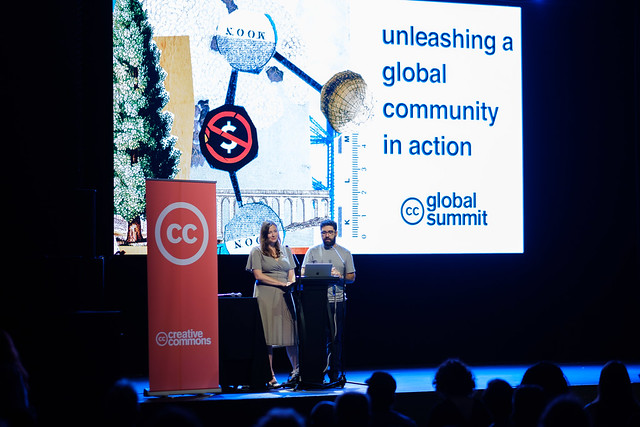 #ccsummit grand opening: great talks, food, wine, wonderful crowd and music (of course). #Lisbon @creativecommons pic.twitter.com/DuFho3Tism

— Tribe of Noise (@tribeofnoise) May 9, 2019
That's @BerkeleyLaw JSD student Mehtab Khan leading a standing-room only session at the Creative Commons Global Summit here in Lisbon. Go Bears! @creativecommons @ccglobalsummit #ccsummit https://t.co/S3lvovzhGh

— Molly Van Houweling (@mollysvh) May 9, 2019
At night, we welcomed participants to Capitolio, where we heard from five community keynotes and two invited keynotes. Diversity, equity, and inclusion were themes throughout – Natalia Mileczyk invoked a quote from Shirley Chisholm, "When they don't give you a seat at the table, bring a folding chair."
Fortunately, there were chairs at many tables at the CC Summit.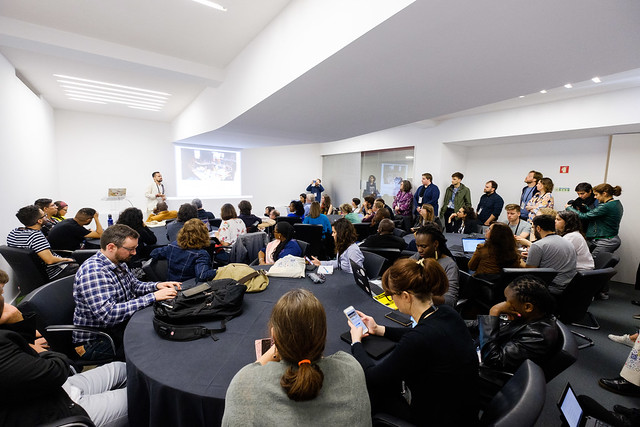 "Now is the time for Genuine Change:" Global Summit Keynotes
Our five community keynotes came from three continents and a variety of disciplines. From Majd al-Shihabi's work on decolonizing archives in Palestine to Sophie Bloeman's Commons Network project, the five keynotes demonstrated their expertise and passion for the values of the Commons.
#CCsummit Is what we archive as diverse as reality? @majdal pic.twitter.com/APtYCwMi49

— Christian Friedrich (@friedelitis) May 9, 2019
Kelsey Merkley @bella_velo on the need to reclaim the feminist history of the open source movement @creativecommons @ccglobalsummit #ccsummit #ccsummit2019 https://t.co/0A9vU8aM4H #OpeningNight pic.twitter.com/ZmhCdVLHmG

— QUT IP & Innovation (@QUT_IP) May 10, 2019
Now @nmileszyk at #CCSummit talking about getting involved, even if you don't choose the 'playing field'. pic.twitter.com/84DlWNxD5a

— ˗ˏˋ Doug Belshaw ˎˊ˗ 🇪🇺 ☠️ ✊ (@dajbelshaw) May 9, 2019
Our invited keynotes, Adele Vrana and Siko Bouterse from "Whose Knowledge" and James Boyle and Jennifer Jenkins of the Duke Center for the Study of the Public Domain spoke as well, with narratives of colonization, inclusivity on the open web, the public domain, and… comic books.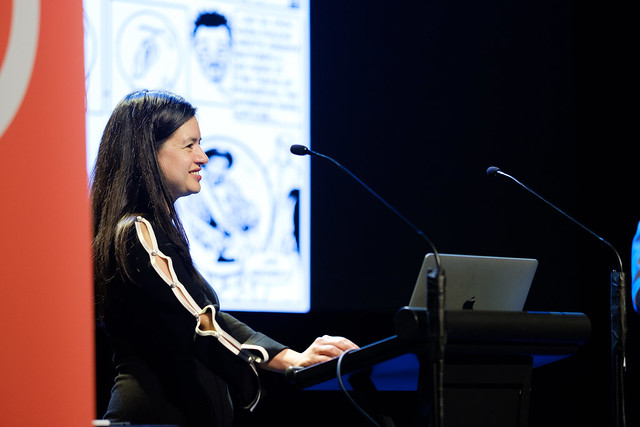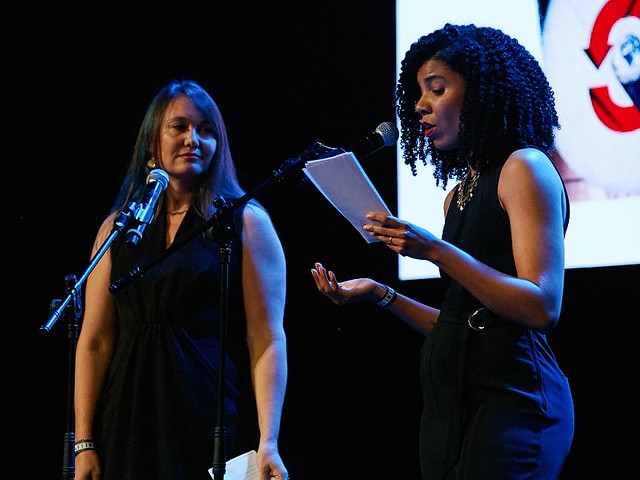 Keynote at the CC Summit tonight — speakers acknowledged the appropriation of music throughout history. This of course, is remix. It has been when with us all along. We have to come to terms with it. We also need to embrace and encourage it. #ccsummit

— Kent McGuire (@ckmcguire) May 9, 2019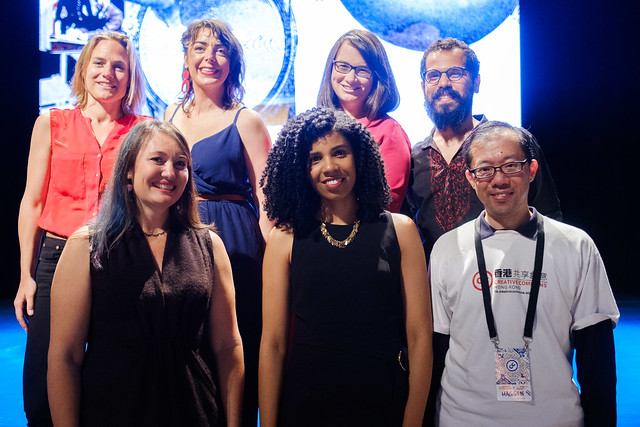 The Creative Commons Network
The Summit also marked the first meeting of the expanded Creative Commons Global Network, re-launched in 2016. The Global Network is three times larger than before and now comprises 37 chapters, 368 individual members, and 43 institutional members, many of whom attended this year's Summit.
At this year's Newbie Breakfast, dozens of new Summit attendees gathered on the first day of the Summit to create a welcoming space for new participants.
Great session with the Chapter Leads and Global Network Council Members at #ccsummit – thinking about priorities and concrete steps. pic.twitter.com/X5fwqWdtSV

— Lisette Kalshoven (@LNKalshoven) May 10, 2019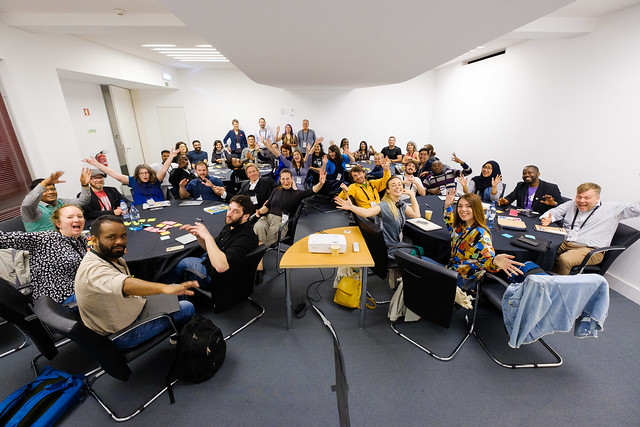 A nuanced view of "open"
What does it mean to be "open?" From questions of indigenous knowledge to CC business models to the implications of Artificial Intelligence, Summit participants asked the hard questions in nearly every session.
The intersection of language communities, language documentation, traditional knowledge, and open movement is very important and super interesting. I'm glad to see that the language documentation and archiving perspective is represented at the #ccsummit by @ELARarchive. https://t.co/G3E1DYl1fh

— Felix Rau (@fxru) May 9, 2019
Hessel van Oorschot and Marko Roca of @tribeofnoise showcase re:REC (https://t.co/erYKRy14g7) public domain music contest while shedding light on the business model of @creativecommons licensed music. #ccsummit2019 #CCsummit pic.twitter.com/6Vd3K3HqxL

— O Foundation (OFDN) #AfricaDay (@ofdnorg) May 10, 2019
One particularly interesting panel focused on artists' relationships to copyright, with a number of Portuguese artists discussing their work, including Summit graphic designer João Pombeiro. The panel featured a special guest appearance from Steve Kurtz of the Critical Art Ensemble via video call. They questioned the need for artists to exert strong power over their intellectual property and discussed the difficulties of making ethical art in 2019.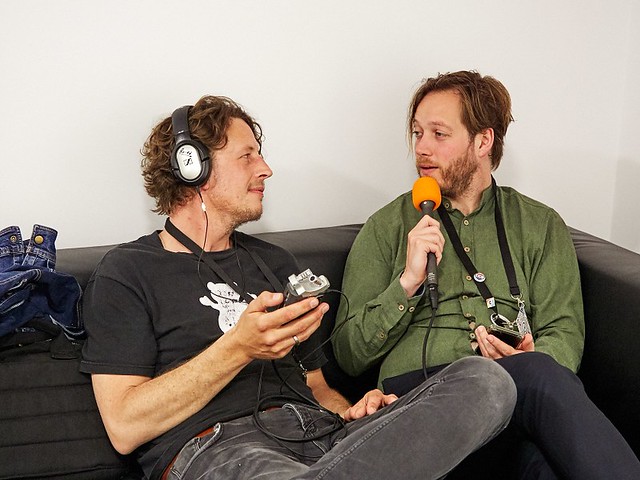 Copyright reform: What's Next?
On the heels of the difficult loss in the European Union, much of the CC Summit was spent planning for the future of copyright around the globe. Many sessions, including a meeting of the copyright reform platform, touched on the challenges and opportunities confronting the movement in 2019 and beyond.
The CC community continued to explore ways to engage in productive copyright reform. We heard from experts from around the globe who shared their strategies and experiences in copyright law reform advocacy in the "How to Win the © Wars" session. CC allies also shared their work going on at WIPO, especially related to the agenda in support of expanding crucial limitations and exceptions to copyright for education, research, and libraries. Paul Keller from Communia shared lessons learned from the long and winding road of the EU copyright directive, and pushed for Creative Commons to actively contribute as the directive is implemented into the national laws of the member states over the next two years. And a diverse group of advocates met to lay out thematic areas and rough project plans for the copyright reform platform over the coming months.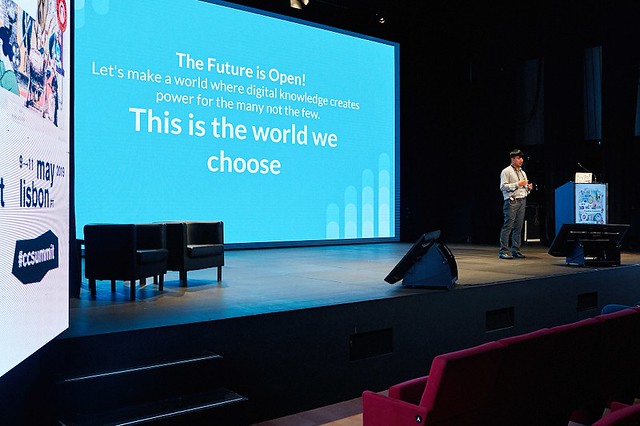 Gratitude
Thank you to all presenters, volunteers, participants, and staff who made this event a success. We couldn't have done it without you!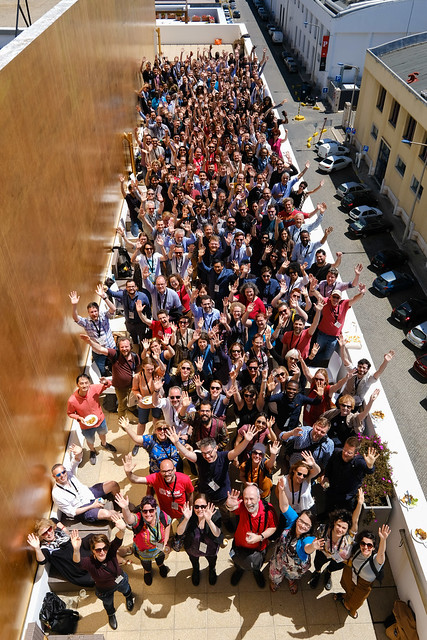 Thank you also to our sponsors Private Internet Access, MHz Foundation, Mozilla, Re:Create, Flickr, Lumen Learning, and UPTEC.

Get involved
We invite you to join us on Slack in the #cc-summit channel or social media @creativecommons to connect with the community, learn more about next year's summit, or our work in search and discoverability, open access, open education, and more. View photos from the event by Sebastiaan ter Burg and Iñigo Sanchez on CC's Flickr page.