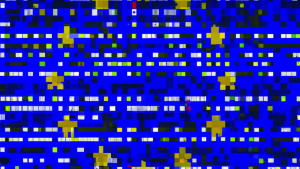 Recently, we provided an update on Creative Common's engagement on the European Union's draft Artificial Intelligence Act. We've also worked with policymakers and other stakeholders on another flagship EU legislative file — the draft Data Act.
The European Commission published the Data Act proposal earlier this year, as a continuation of its EU's overall data strategy. The goal of the Act is to ensure the vast array of data created today — and often held by private entities — is shared in ways that serve societal interests, while respecting and protecting privacy. Of particular interest to us at CC are provisions that:
empower consumers with greater ability to move data from certain "connected devices" (like voice-activated personal assistants, smart thermostats, and other Internet of Things appliances), so that they are not locked in to a given vendor;
support businesses in similarly accessing data from each other and switching between different cloud service providers;
facilitate greater sharing of privately held data between organizations through common "data spaces";
and require private entities to share data with the public sector in specifically prescribed circumstances (like public emergencies).
In general, we welcome the Commission's draft text, which we believe is an important step towards better access to and sharing of data. CC has long advocated for open data; now, we believe that additional forms of data sharing can help build a better data commons for all, that empowers individuals with control, respects privacy, encourages collaboration between business, governments, and individuals, and otherwise services the public interest. To this end, we commend the Commission and urge the EU legislators to actively support better sharing and the benefits it can bring for EU citizens, businesses and society at large, throughout the negotiations of this legislation.
There is an important balance to strike between incentivizing firms to collect and use data in productive ways and ensuring that they do not amass data in ways that become a barrier to entry for businesses, nonprofits, and others. It's important to ensure that access to data does not harm the public interest by constraining competition and innovation.
Better sharing of data can yield significant benefits in a wide variety of areas, including ones that are fundamental to critical challenges for society. For instance, as we are exploring in our Open Climate campaign, sharing climate research data can help researchers find solutions to address this global challenge. Too often there are barriers to data access, particularly when data is not in standardized, interoperable formats, or when it is locked up behind undue copyright or other legal barriers.
That said, we believe there are areas where the Data Act might be further strengthened and improved. Our engagement has focused in particular on the following elements:
Clearly limit the application of sui generis database rights: Europe provides for intellectual property rights over databases in certain circumstances. We believe this law should be phased out altogether, as it has impeded the public's interest in access to facts without providing any concrete benefit. Helpfully, the Data Act attempts to clarify that the data created by "connected devices" are not subject to this database right, but the language can and should be clearer to ensure no elements of the Data Act can be used to justify constraining access to data.
Ensure all consumers who receive a covered product have rights: The initial text makes clear that consumers who buy, rent, or lease a product should have rights to access and move their data. But what about people who simply receive a product, perhaps as a gift, or someone who purchases a service and receives a connected device product as an ancillary benefit? And what about products used by multiple different users? Additional clarification is needed to ensure a scope that broadly covers and empowers all consumers using such products.
Strengthen interoperability requirements: While the ability for consumers and businesses to 'port' their data to another service is important, interoperability is also key to making portability useful. Data can exist in many formats that are not necessarily compatible across services or devices; sharing may be impossible or impracticable because of differing data standards. In fact, data holders may have incentives to impede re-use of the data, in order to continue to maximize their ability to control and profit from its use. We strongly support the Data Act's focus on interoperability.
Clarify and strengthen "data spaces": One of the more intriguing parts of the Act and the EU's overall strategy is the creation of common "data spaces" that will facilitate sharing of data among different parties in areas that are critical to public purposes, such as energy, health, and mobility. Unfortunately, while the original draft of the Data Act made reference to these spaces and supported interoperability in them, they did not provide clear definitions of what they are and how they would work. We support efforts to continue to clarify and strengthen this fundamental concept.
More generally, we are hopeful that the Act can help to form the basis for a broader movement towards better sharing of data for public-interest purposes. While the Data Act has requirements for business-to-government sharing in certain limited public policy circumstances, it's also worth thinking about how to support public service entities in building and stewarding a broader data commons. Groups like Open Future and others have elaborated on this concept, and, for our part, CC's Copyright Platform Working Group focused on "Digital Sharing Spaces" will be publishing a comparative mapping of the legal landscape for data sharing for research purposes across the US and EU. The European Commission has signaled that progress on health and mobility data spaces is a priority, and we look forward to contributing to these and other efforts.
Ultimately, we believe that the Data Act is a great first step toward providing for better data sharing. While it certainly can be improved and refined, we are encouraged by the EU's interest in protecting consumers and facilitating data sharing to serve the public interest. We will continue to actively engage with EU policymakers as the legislative debates and negotiations evolve.