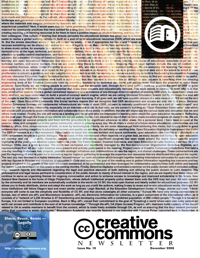 December's newsletter features ccLearn, the education branch of Creative Commons which has grown substantially this year and has a lot of exciting plans lined up for its bright future as a leader in the open education movement. The newsletter also brings to you news highlights from each of CC's other program areas.
As you'll see in this newsletter, we have begun experimenting with a new format as a way to bring you the latest CC news in a more manageable way, so check out #10 and see what you think! As always, many thanks to the CC Philippines team for designing the PDF version.
Stay in touch with us: sign up to receive the newsletter via email and subscribe to our newly-formed events list.