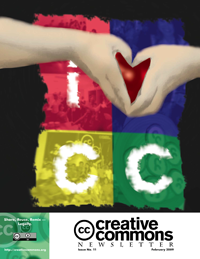 We're at a very exciting time in the life of CC. We had a great year last year, and as you'll read in this newsletter, CC is poised for even more growth and success in 2009 — in the realms of education, science, culture, internationally, and more.
February also marks the one-year anniversary since the CC Philippines team first began designing the stunning PDF versions of the newsletter. As always, many thanks to CC Philippines for the lovely work!
Stay in touch with us: sign up to receive the newsletter via email and subscribe to our events list.