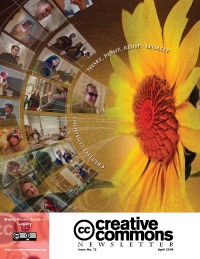 Spring is a time for new beginnings, and April's newsletter will catch you up on all of CC's many exciting new projects in addition to several milestones marking our continued growth and development as a leader of openness in the realms of science, education and culture, as well as internationally. This newsletter is chock full of interesting items, including the launch of CC Zero; updates from several international jurisdictions; GreenXchange, a project of CC, Nike and Best Buy; a new site for OpenEd that will provide valuable resources for the open education movement; and even a CC-licensed animated feature film.
As always, thank you to our CC Philippines team for the beautiful PDF version. Check out all the past issues.
Stay in touch with us! Sign up to receive the newsletter via email and subscribe to our events list.