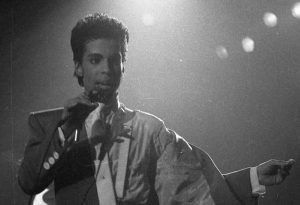 Today at Copyright On!, Britton Payne discussed the unique copyright situation surrounding Prince's estate. This potentially long and bitter battle could shape the future of music copyright to come. Prince fought a number of legendary copyright battles, which makes this current fight over the ownership of his works particularly interesting.
As Payne writes, "Prince was a tireless advocate of his rights as an artist, using copyright law to control and protect his artistic footprint, even when it seemed like it would cost him more than it would gain. For different reasons, it appears that more contentious exploration of copyright law will continue to be part of his legacy."
The tl;dr of Payne's post:
I Feel for You (I think I want my copyright back): The termination of transfer law
After 35 years, artists can reclaim copyright from the copyright holder, which essentially gives them another "bite at the apple" to control their own work. While this law was created to protect artists in 1978 (coincidentally the year Prince's first album was released), there has been little guidance on the execution of this law.
Prince reworked his contract with Warner Brothers in 2014 to regain access to his early back catalog, which resets the clock on this law. However, every year more of Prince's back catalog will be up for termination of transfer law, which means that his estate can gain ownership of an increasing number of works, and by extension, control the money that continues to pour in from his most popular titles.
How come U don't call (a lawyer) anymore: Prince didn't leave a will
Prince's will has yet to be found, which means that several conflicting laws surrounding his unpublished back catalog are coming into effect. Because he also left no living heirs, his estate and copyright is now in the hands of his sister, Tyka Nelson, and his five recognized half siblings. (More than 700 people have claimed to be Prince's half-siblings, but none are recognized by the courts.)
However, siblings cannot execute termination of transfer unless they are the "administrator" of the estate. The title of "administrator" is currently in the hands of a "court appointed 'special administrator'" called the Bremer Trust. In six months, a more permanent administrator will be found (possibly Tyka, Prince's sister.)
My name is Prince, but also Joey Coco, Alexander Nevermind, and Jamie Starr
Prince collaborated with many artists and also wrote music under a series of pseudonyms including Alexander Nevermind, Joey Coco, and Jamie Starr. These collaborations as well as his "works made for hire" are covered by different copyright statutes than his solo composed music. There are several issues complicating these works:
Many of his co-authors are deceased
Pseudonymous works have a longer copyright statute than works written under Prince's own name
Prince's "works made for hire" are covered by different copyright law than his other work
In short, Prince wrote thousands of songs, many of them unpublished, jointly published, written for other artists, or written for hire, and hundreds of them are potentially affected by different copyright laws.
The Beautiful One(s): The PRINCE act and post mortem rights of publicity
A new act in Minnesota may protect Prince's likeness for the next 50 years. This act, called "Personal Rights in Names Can Endure"(PRINCE) will keep Prince's likeness in the hands of his estate. This precedent will be the first to protect deceased celebrities to limit commercial rights to his likeness, so be sure to hang on to your vintage Purple Rain t-shirt. (It's worth noting that Prince never endorsed merchandising in his lifetime, so most of the apparel floating around the Web is bootleg.)
Tonight we're gonna party like it's 2086
In 2086, most of Prince's works will enter the public domain. Copyright law has been progressively expanded to protect the rights of artists, so any changes to the law will likely benefit his heirs.
Prince's music in the public domain seems like a long way off, but imagine the next generation discovering this video, and it all seems pretty worth it.