Gage Skidmore is a photographer and freelance graphic designer living in Phoenix, Arizona whose high-quality photos of politicians and pop culture have been featured in diverse publications including The Atlantic, MSNBC, Fox News, and The World. The ubiquity of Skidmore's photos are a testament to his extraordinary success through open licensing.
The 22-year-old started taking photos in 2009 during Rand Paul's Senate campaign, uploading all of his photos under a CC BY-SA license. Since then, he has accumulated over 1 million photo credits and 1.2 million views on his page. In addition to political photography, Skidmore has been the official photographer for a variety of events and publications, uploading over 45,000 photos to his Flickr account.
Skidmore answered questions over email from CC's Eric Steuer, discussing his success as a photographer, passion for politics, and how the CC license fuels his work.
What was the first photo you made of a politician? What were the circumstances surrounding that shot?
The first ever political event I attended was an event in Louisville, Kentucky in November 2009, when I attended a healthcare town hall being hosted by the U.S. Senate campaign of then-ophthalmologist Rand Paul. I was a big supporter of his dad, Ron Paul, in his 2008 campaign, and at the time I lived in Indiana, so I was only a couple hours from Kentucky. Over the course of that year I decided to start documenting his campaign, mostly as a supporter, and attended a couple events a month. I uploaded all of these photos onto Flickr under a Creative Commons license for people to use.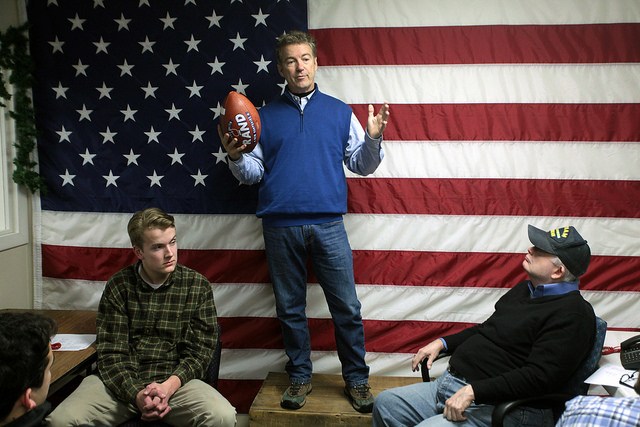 Rand Paul at Volunteer Phone Bank, Manchester, NH, Photo by Gage Skidmore CC-BY-SA 2.0
How many political photos have you published since then? What is your typical process for getting these shots?
I'm not entirely sure on the exact amount. The two main things that I cover are politics and pop culture conventions like Comic Con. I've uploaded close to 45,000 photos, and most of them are probably politics related.
When did you decide to start using CC licenses to make your photos available to the world? And why did you make this decision?
I saw Creative Commons as a vehicle to help get my photos disseminated easily very early on. Through my involvement with projects like the Wikimedia Commons, I learned about Creative Commons licensing, and chose the license that I thought best fit my desire for my photos to be used in the proper manner. Attribution was very important to me, and still is.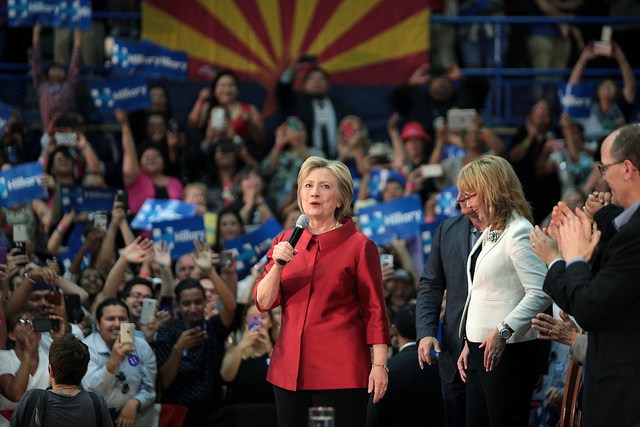 Hillary Clinton with supporters, Photo by Gage Skidmore CC-BY-SA 2.0
Since then, your photos have been used in a variety of ways. Do you notice that they're mostly used by media outlets? What other ways have you noticed people using your work?
My photos have been used by a lot of different websites, news sites, and sites like Wikipedia, and I'm very happy to see this. I really enjoy seeing my photos being used, especially if they comply with the CC-BY-SA license and attribute me.
Do people typically contact you to let you know they've used your work? Have there been any particularly interesting conversations (or stories or even commissions?) that have come out making your work available to the world?
I've had people email me just to make sure that I am attributed properly, or to ask permission to use my photos. I was involved with documenting the 2016 campaign, so I did have interactions with some of the campaigns who wanted to use my photos while also abiding by the photo license.
One misconception that a lot of people have asked me about is in regards to the main photo on Donald Trump's website. It is one of my photos, and his campaign actually attributed me at the bottom of his website. Many people assumed from this that I was a supporter of his, or worked for him in some way, neither of which is true. The Trump campaign simply found my photo, used it on their website, and attributed me for my work.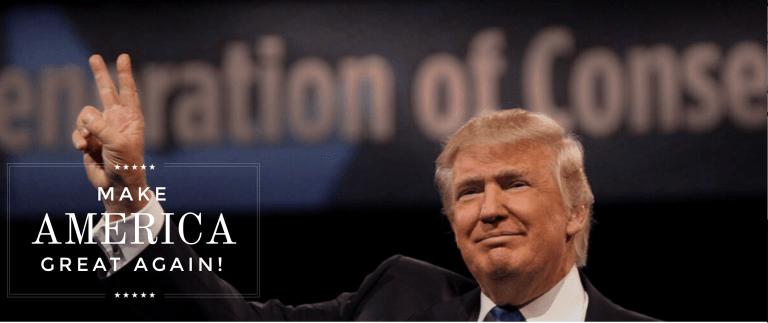 Donald Trump Campaign Website Banner, Photo by Gage Skidmore CC-BY-SA 2.0
At CC, we're specifically interested in how creators contribute to a culture of sharing and gratitude by making their work available under CC. What's been your experience as someone who puts a lot of high value work out there under CC licenses? Do you find that people are grateful for your contributions?
I've had a great amount of positive reception from people thanking me for providing quality images of certain people over the years under a Creative Commons license. Wikimedia Commons is one such community that I believe truly embraces its contributors and tries to create a library of images that are Creative Commons or public domain. I'm very much glad to be a participant in this project.
Has the approach you employ helped create any opportunities that might not have been available to you otherwise?
Since I started I've had people recognize my name and actually get in contact with me to offer photography gigs, mostly in the Phoenix area where I live now. Getting my name out there helped people get a sense of my work, and that has translated into a lot of paid opportunities to be an official photographer for various events. Some of these include the Arizona Chamber of Commerce, Western Journalism, Conservative Review, Reason Magazine, the Mises Institute, Campaign for Liberty, the Iowa GOP, several different centers at Arizona State University, and some freelance work that has allowed me to photograph people like the President of the United States.
I'm always excited to see what presents itself day by day, and it really all goes back to my involvement with Creative Commons that first allowed me to get my name out there and break into a field that is constantly changing and evolving.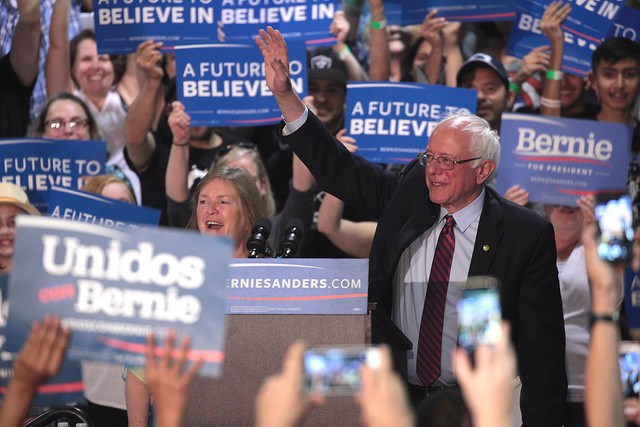 Bernie and Jane Sanders, Photo by Gage Skidmore CC by SA 2.0