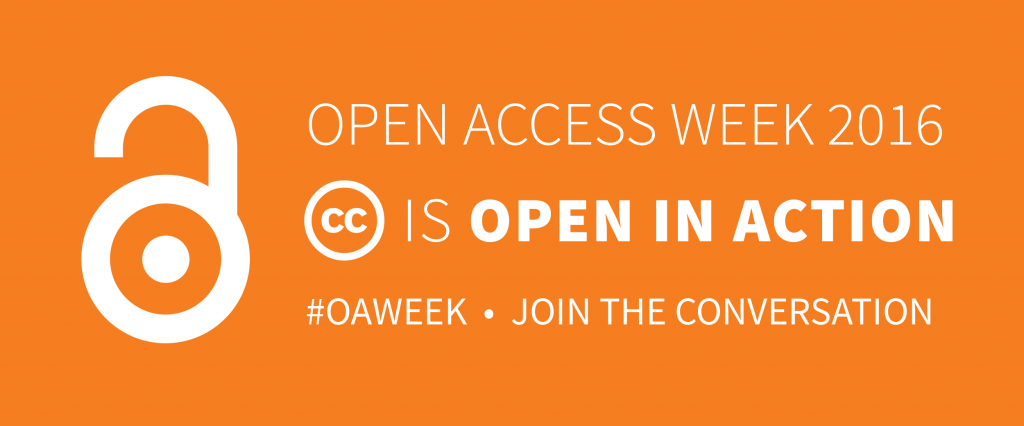 It's Open Access Week 2016. Open Access Week is an annual week-long event that highlights the importance of sharing scientific and scholarly research and data. The goal is to educate people on the benefits of open publishing, advocate for changes to policy and practice, and build a community to collaborate on these issues. This year's theme is open in action.
In keeping with this year's Open Access theme "Open in Action", Creative Commons and Authors Alliance are pleased to announce a new tool that empowers authors to learn about whether and when they have the right to terminate licensing arrangements they have made with publishers that prevent them from sharing their works openly.  All authors who transfer copyright under U.S. law have this right under certain circumstances. While many of these transfer agreements last "for the life of copyright" (which in the United States means seventy years after the author dies!), the law takes into account that these terms can ultimately be unfair to authors and artists, and so provides a mechanism for regaining those rights.
The tool, dubbed the Termination of Transfer Tool, is in beta form and now available for public feedback.
One early analysis estimates that control over more than 2.5 million works may be reclaimed by authors in the United States, but this is just a starting point. Anyone, including artists, photographers, scholars and scientists, can use this new tool to discover whether they have the right to take back rights they previously assigned away. While this tool is currently U.S.-based only, CC plans to internationalize it for use worldwide. Author Sidonie Smith of University of Michigan tested the tool with us just prior to its release. Check out our video demo to learn more. Feel free to test the tool, and contribute feedback via our public discussion forum. We'll be taking feedback for the next month or so and hope to launch the final version of the tool in early December.
This is just one of several new tools that Creative Commons will be launching in the next two years in support of authors and other creators who want to retain and regain control of their copyright. Watch this space for more information as we roll out betas of our reinvigorated Scholars Copyright Addendum Engine (SCAE) and a new tool still in very early development that will allow time-based movement to more freedoms automatically. All three of these tools will be internationalized in collaboration with our affiliates around the world, and are being developed in part through generous funding by the Arcadia Fund.
Watch this space for more information. We look forward to receiving your feedback on this exciting new tool.
Happy Open Access week!